Once a Week Meal Prepping – Everything You Need to Know to Get Started
This website may earn commissions from purchases made through links in this post.
A step-by-step guide to once a week meal prepping that will help you save time and money. Prep meals quickly and easily without taking up the whole weekend.
"You're hungry again? Didn't you just eat yesterday?!"
Can you relate?
When three meals a day, plus snacks, seven days a week feels like a bit of a…drag?
When you want to feed your family healthy home-cooked meals but by golly, you could use a night off!
Anyhow, there's a way to eat home-cooked whole foods and save time. You can have your healthy, frugal, home-cooked carrot cake and eat it too!
The trick is meal prepping – spending a small amount of time on Sunday (or your preferred time) to prepare for the week ahead.
In this article I'll share everything you need to know about meal prepping:
What you need to know to get started and how to make the most of your time…
Without spending all weekend in the kitchen.
Because that would totally defeat the purpose of preparing food in advance to save time.
So without further ado, let's get started.
What you need to know to get started with Meal Prepping
Here's the essential info you need to know:
The five ways meal prepping makes your life easier
The three types of meal prepping and choosing the right option for you
The equipment you'll need; and
A key tip for making your meal prep session flow without chaos.
Let's start with the benefits:
5 Reasons Why Meal Prepping Will Make Your Life Better
Imagine coming home from work and then…
Relaxing.
You don't need to rush around shopping for and preparing dinner. You can pour yourself some wine and catch up with your family knowing dinner is sorted.
Relationships require quality time together. It's hard when we're super busy all the time. Turn super busy into super organised and everyone in your family benefits.
Meal prepping helps you to eat healthier because you're making decisions ahead of time about what you're going to eat. By purchasing and preparing food in advance, you're ensuring the best food choice is also the easiest choice.
Meal prepping saves you time during the week when you're busy. Just pull out a meal and reheat.
It is also more efficient to prep food all at once – that's how pro chefs do it. And you'll have less cleaning and washing up to do!
Meal prepping saves you money. Plan healthy meals within your budget and know you're going to stick to it. Meal prepping allows you to take advantage of bulk discounts – buy, cook and freeze in bulk and save.
Meal prepping reduces food waste. You're buying only what you need, and then you eat what you buy because it's all prepped and ready to go.
But isn't meal prepping going to ruin your Sunday?
Here's the thing:
You don't need to spend all Sunday preparing food for the week. I certainly don't want to spend Sunday in the kitchen.
But an hour or two can save you double or triple that time during the week.
Exactly how much time you spend meal prepping will depend on the type of prepping you do.
There's Not Just One Type of Meal Prep…Use All Three Types to be Super Efficient
There are three key meal prep strategies. You can use one or two but if you want to maximise your organisation and enjoy flexibility with your meals then try all three.
Here are the three strategies in a nutshell:
Fill the freezer with family-sized meals that can be reheated during the week.
Pre-cook individually portioned meals that can be reheated.
Pre-prepare food by washing, chopping, marinating etc. so that's it's all ready to be cooked each night.
Option one is great for busy nights or nights when you just don't feel like cooking.
Option two is great for single people, couples or lunches for anyone.
If the idea of eating reheated food all week is not appealing, option three is for you. Pre-prep your food beforehand and cook on the night for fresh meals that still save you time and money.
1. Freezer Meals
To make the most of your time when making freezer meals, make a double or triple batch. Most freezer meals can last in the freezer for a few months, so you don't have to be eating the same meal every day or even every week.
Stews, casseroles, pies and soups all make great freezer meals. Most slow cooker meals can be frozen in batches.
If you prefer not to spend your Sunday afternoon cooking, use the cook once eat many times method of filling the freezer.
You might also like to check out: Homemade Oven-Ready freezer Meals for Busy Nights.
2. Meal prepping individual meals
This meal prep method is a favourite of weight loss sites and works great for busy individuals, couples of for work lunches.
Use the 1 + 1 + 1 + 1 method to build your meals. That means:
One protein like chicken.
One starchy food like rice or sweet potato
One green vegetable (or a few); and
Flavouring like marinade, sauce, herbs or spices.
Pre-cook a week's worth of protein using your favourite spices, marinades or flavourings. Pre-cook your vegetables either by steaming them or roasting them. Pre-cook your starch.
Then divide into individual containers for perfect portion control, ready to be reheated through the week.
For lots of recipe ideas for this kind of meal prep, check out FlavCity. These recipes also have reheating instructions.
3. Pre-prepping Fresh Food For Later
You don't need to pre-cook a whole week's worth of meals to get the benefit of once a week meal prepping.
You can still save a ton of time by pre-washing and pre-cutting salad and vegetables for the week, chopping, portioning and marinating meat and pre-cooking grains and beans etc.
Then when it comes time to cook each night, all the prep work is done, making it so much easier and with less washing up as well!
(It's important to note, grains like rice need to be eaten within three days, so keep this in mind when meal prepping).
Other ways to meal prep and save time
If you're just getting started, it's easier to just prep ahead a couple of days.
And for the other days?
A cheat meal or two can cover those. Friday is an especially good night for a cheat meal and a Netflix binge or an evening out if that's your thing.
Prepping snacks, lunches and breakfasts ahead of time reduce stress during the crazy morning rush – it's much easier to grab a healthy lunch and snacks if they are pre-prepared and ready to go.
Once you decide on the type of meals you want to cook, you'll need the right equipment:
The Essential Equipment You'll Need to Successfully Meal Prep
We need to talk containers for a moment.
If you're going to prep and store food, you'll need containers.
What containers?
If you want to reheat food, they will need to be either oven-safe, microwave safe or both.
Tempered, oven-safe glass containers are great for meals you want to reheat. Just remove the lid, cover with foil and reheat your meal in the oven. Or cover with a damp cloth and reheat in the microwave.
If you're just using a microwave and you want to save money, look for BPA-free plastic containers that are microwave safe. Keep an eye out for when containers go half-price at the supermarket. They usually do every couple of months.
For storage when you don't want to reheat food, you can use the glass containers above, stainless steel containers, or for a cheaper option, BPA-free plastic containers or recycled glass jars.
For freezing, you can use containers or freezer bags, which are not so environmentally friendly, but they do save space in the freezer.
[Here's a pro-tip: liquid expands when it's frozen, so leave a little room in your containers. This is especially important if you're freezing in glass jars. Jars won't smash if you leave room for expansion.]
Save space by choosing containers that stack! Rectangle-shaped containers take up less room than round ones.
You'll also need a marker to label your containers and some masking tape.
Do this before you begin to make meal prepping easier
Start with a clean kitchen.
It will save time and stress if you're not cooking in a chaotic kitchen.
Organise your fridge and freezer, so there's plenty of room.
Clear the benches and sink.
Empty the dishwasher or put some hot soapy water in the sink to clean as you go.
The other important thing you need for a successful meal prep session is:
A good playlist.
Spending an hour or two in the kitchen is more enjoyable with your favourite music.
Or, download an audiobook and enjoy a good novel or learn something new while you cook.
Or, download a language app and learn a language while you cook.
C'est si bon!
Five steps to Successful and Efficient Meal Prepping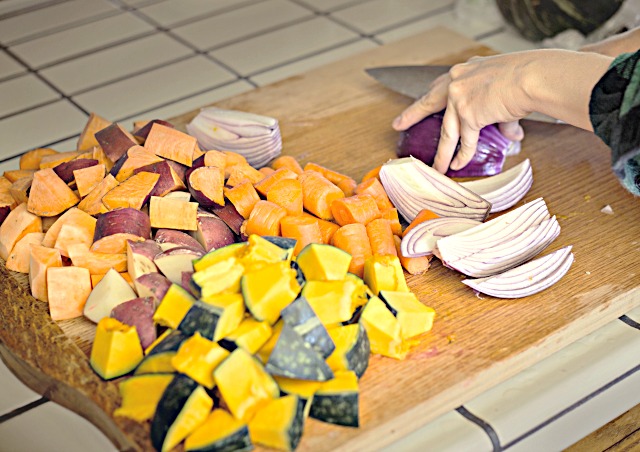 Now that you've done the groundwork, you've got your containers ready, and your favourite tunes lined up, it's time to put meal prepping into action with this five-step plan:
Step One: Plan Your Time
"Successful people don't write to-do lists, they schedule their to-dos."
Whether you meal prep or not, feeding your family always requires:
Deciding what meals you'll cook
Shopping for the ingredients; and
Preparing and cooking food.
If your current strategy is to shop every day, decide what you'll eat in the grocery store, then prep and cook when you get home, be prepared to save so much time and money you'll feel like a different person.
Instead, imagine deciding what to eat just once a week, not every day. And shopping just once a week – no more battling traffic and queues every night. Then being more efficient with prepping and cooking.
You'll save time meal prepping, but that doesn't mean you want to jam a whole week's worth of work into one day.
Break it up:
Spend a few minutes one day writing your plan over a cup of tea. Do your shop another day (or get the groceries delivered).
Then schedule an hour to three hours to meal prep on a Sunday (or day of choice).
Create a schedule that suits you and makes it a habit and the whole process will go a lot smoother.
Step Two: Plan Your Meals For the Week
It goes without saying:
Prepping in advance is impossible without a plan.
So the first step is to plan your meals for the week.
Start with recipes you already know, so the meal-prepping process is easy. You don't want to be juggling multiple new and difficult recipes on a Sunday evening.
And if you want to cook whole meals and freeze them ahead of time, look for meals that can be frozen.
You can use Evernote or Pinterest to collect recipes, or you can use a meal planning app. With this app, you can collect recipes, create meal plans and shopping lists all on your phone or computer. It's pretty handy.
And if you're looking for a step-by-step guide to making meal planning super easy, a plan that helps you eat healthy within your budget, check out my eBook Plan Cook Save.
Besides dinners don't forget:
Snacks. Try baking a batch of muffins, portioning yoghurt, making your own trail mix, boiling some eggs.
Breakfast. Overnight oats and pre-made frozen smoothie bags make for quick and healthy breakfasts.
Lunches. Leftovers make great lunches but also try individually portioned meals (above) or salad in a jar.
Further tips for planning a meal prep session include:
Try to pick meals that use similar ingredients. For example: mince for tacos one night and cottage pie another night. That way you can bulk buy and save.
Choose meals that can be doubled and frozen.
Cook a roast in the slow cooker for shredded meat for sandwiches, wraps, pizza, salads, tacos and other easy meals.
Step Three: Grocery Shop
Once you've planned your meals, write a grocery list. Double check your recipes to make sure you don't forget anything.
(You don't want to waste time shopping more than once).
Then check you've got all you need for breakfasts, lunches and snacks.
Finally, check your staples: toilet paper, washing powder, toothpaste…all the things you need but might not have made it to the list yet.
Then go shopping or have the shopping come to you.
To make meal prepping easier, wash and store vegetables when you unpack your groceries.
[Further reading: Frugal Vegetable Wash.]
Step Four: Write a Prep Plan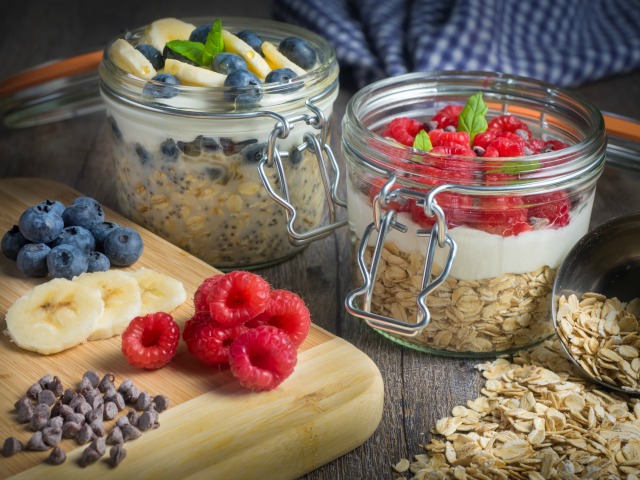 Don't be tempted to skip this step.
Pros follow a work plan because cooking is quicker and easier when you do.
Be more efficient and take five minutes (it doesn't take long) and plan your meal prep session. Grab a piece of paper, read through your recipes and write down all the steps you'll need to take to complete your food prep.
Here are some tips:
You will save time if you prepare one food group at a time.
Do you have three recipes that call for chopped onion?
Chop it all at once.
Do you have two chicken recipes?
Prep all the chicken at once and then switch chopping boards, so you aren't cross-contaminating food.
Then order the tasks on your list.
Usually, it's easier to prep everything first and then cook – that's how chefs do it. However, it's a good idea to start with the jobs that take the longest.
So, here's a suggested prep outline, but adjust it to your recipes and schedule:
Pre-wash and soak beans.
Start any food being cooked in the slow cooker.
Get any baking in the oven.
Put on some eggs to boil.
Wash and prep vegetables and salad and portion in containers.
Chop, portion, and prepare meat. Freeze for later.
Pre-cook meat if needed.
Prepare sauces.
Pre-cook grains for the next couple of days.
Cool, wrap and freezer meals.
Step Five: Get Prepping
Now it's time to put on your playlist, fire up the cooker and show off those knife (or food processor) skills.
Make sure you've got your recipes at hand so you can refer to them as you need and then simply follow the prep-plan you wrote down. You will thank yourself you took the five minutes to write it out because prepping will be so much easier and you can focus on your favourite tunes, the latest Dan Brown novel or perfecting your French.
Now a question:
Are you feeling a bit overwhelmed at this point?
It's a lot to take in. So here's the recap:
Gather your recipes.
Create a meal plan.
Shop.
Create a meal prep plan.
Plan to spend just an hour or two on Sunday prepping, not the whole day.
Don't try and do it all! Start small and prep just one or two meals in the beginning. Plan as much or as little as works for you.
Use convenience ingredients and cheat meals where you need to, to save time.
Prep Sunday night's meal at the same time.
And the most important thing to remember:
It gets quicker and easier with time and practice.
It's 2018 and life is busy. You're trying to do it all. As much as I would like to say to slow down, simplify, do less, I know that's not always practical.
[Hashtag: reality.]
The alternative is to become an organisational hero and efficiency expert (and cheat a little when you need to). Meal planning and meal prepping is an organisation super strategy for feeding the family while saving time, saving money and still eating healthy, home-cooked meals.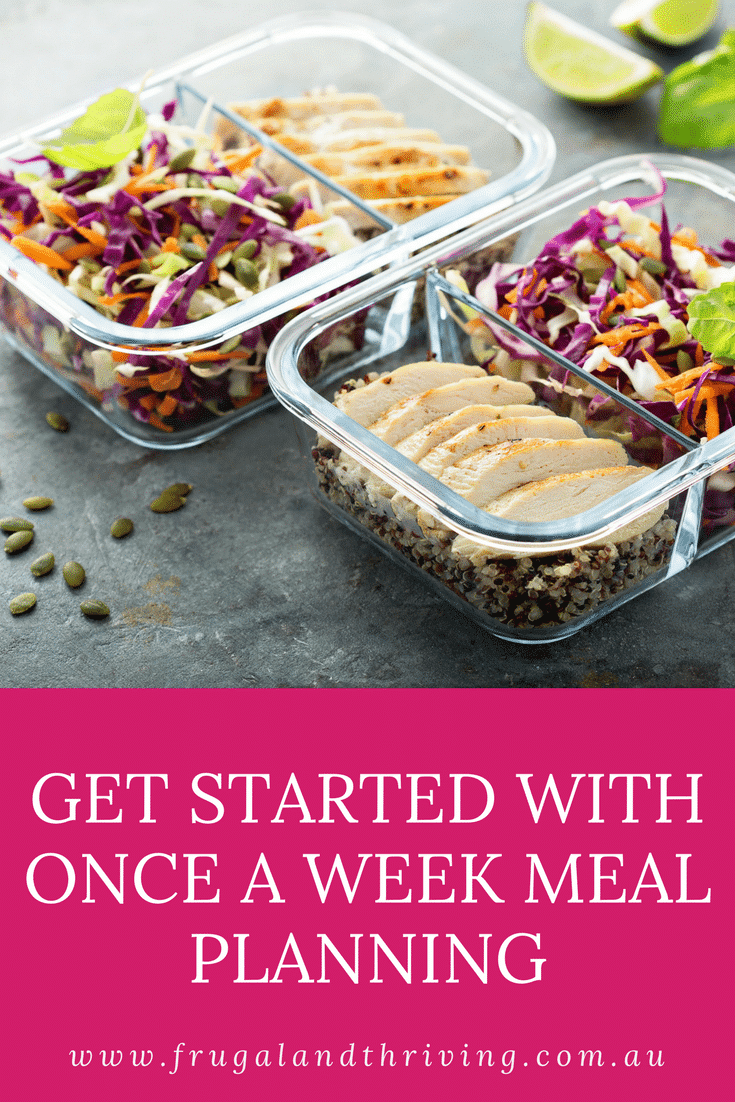 JOIN THE NEWSLETTER