10 Ways to Eliminate Kitchen Disposables and Reduce Kitchen Waste
This website may earn commissions from purchases made through links in this post.
While kitchen disposables like plastic wrap are convenient, they are bad for the environment and the budget. Here are ten practical ways to ditch the disposables and reduce kitchen waste.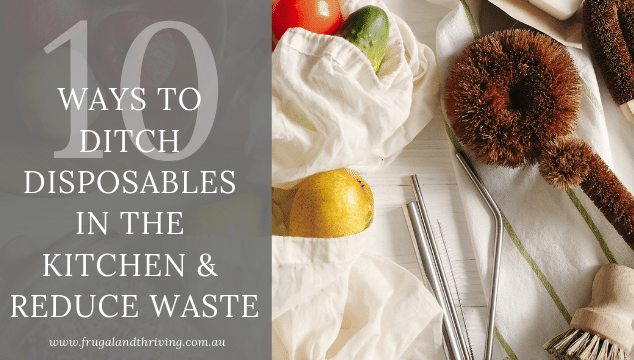 Are you trying to cut the cost of groceries and reduce kitchen waste?
Make an instant impact on your weekly grocery bill and your waste pile by switching from kitchen disposables to reusable items.
Disposable products are designed to be used once and thrown away, which means you're pouring money out week after week to replace these single-use items.
Stop that money drain with reusable alternatives.
Reusable items are purchased (or upcycled!) once and reused over and over saving your money and reducing waste.
Here are 10 common kitchen disposables and their alternatives.
1. Replace paper towel with…
…rags and tea towels.
A drawer full of tea towels comes in handy. Not only good for wiping dishes and hands (best to use a separate towel for each) but you can use them to strain liquid, absorb liquid (for instance, when pressing tofu), dampen and cover bowls or pastry instead of cling wrap, to name a few ideas.
Rags (old clothes or linen make good rags) are good for the really grotty cleaning jobs, like wiping the raw egg off the floor, although I admit, if things are really, really bad, I use a little bit of loo paper.
When draining fatty food like bacon, you can use a cake rack to let the fat drip off the bacon into a pan. You can place recycling paper under the rack to catch and absorb the fat or just let it harden on the pan and scrape it into the bin.
Or you can collect the fat to use in cooking! Yum…but not so good for the waistline.
For jobs where you want to pat dry chicken, for instance, use a dedicated cloth and clean it well afterwards. Or keep a roll of recycled paper towel on hand just for this job and compost it afterwards.
2. Replace disposable Dishcloths with…
Dishcloths or sponges can go really funky, really quickly. And that usually means disposing of them regularly.
Reusable dishcloths are actually more hygienic than disposable ones because you're replacing them every single day…just washing them rather than throwing them out.
You can use any old cloth – face washers work well – but I do love knitted dishcloths – the texture of the knit makes them really effective reusable washing up cloths.
For dish brushes, if you already have a plastic one, it's important to use it as long as possible. Clean and sanitise it to extend its life. Why? Because there's no point buying 'eco' products and throwing perfectly good items that you already have into landfill.
But if you are in the market for a new dish brush, this wooden one has a detachable head so you're only replacing the head as needed.
3. Replace disposable cleaning cloths with…
…reusable cleaning cloths.
Reusable kitchen cloths can be used for wiping down benches, sinks and stoves. Colour code them to make sure you're not wiping the kitchen bench with the toilet seat cleaning cloth.
Microfiber cloths are popular but not ideal. Why? Because most are made from plastic and shed microfibers into our waterways. And at the end of their lifecycle, they're not recyclable or compostable.
So a better option is to stick to natural fibre cleaning cloths like cotton (old recycled rags are perfect or you could make these recycled cleaning cloths from old towels) and using a natural homemade cleaning spray. I like to use colour coded knitted cloths – it gives me an excuse to do some more easy knitting.
4. Replace paper napkins with…
…cloth napkins.
We don't tend to use napkins because…cutlery. But napkins are useful for messy food or finger food.
For the kids whose cutlery skills aren't yet fully developed, I use a damp face washer instead of napkins. I also have a bunch of cloth napkins for special occasions.
Here's how to make your own cloth napkins.
How to clean reusable cloths
For cleaning cloths, rags, knitted dish cloths, napkins, face washers and tea towels, keep a bucket of cold water with some Oxy-soaker in it to soak cloths before washing.
Make sure all cloths are rinsed out first before adding to the bucket (no food still clinging to them). This prevents them from going funky or mouldy. Wash them in cold water with the weekly load of towels, so they don't make an extra load.
5. Replace paper or plastic plates and utensils with…
…real crockery and cutlery.
Not that you would use paper plates every night to eat off (I've read that some people do).
But even for picnics and BBQs, a set of reusable plates, proper cutlery and reusable plastic 'glass' wear (aluminium is even better) will reduce costs and reduce waste.
And if you eat out regularly, you can carry a set of utensils in your car or handbag. Secondhand utensils are a cheap options. Don't take them through airport security. Speaking from experience.
6. Replace Cling Wrap with…
…storage containers.
Alternatives to cling wrap when refrigerating leftovers include using plastic or glass containers or plates with upturned bowls over the top.
For lunches, use a lunchbox there are dozens of different ones to choose from to suit your preferred lunch.
For food that travels, use containers with lids.
For more ideas, check out the article: Alternatives to Cling Wrap.
7. Replace zip lock bags with…
…storage containers.
A set or two of plastic containers like Decor (not ideal but budget friendly and that's what we have) stainless steel or glass containers (recycled jars are a great free option) are all useful alternatives to zip lock bags.
Zip-lock bags do come in handy sometimes especially if you have a freezer too small for a whole bunch of containers. You can now get reusable silicone zip-lock bags in a variety of sizes that can be used to freeze food in.
8. Replace Freezer bags with…
…more storage containers!
Or if there's not enough room for containers in your freezer, save frozen vegetable bags for reuse.
After meat has been stored in them and defrosted, they have to go into the bin. Or you can wash them out (and let them dry) and put them in the Redcycling!
Alternatively, you can use the reusable silicone zip-lock bags mentioned above.
What about the produce bags you get from the supermarket? Buy loose fruit and veg or use reusable bags. You can make them yourself, buy them online or I saw some reusable bags the other week at Coles in the same section as the cling wrap and zip-lock bags!
8. Replace tea bags and coffee pods with…
…tea leaves and real coffee beans.
For a single cup of tea, use a tea ball or cup sized tea strainer. For more than one cup of tea, invest in teapot and enjoy an old fashioned tea.
For coffee, a french press, stove-top percolator or drip machine are great alternatives to the pods.
Place the spent leaves and coffee grounds in the compost or throw them directly on the garden.
9. Replace Aluminium Foil with…
…bake ware with lids.
Bake food in bake ware with lids to avoid the need for aluminium foil.
Cover meat when resting it with a large, upturned bowl. Cover the bowl with a tea towel to keep the meat warm.
Extend the life of foil by reusing it. I do use foil very occasionally, sometimes it comes in handy when barbecuing for instance.
As it's aluminium, foil can be recycled as long as it doesn't have a lot of food on it.
10. Replace garbage bags with…
…used bags like bread bags or frozen pea bags.
If you're reducing disposables, reducing packaging, recycling recyclables, composting your scraps, and Redcycling your soft plastics, you won't have much rubbish anyway.
But if you need a garbage bag, you can reuse packaging as garbage bags.
For instance, if you buy bread, instead of putting the empty bread bag in a rubbish bag or redcycling, use the empty bread bag as the rubbish bag. Same goes with the empty rice bag, or the empty pasta bag, or the empty frozen peas bag.
For more ideas, check out the Alternative Bin Liner Ideas post.
Avoiding disposables doesn't as much effort as we might think. But the savings add up and that little bit of effort will pay dividends for years to come.
What are your tips for reducing kitchen waste?