How to Wash Dishes Without Wasting Water
This website may earn commissions from purchases made through links in this post.
Water is precious. Save water with these tips on how to wash dishes without wasting water.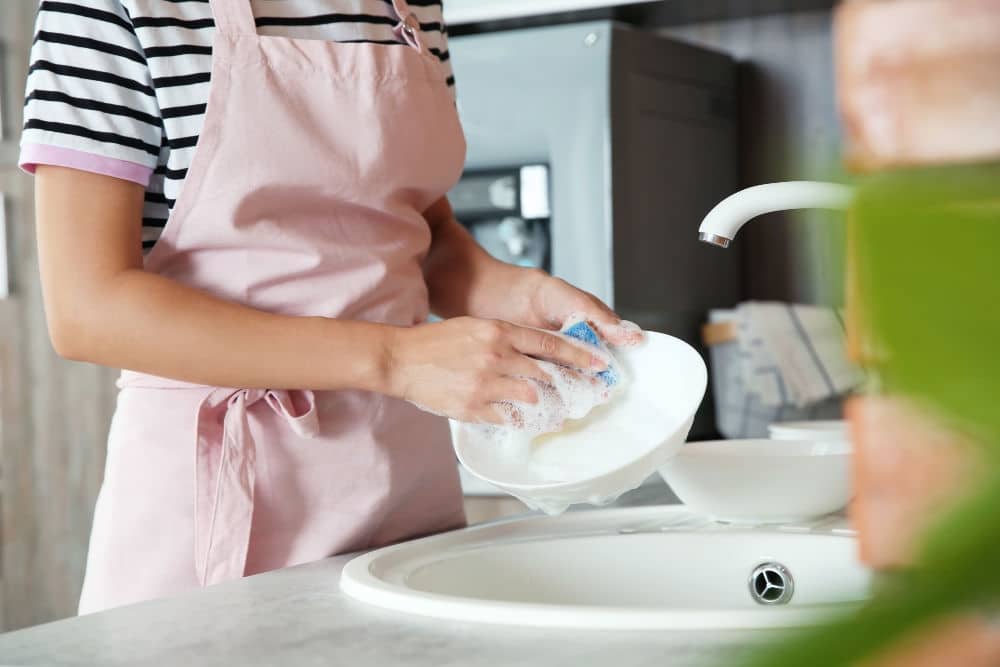 Dishwasher v hand washing, which uses less water? Which option is more eco-friendly?
While you and I were getting on with our everyday work of cooking and cleaning, the University of Bonn in Germany conducted a study to answer this question conclusively and for good.
The answer?
It depends.
The study found, on average, washing a load of dishes by hand (12 place settings), used about 103 litres of water (and an average of 2.5Wh of energy for hot water heating).
How each participant's hand-washed made all the difference. Some washers used as little as 30 litres of water, others used as much as 450 litres!
Water consumption, technique, competency and cleanliness varied widely between the participants.
However, in comparison, a dishwasher (of the mechanical variety) uses between 15 and 30 litres of water per load (and 1 – 2kWh of energy), depending on its efficiency [source].
Even the most efficient hand washer in the study isn't as efficient as a good dishwasher.
So is hand washing dishes a thing of the past?
We washed dishes by hand for 35 years. But a couple of years ago, we purchased a dishwasher and while I'm not convinced it uses less water than I do, it certainly makes life easier.
But there's still the water issue.
And water security is an important issue. Australia has had two severe droughts already this century and it's predicted to get worse.
Despite what the study says, you don't need a lot of water to hand wash the dishes.
In fact, I think hand washers can do just as well or better than 15 litres a load.
Your average sink holds around 20 litres of water. Wash up in a half-full sink, and you're only using around 10 litres of water. Add a little extra water for rinsing, and you can do the dishes in 12 litres of water or less.
If you wash up twice a day, that's still only 22 litres of water, comparable to a standard dishwasher.
Here are some tips on saving water while getting your dishes sparkling clean.
How to Wash Dishes By Hand Using Minimal Water
When I was a kid, dishwashing was a skill we learned in Brownies at camp where there was only tank water and we had to wash up in basins. If you're on tank water, you'll be even more aware than I am how important saving water is.
These steps are ones that I've found to be most water-efficient when it comes to hand washing dishes.
1. Scrape Plates with a Silicone Spatula Before Food has a Chance to Dry
A silicone spatula is one of your best frugal friends in the kitchen. Scrape out the last of the jam from the jar, the last of the mashed potato from the pot, the last little bit of pancake batter (mmm, crispy dribbly bits) and use it to scrape the plates clean after meals.
To be honest, I've always been one to finish every last morsel of food on the plate (and there may be a genetic trait of secret plate-licking, passed down from mother to daughter).
But the kids don't always finish everything they are given. And hubby has the habit of always leaving something on his plate. One pea. One little bit of chicken. A wodge of mash left on the fork…
Scrape it off before it turns crusty and cements on and you'll make dishwashing sooo much easier.
If the food on your plates goes crusty dry before you get a chance to tend to them, soak them for a minute or two in pre-rinse water…
2. Pre-rinse dishes in a couple of centimetres of water
Dishes need clean water to get cleaned properly, so it's a good idea to pre-rinse dishes first.
Save water by putting a tiny amount of hot water in the sink or basin, just a few centimetres, and give the dishes a swish with the dish brush to scrub off any remaining food.
This water may get mucky by the end of the rinse, but as this is only the pre-rinse stage, that's ok.
As with the washing up, rinse the cleanest stuff first.
If you use a basin or pot instead of the sink, you can pour this water out onto the garden.
3. Pre-soak cookware for stubborn stains
While this isn't strictly about saving water, it does save labour: cooked on food is a pain to wash off.
Make it easy by sprinkling the bottom of your baking pan or fry pan with a little washing soda (same as is in the homemade laundry soap) and pour a little hot water over – just enough to cover the bottom. Leave to soak overnight.
The next morning, give the pan a quick once over with a dish brush, pour the dirty water out and you're ready to wash the pan, without all the scrubbing, with your next load of dishes.
4. Don't fill the sink to wash the dishes
All you need to start washing the dishes is a couple of centimetres of hot water in the bottom of the sink and a few suds. The hotter the water the better. Use gloves so you can just use straight hot water – this will get your dishes sparkling.
As you're waiting for the tap water to get hot, don't let that water run down the sink! Save it in a pot or jug and use it for drinking or cooking. Just cool it in the fridge.
Also, use just enough suds to clean the dishes. Too many suds means you need more water to rinse the dishes.
Wash the clean and small stuff first and then…
4. Rinse with hot water into the same sink
Rinse the soap suds off with hot water, directly into the sink or basin you're using to wash the dishes.
That way, by the time you get to the pots and larger items, you will have half a sink of water instead of a few centimetres, plenty of water for the larger items.
Alternatively, if you have a double bowl sink, you can put a little water in the second bowl, and use that to dip the dishes in to rinse.
Or, and this is the way my mum does it, pour a jug full of water over the dish drainer to rinse the suds off all the dishes at once, after you have finished.
5. Tip the Washing Up Water onto the Garden
If you've used a large soup pot or basin to wash your dishes in, you can tip the water out onto the garden or lawn. This keeps your plants alive without hose watering, which is often banned during water restrictions.
If you use your grey water on the garden, just be sure to choose a greywater safe dishwashing detergent.
5. Drip dry
Ok, drip drying dishes has nothing to do with saving water, but has everything to do with saving time!
While it's possible to use as little or less water than a dishwasher when hand washing dishes, there's no getting around the fact that it does take more time.
At least by drip drying dishes on a dish rack, you're not doing any more work than you have to.
Better yet, of course, is to delegate the job of washing the dishes entirely.
By the way, if you have a dishwasher, save power by turning off the dry setting and letting your dishes drip dry in the dishwasher. Just crack the door open for airflow.
Call it cognitive bias, but despite the study, I'm still not comfortable with the claim that dishwashers are more eco-friendly than hand washing.
They may be more water-efficient if you don't take steps to minimise water when washing. But a few frugal strategies will ensure you keep dishwashing water to a minimum.
What are your tips and tricks for washing dishes without wasting water? Share them in the comments below.
JOIN THE NEWSLETTER