Reusable Homemade Cleaning Cloths from an Old Towel
This website may earn commissions from purchases made through links in this post.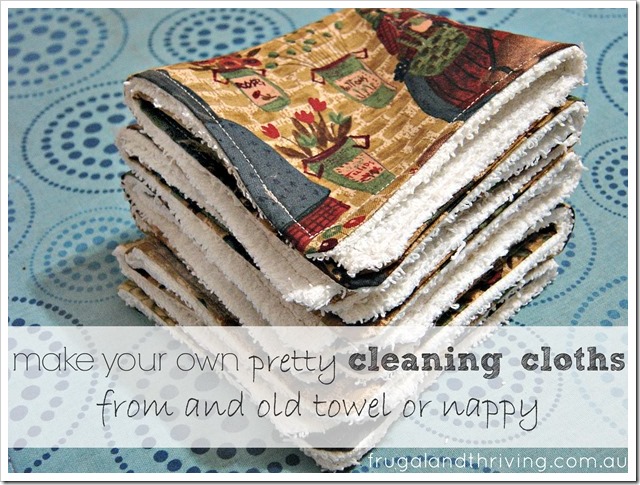 These pretty homemade cleaning cloths are a bit of a step up from cleaning windows and wiping up floor spills with Frugal Hubby's old undies, and a little less embarrassing when we have guests.
They are quick and simple to make, so a great project for a beginner sewer or a child who is keen to get started with your sewing machine.
Speaking of kids, mine have hijacked these cleaning cloths and made them their own. This may have something to do with the fact I leave them in the 'kid's drawer' in the kitchen – the drawer where they have easy access to plates, cups, cutlery…and cleaning cloths.
My son in particular likes to clean up spills without me having to tell him (actually, he doesn't like to be reminded to do anything – "I knew before you said, mum!").
Like all mums, I also grew a pair of eyes in the back of my head during delivery, so I'm well aware when the milk gets spilt or mess is made, but I pretend I don't know, so the kids save face and clean up their own mess. I've encouraged them to wipe up spills pretty much since they could hold a cloth – this pays dividends when they are older.
Use these cloths along with your homemade all-purpose cleaning spray for a frugal and naturally clean home.
We keep a bucket in the laundry to put dirty cloths, including our knitted dishcloths, in every day and I throw everything in the wash with the towels every week.
I made these cleaning cloths from an old (but clean and not stained!!) terry towelling nappy, but an old towel works just as well. I also used a couple of farm print fat quarters that were gifted to me about 10 years ago and that I've had no idea what to do with until now.
If you don't have a fabric stash from which to draw from, make this project super cheap by cutting up old and unused cotton clothing instead.
Here's how to make your own homemade cleaning cloths.
Homemade cleaning cloths – instructions
What you need:
an old towel or terry towel flat nappy
cotton backing cloth
sewing notions
How to do it:
First, cut your nappy and cloth to your preferred cleaning cloth size. I cut mine to be 25 cm square.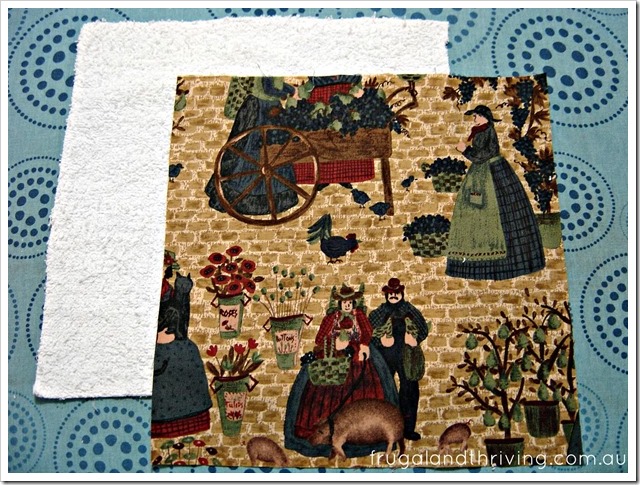 1. Place the cloths together, right sides facing, pinning if you like.
2. Leaving a 2 cm seam allowance, sew around the edge, leaving a small gap for turning the right way out.
3. Turn and press, folding over the opening in the seam and pressing closed.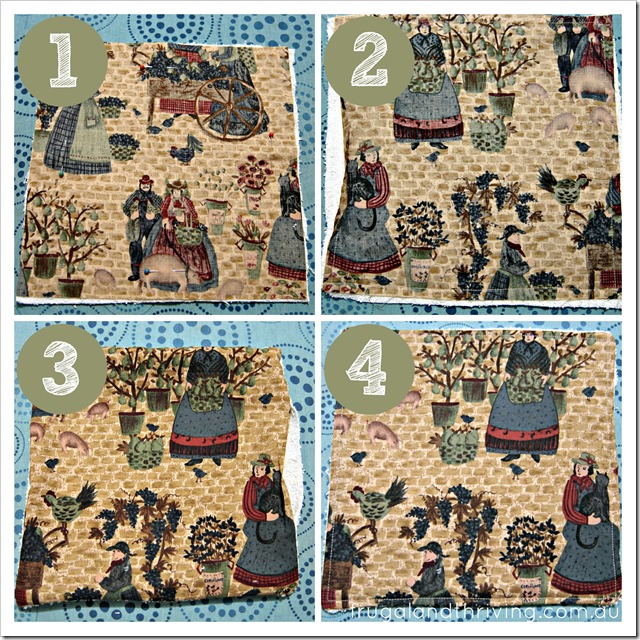 4. Top stitch around the edge of the cleaning cloth, about 1 cm from the edge, closing up the opening with the top stitching as you go.
Give the cloth another quick press and you're done. Super quick and simple!
While rags are great, you can clean with style by making a few of these quick and easy homemade cleaning cloths.
JOIN THE NEWSLETTER