Use up the crumbs at the bottom of the Weetbix box in these healthy Apple Weetbix Pikelets. Great for kid's lunchboxes or as a healthy snack.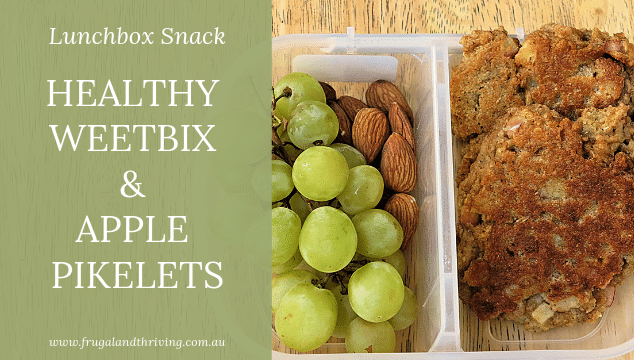 Is collecting Weetbix crumbs too frugal?
I feel it kills two birds: it reduces food waste and I don't need to crush Weetbix when baking with them. Although sometimes crushing stuff can be cathartic.
(Another favourite Weetbix recipe is this Weetbix and Date Loaf.)
These pikelets are not sweet like other pikelet recipes. We're trying to keep sugar down to a minimum, so these pikelets only contain the sugar that's already in the Weetbix, which isn't much.
There are hints of sweetness from the apple though and the subtle cinnamon flavour. If you like sweeter, just add sugar to taste.
These keep for a few days in an air tight container. On the bench is fine if your climate is cool and dry. Here in our hot and humid Queensland summer, we can practically watch mould grow, so everything goes in the fridge for us during the summer months.
Serve plain, or spread with jam or peanut butter or honey for a pikelet sandwich treat. Or as an afternoon snack, dollop with yoghurt and drizzle with honey.
weetbix and apple pikelets

Print
Ingredients
1 cup wholemeal flour

1 1/2 cups crushed weetbix

2 tsp. baking powder

2 tsp. cinnamon

1 egg

2 Tbsp. melted butter

1 1/2 cups of milk (more if needed)

2 apples, finely chopped
Print
Directions
Mix dry ingredients
Mix in wet ingredients
Heat pan over medium heat. Melt a little butter in the pan and dollop tablespoon of mixture into the pan, being careful not to crowd.
Turn when brown on the bottom and brown on the other side.
Serve with your favourite toppings.
Melissa Goodwin is a writer and the creator of Frugal and Thriving who has a passion for living frugally and encouraging people to thrive on any budget. The blog is nine years old and is almost like her eldest baby. Prior to being a blogger and mum (but not a mummy blogger), she worked as an accountant doing other people's budgets, books and tax.