How to create a baby nursery on a tight budget
This website may earn commissions from purchases made through links in this post.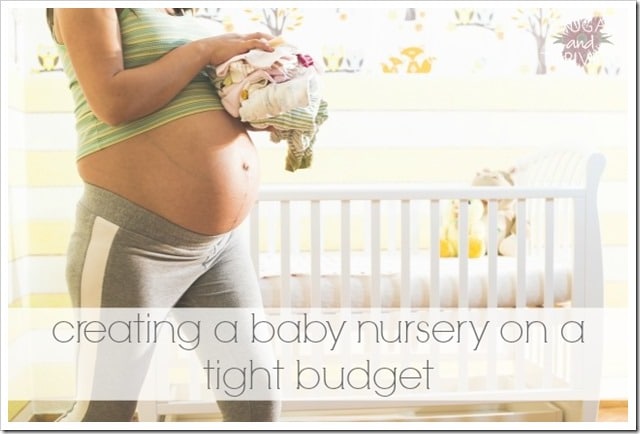 I'm going to be honest here and admit that we didn't create a nursery for either of our children.
For the first six months they slept in a cot in our room beside our bed and after that we moved them into the 'spare room', slowly cleaning out the junk as the kids grew and were able to reach more and more of it. A growth spurt was a good incentive to declutter the next highest shelf.
But I agree that it's nice to create a sweet little sanctuary to welcome your little one into the family, and especially with the first, doing up the nursery is all part of the excitement and anticipation.
Our kids' rooms have grown with them, slowly going from the spare room look, to something more appropriate for a child. While it would be easy to go crazy with the decorating (Pinterest may inspire creativity, it doesn't always encourage budgetary constraint) we've kept it simple and it's worked.
Here are some tips for decorating a nursery on a tight budget.
1. Essential furniture
The first step in creating a baby nursery is to decide on essential furniture. I would argue that the only essential furniture for baby's room is a cot or somewhere for baby to sleep (for co-sleepers, even a cot is not essential).
Everything else is optional, although my chiropractic friend insists a change table essential, and after 5 years of changing nappies on the bed or floor, my back might be inclined to agree.
A feeding chair is nice, and some storage will be needed, but if bub comes early and all you've got is a cot, you're in good stead.
The first place to look for these items is amongst friends. Do you know someone who can lend, donate or sell essential furniture items? If not, can you find them second hand?
If neither of these options is viable, think about nursery items early on in your pregnancy and keep an eye out for sales.
2. Themes and decorations
I'm afraid I'm boring and themes are a little beyond me, but if you're inclined, consider keeping your theme fairly neutral – something that will last through to the toddler and preschool years. The baby months are so fleeting – that wallpaper that is super cute today, could be totally inappropriate for your independent preschooler. Thinking ahead will keep costs down.
Once you've thought about a theme or colour palate, the easiest way to freshen up a room is with a coat of paint and for one room it's relatively inexpensive. Then it's a matter of decorating the walls to give the room a homely, comfortable feel.
When I was a baby, my mother used tea towels with cute animal prints on them as wall hangings and I still use those tea towels 35 years later, although now for their original purpose in the kitchen. As wall hangings, they looked nice and they were inexpensive.
In my daughter's room I covered an old canvas with some fabric. This is a simple and versatile idea, because the fabric can be easily replaced as the child ages and tastes change (and the fabric can used for a different project).
I also hung a picture of a cat from an old calendar, in a frame I picked up for 50c from the charity shop. And as long as your future calendars aren't of half-naked firemen (a girl can live in hope), it's easy to swap out the picture for something new at the end of each year!
For my son's room, I made a alphabet patchwork quilt that hangs on one wall. On the other walls are posters. I'd like to tell you they are equally educational but you can sometimes pick up free movie posters from JB Hi-Fi or your local video store and Kung-fu Panda has been a constant companion for these past few years.
Another option is removable wall decals, which are good if you're renting and can't hang pictures. You can pick these up quite cheap at discount stores.
When it comes to curtains, neutral coloured curtains will last many taste changes over the years. Blackout curtains can be a boon when trying to help baby learn to sleep, but can work against you as they grow into toddlers not so comfortable with the dark.
Incidentally, we find open curtains and street lights make for an inexpensive night light!
3. Bedding
It is now recommended that the less bedding the better due to SIDS. Cot bumpers and matching blankets are super cute but are expensive and not as safe as a simple sheet and swaddling wrap or sleeping bag.
You can make sheets from old larger sheets or pick up cot sheets fairly inexpensively in a discount store like Kmart. Sleeping bags are common now (more common than when my little fella was born nearly 6 years ago), but this is one area I've always gone for quality and bought the Gro-Bags online.
4. Storage
Besides a good second-hand chest of drawers for clothes, canvas storage boxes, wicker baskets or fabric storage baskets are inexpensive storage solutions that can add decorative character to your nursery. Keep an eye out for second-hand ones. These can be used to keep nappies in as well as toys, making for quick and easy access in the toddler years as well as quick and easy tidy up!
A small bookshelf is also a nice touch for the baby books that come later, although we are still using a large rectangular basket that we picked up for $2 at the charity store. It sits on the floor and is easy for toddlers and pre-schoolers to reach and choose their own books, browse at their leisure and tidy away.
Think ahead when it comes to storage. The large storage cubes, floating book rails, and wardrobes that you see on Pinterest are nice, but often not practical for children. As baby grows older, they will need to be able to reach their toys, books and clothes on their own. Kid-friendly storage (like baskets) is not only cost effective, it gives them the independence they crave and need.
5. Personal Touches
Some people swear by mobiles – for me I found them more of a hindrance to good sleep rather than a help. It will depend on your bub. On the other hand, a ceiling fan is not only essential for cooling a room inexpensively in a hot climate, but most babies find it the most fascinating thing in the room, no matter how much you spend on special baby mobiles!
A homemade baby mobile will be just as interesting to a baby as anything you could buy and it will be more personal as well as a lot less expensive.
If you're a quilter, or you have a quilter in the family, then homemade quilts make great wall hangings and floor mats that can become family heirlooms. If there are tactile items sewn (very securely) onto the quilt, it becomes a play mat that can interest baby at tummy time. If you're not a sewer, a quilt is the perfect place to start, because there are no complicated seams, zippers, darts…it's just straight stitching all the way.
Have you seen rag rugs made from old t-shirts? They are a colourful way to add a floor rug to baby's room without the expense.
If there's one thing to splurge on, a rocking chair or feeding chair is a comfortable addition. I happened to have one from when I was younger (it was a 16th birthday present – I was not the coolest kid in the class), and I used it everyday, more often than not for soothing myself during those frazzled first months than for soothing baby.
Finally, an inexpensive lamp is also useful – a better alternative for soothing bedtimes than harsh overhead light. A small bedside lamp will last long into the years when soothing bedtimes mean the kids read to themselves at bedtime.
Part of the excitement of having a baby is creating a space for them in your home as well as your heart. It can be easy to go overboard when creating a nursery for baby, but keeping it frugal will mean more money down the track for the things that really matter.
What to read next: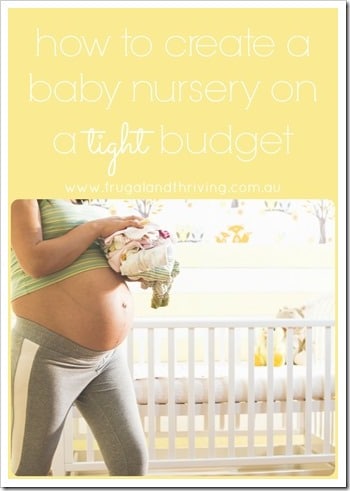 JOIN THE NEWSLETTER