Quilting–the perfect frugal hobby
This website may earn commissions from purchases made through links in this post.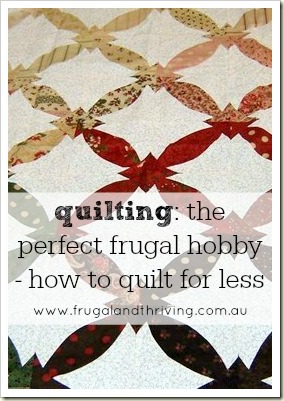 Quilting is the perfect frugal hobby.
Why?
Because the original reason for sewing little tiny pieces of fabric together to make a bedspread is to use up scraps of material leftover from other projects or salvaged from other items like old clothing.
While quilting is often perceived as an American traditions, other countries have their own quilting styles and traditions including Australia.
The Wagga is a traditional Australian quilt originally made by men from old grain sacks. Later women made them from sugar bags and old woollen suiting, recycling fabrics that they had around the home.
Of all the handicrafts, quilting is most definitely my favourite. I discovered quilting after reading a book in a book club where the main character took up quilting. That was eight years ago.
While I do make quilts on the sewing machine, I love the simple and mediative nature of hand sewing. The slow and repetitive work of the needle slows you down.
It's also nice to be able to pick up a bit of hand stitching while watching a movie on TV.
If you're a novice sewer, then I recommend quilting as a place to start. If you can sew a straight line, then you can quilt. Making your own quilt is actually quite a simple sewing project, but the results are always stunning, not to mention useful.
Like many hobbies, quilting be expensive if you let it. But there are plenty of ways to indulge in this handicraft without it breaking the budget.
Here's how.
1. Recycle materials from around the home
Materials like old clothing, sheets, tea towels and other fabrics.
Try to stick to cotton if you can as it tends to be more durable, but other fabrics work just as well. I have made quilts using satin leftovers (that I lined for stability) from a formal dress I made. Quilts using recycled fabrics have sentimental value, "I wore that top on our first date," "that was our baby's first top."
To use random fabrics in a way that gives pleasing results, look at the fabrics in terms of value – darks and lights – rather than colour.
2. Raid your local thrift store
Vintage sheets can be great for quilting if you can find them. But old clothing and linen also work well. Charity stores often sell fabric scraps and off cuts that other sewers have gotten rid of – they're a great way to build your stash.
3. Ask for fabric as a gift
A friend once gave me a stack of fat quarters for my birthday and it turned out to be the perfect gift, the fabric is now a half finished lap rug. It may even end up a gift back to her someday!
4. utilise every scrap
Leftover material can be made into new quilts.
Scrap busting quilts, crazy quilts and strip pieced quilts are just some of the quilts that can be made from scraps. The variety adds to the quilt's story.
Fabric shops often sell scraps and off cuts heavily discounted, or you could swap scraps with other sewers that you know. You could also try factory outlets for remnants where garments, sheets or other household goods are sewn.
5. quilt over an old blanket
When it comes to the wadding in the middle, try using an old blanket or quilt.
When you take into account the number of hours it takes to make a quilt, especially if you hand sew, then quilting ends ends up being quite an inexpensive pastime, even if you do buy all new fabrics.
And your creations could become treasured items that last years, if not generations, making their sentimental value far outweigh the cost of materials.
If you're looking for a frugal handicraft, give quilting a go. It's practical – you end up with blankets as well a whole range of other household items and potential gifts. And if you use the above tips, it's one of the cheapest hobbies you can get into.