more toddler play ideas – pretend play chores for free
This website may earn commissions from purchases made through links in this post.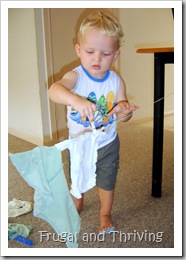 Like most typical toddlers, the little fella enjoys copying what mum does and helping with everything. One day recently I ducked upstairs and by the time I came back, the little fella had helped himself to the duster in the laundry and was busy dusting the furniture in the lounge room. Who am I, I thought, to interrupt?!
'Would you like to dust the bookshelf while you're at it? That's the boy! Mummy might just go and have a cuppa.'
Now if only I could work out a way to bottle this desire to do housework, and then drip feed it back to him in his teenage years (by which time I'm guessing the desire to spontaneously clean will have well and truly worn off).
When it comes to pretend play, there's a kid's toy version for almost every conceivable household chore. Walk down the toy aisles and you will find toy coffee makers, vacuums, food processers and microwaves (I guess tea pots, brooms, whisks and ovens have become irrelevant to a lot of kids).
Even in your more alternate, Waldorf style playrooms, the setup is still very elaborate, just with an emphasis on wooden (and therefore more expensive) toys over plastic. Sure, these toys are incredible, who wouldn't want to play with them? But not particularly frugal or, I think, necessary.
Because the real emphasis should be on play, not stuff. Fun has little to no correlation with stuff.
Don't get me wrong, I'm not anti-toy. The little fella has plenty of traditional toys and there are times when, like many parents, I get caught up in the belief that a new toy will mean an afternoon of peace and quiet. If only that were true. It never actually works that way. However, simple activities that involve little or no outlay can keep the little fella amused long enough for me to have a quiet cuppa.
So back to the free pretend play. Let's start with cooking.
Cooking
The little fella loves cooking and spends a lot of time either helping me in the kitchen or playing pretend cooking (I'm hoping that if I encourage this passion, I'll see dividends in the future :)). While I drool over beautiful wooden kitchen sets, a cardboard box and some items out of the kitchen is sufficient for play.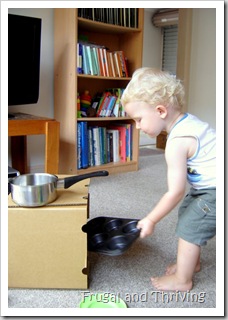 Making muffins after spending the morning making the real thing.
You could paint the box or draw hotplates on the top (I've done this in the past), but leaving it blank works just as well and means that the box can easily become something else (like a car).
Add in a pot, a mixing bowl, a spoon or whisk, a measuring cup, some pans all from the kitchen and maybe some plastic or tin plates, and you have yourself a MasterChef in the making and hours of fun with no financial outlay and little effort on your part (apart from eating endless pieces of pretend chocolate cake. Yes, I've found that even invisible chocolate cake can expand the waistline).
Hanging the washing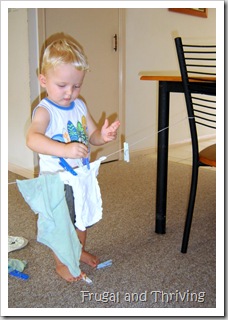 String + pegs + clean rags from the rag bag = lots of fun.
Here I've just tied some string between two chairs. Simple yet entertaining. And if you like to associate a learning outcome with this activity (which seems to be all the rage these days – every experience needs to be a developmental one), this activity is great for manual dexterity and strength (or motor skills) and hand-eye co-ordination.
Washing the dishes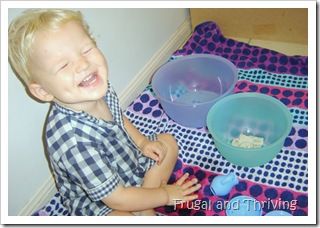 Water play is one of the best activities for children as far as keeping them occupied for long periods of time. It doesn't have to be elaborate; a simple ice-cream container of water and a paint brush or a spray bottle outside can be endlessly amusing.
When it comes to washing the dishes, I set a towel down in the kitchen, put a little warm water and a tiny amount of dishwash in a Tupperware bowl and give the little fella some utensils (or his tea set) and a cloth, while I wash the real dishes in the sink. And we sing the dishwashing rhyme my dad used to sing:
Wash the dishes,
Dry the dishes,
Turn the dishes over.
Actually, you don't even need to add water. We've had washing up sessions after tea parties without water (the song is compulsory, though).
Cleaning the bathroom
Because we clean with bicarb and vinegar, I have no qualms about the little fella helping. I give him a mostly empty shaker of bicarb, an old toothbrush, a cloth and a spray bottle of plain water and let him shake and wipe and spray and scrub the bath to his heart's content.
The floor is often covered in bicarb after this activity, so it's best done on a vacuum day (and is why the shaker is mostly empty), but again, I can usually manage to clean the sink and shower without 'help' and I use the excess bicarb on the edge of the bath to clean the rest of the bath.
Now if only I could get the little fella to muster as much enthusiasm for putting away his toys at the end of the day as he does for doing the rest of the chores. But maybe therein lies the problem: it actually is a chore as opposed to a pretend one.
What are your tips for frugal pretend play?
Melissa Goodwin has been writing about frugal living for 10+ year but has been saving her pennies since she first got pocket money. Prior to writing about frugal living, Melissa worked as an accountant. As well as a diploma of accounting, Melissa has an honours degree in humanities including writing and research and she studied to be a teacher and loves sharing the things that she has learned and helping others to achieve their goals. She has been preparing all her life to write about frugal living skills.
JOIN THE NEWSLETTER