embrace voluntary simplicity for a happier, healthier life
This website may earn commissions from purchases made through links in this post.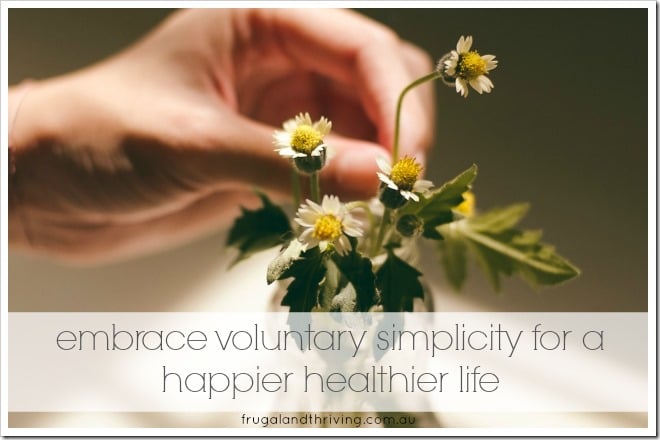 The other weekend instead of spending the day scrambling to catch up on the cooking and cleaning and all the other things that never seem done, I took a walk to the local farmer's markets.
A long slow walk, one that winds along the river, shining in the early morning sun. The fresh morning air, the cool sea breeze, the sun that's not so hot yet, the people passing by and saying hello, tasting, smelling, feeling and buying local fresh organic produce, wandering through the nursery stalls, coffee in hand…and I was happy. Happier than I'd been in a while.
It was all a much needed panacea for the soul.
The contentment I'd been searching for when all the work is 'done' (it's never done), was found along the river and among friendly strangers.
Next week, I thought, we should ride here with the kids. And bring our swimmers for a swim on the way home. And some morning tea and a good book to relax with under the trees.
Even the most frugal of us can get side-tracked looking for happiness in stuff. Even though we're not out shopping, we might be tempted to think that once our stuff is tidier, more organised, more ethical, more hand-crafted, more environmental, more renovated, restored, more feng shui-ed, more pinterest worthy…then we'll be happy.
But there's always more.
And in the mean time, we've missed out on the true path to contentment.
Putting so much emphasis on "stuff"… and it doesn't matter if you're buying it or purging it… makes "stuff" more important than it should be…the "secret" is a balance of consistency, moderation, and flexibility, and the goal should be a lifestyle that is joyous… exciting… and fulfilling. There is nothing restrictive or negative about really LIVING your life instead of just existing day to day." [source]
voluntary simplicity
Voluntary simplicity frees us from being imprisoned by our stuff.
It's a conscious decision to let go of the need for more.
We were on holidays last week. We stayed in a tiny cabin that had only the basics. And it was 'enough'. It was easier to put the kids to bed when they shared a room. It was easier to keep the place clean when I wasn't picking up endless toys. The kids played in the park. We ate simple meals. Life was good.
As soon as we returned home, my stress level dialled up again. There's suddenly so much to do again, so much stuff that has to be cleaned, organised and put away. So many projects that need attending to.
We often think simple living equates with a back-to-nature tree change; giving up our jobs in the city and homesteading it somewhere in the country.
However, voluntary simplicity can happen anywhere and for anyone. It is a way of life that attempts to balance outer growth with inner growth (as Richard Gregg described it in 1936) – a way of life that is outwardly simple and inwardly rich (Duane Elgin).
This way of life embraces frugality of consumption, a strong sense of environmental urgency, a desire to return to living and working environments which are of a more human scale, and an intention to realize our higher human potential—both psychological and spiritual—in community with others." [source]
Graham Hill of Life Edited (thanks to a reader who told me about this concept) just goes to show voluntary simplicity isn't homesteading. He uses cutting edge technology and smart design to turn a tiny apartment in New York into a smart, simple, multi-functional space that has less stuff and a lower ecological footprint, but just as comfortable (you can check out his apartment here).
Of course, not all of us can or want to live in a tiny space. But we can take the ideas of life editing and voluntary simplicity to improve our own lives. To make life easier. To be able to focus on the things that really make us happy. (And to reduce our ecological footprint.)
Reducing material possessions is usually the first step to embracing voluntary simplicity, but before that, before you declutter and organise, before you emphasise stuff through the purging process, I would argue that you need to refresh and fill your soul with rich things that will become the driving force of your voluntary simplicity and will ultimately make you happier. Things like relationships, following your passions, connecting with the natural world, learning new skills, being creative.
When you start on the road to voluntary simplicity, it's hard not to get caught up in the idea that once everything is decluttered and organised, then the real living will start. That's why we need to first remind ourselves what we're living for. Life editing will take time, and shouldn't get in the way of living itself.
And then when we are ready to part with our stuff and embrace simplicity, it can be hard to let go of all that stuff we've accumulated over the years. There's a lovely little book written by the Japanese organising expert Marie Kondo that takes a different look at simplifying. In her book, The Life Changing Magic of Tidying Up: The Japanese Art of Decluttering and Organising, Kondo recommends focusing not on getting rid of things, but on deciding what things that you truly love or need that you want to keep. The rest doesn't matter and can be given away.
I think this works well with the idea of voluntary simplicity: keep the things in your life that are truly important and add value. Simplicity is then less about doing without and more about being happy.
Homebody hobbit that I am, I realise more and more that happiness lies outside our little box: in communion with other people and with the natural world. It can be hard to break the habit of stuff, and not just acquiring it (I'm a hoarder, acquiring stuff can be other people's rubbish we've picked up, just in case it comes in handy) but dealing with it on a day to day basis.
Every time I say to the kids: "I can't play now, I've got things to do" and I realise those 'things to do' is dealing with our stuff, I think back to our holiday and the freedom we had and realise that stuff is getting in the way of life…and it's time to let it go.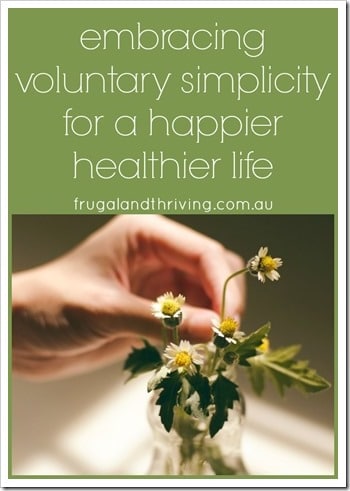 Image by SnapbyThree MY via Unsplash used under the creative commons licence.
JOIN THE NEWSLETTER