Stay hydrated with a homemade electrolyte drink.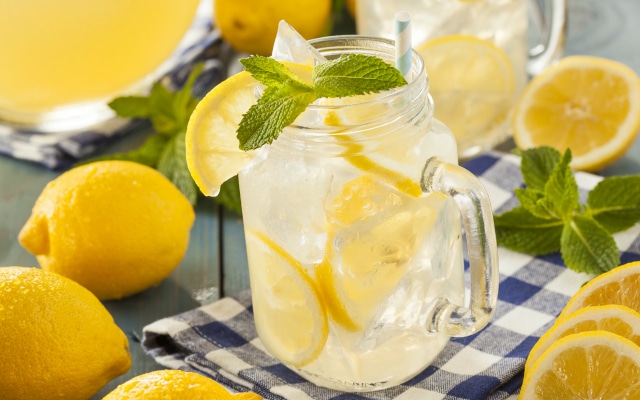 Drinking water is essential for good health…it's essential to stay alive!
And yet, sometimes water alone isn't enough.
Maybe you're sick, or you've been turned inside out by a gastro bug.
Maybe you exercise hard. Or you work outdoors in the heat. Or live in the tropics like me.
This summer I added a glass or two of this homemade electrolyte drink to my daily water intake and it made a huge difference to how I felt. A lot of the lethargy I'd been feeling day after day from the heat disappeared. Water alone didn't seem to cut it.
While I wouldn't drink this all the time, during illness, or at the height of summer, when even thinking about moving can break out a sweat, this drink replenished the electrolytes I was losing.
You can buy electrolyte drinks like Hydrolyte or sports drinks, but they are pretty expensive. However, if your doctor recommends them, that's what you should go with (listen to the expert!) – they are specially formulated to have all the essential minerals the body needs.
My doctor always recommends a homemade electrolyte drink – it's an effective, time-tested alternative to the expensive store-bought variety.
So what are electrolytes and why do we need them?
Electrolytes are the fancy term for salts, or specifically ions. The major electrolytes in the body are sodium, potassium, magnesium, chloride, bicarbonate, phosphate, sulphate, calcium.
They are important because they regulate nerve and muscle function. Gastro bugs that involve vomiting of diarrhoea, heavy exercise or anything that induces heavy sweating can lead to electrolyte loss. In these instances plain water might not be enough to rehydrate – you may need to replenish electrolytes too.
Electrolyte drinks not only replace lost fluids, they replace these essential electrolytes.
What's in an electrolyte drink
Last time we had gastro, my doctor recommended we make our own electrolyte drink from cordial and salt. While this solution is cheap and simple, there's a much better alternative that is almost as simple and inexpensive.
The ingredients included in an electrolyte drink include:
Water – rehydrates. You can also use cooled herbal tea or coconut water*.
Unrefined salt – This provides the bulk of the electrolytes. Don't use ordinary table salt, which is just sodium. Instead, use an unrefined salt like Celtic Sea Salt or Himalayan Rock Salt. Unrefined salts include other minerals and trace elements like magnesium and calcium.
Honey or sugar – The honey is important for helping the body absorb the minerals in the salt. It also adds glucose and improves the taste of the drink. Any honey will do, but if you have raw honey, all the better. Raw honey has anti-microbial properties that can aid healing. It can also help soothe a sore throat and cough. It's important to note that honey is not recommended for children under 1, in which case sugar or maple syrup can be used. Sugar has the added benefit of being cheaper than honey!
Lemon Juice – Citric fruits are high in potassium, another essential electrolyte, as well as adding other immune-boosting nutrients like Vitamin C to the mix. The lemon juice also improves the tastes. You can use orange or lime juice instead. Freshly squeezed is best.
*Coconut water is a popular rehydration drink – the problem is that it can be just as expensive as the Hydrolyte. If you want to use coconut water instead, you can drink it plain with a dash of unrefined salt.
Homemade Electrolyte Drink
Ingredients
1 litre of water
1/2 tsp. unrefined salt
1 – 2 Tbsp. honey or sugar
Juice of 1 – 2 lemons or oranges to taste
Instructions
Combine all ingredients and stir until dissolved.
Notes
It may be easier to dissolve salt and honey in a little hot water first.
This can be stored in the fridge for 3 days.
Change up the flavour by adding fresh mint or ginger.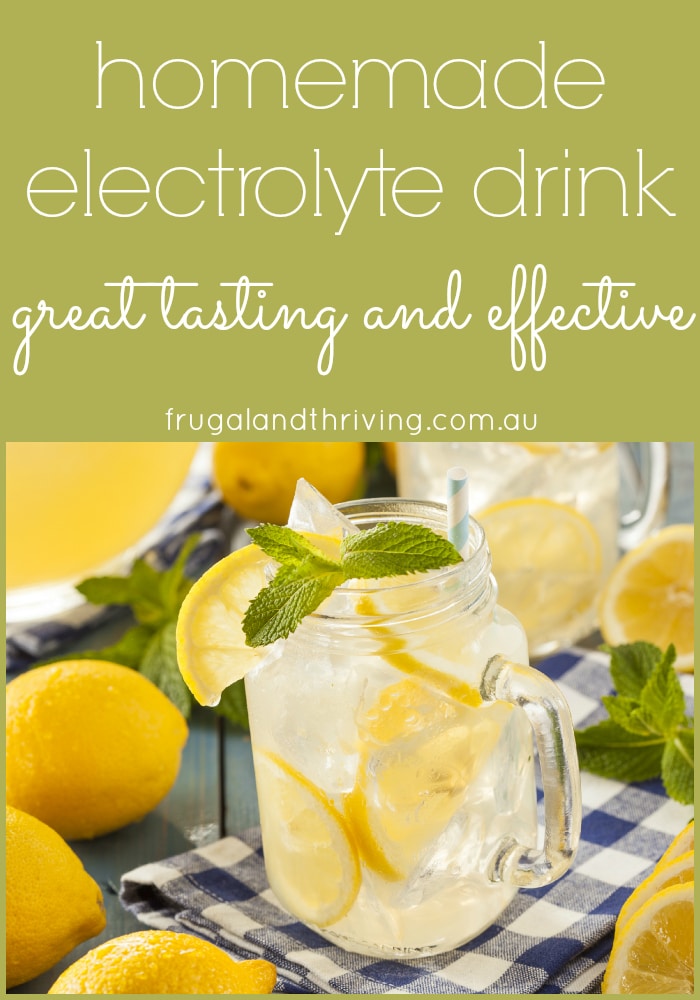 Melissa Goodwin is a writer and the creator of Frugal and Thriving who has a passion for living frugally and encouraging people to thrive on any budget. The blog is nine years old and is almost like her eldest baby. Prior to being a blogger and mum (but not a mummy blogger), she worked as an accountant doing other people's budgets, books and tax.