get your daily dose of vitamin (n)ature
This website may earn commissions from purchases made through links in this post.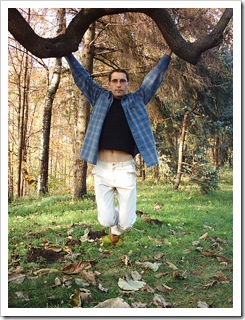 If you need convincing that getting outdoors each day is necessary for good health, Richard Louv's latest book, 'The Nature Principle: Reconnecting with Life in a Digital Age', offers a compelling argument for the benefits of spending time in 'nature'.
Louv coins the term Vitamin N (for nature) to emphasise that spending time in the great outdoors or communing with our natural habitat in some way each day is essential for our health and wellbeing.
In his book he argues the benefits of spending time in nature include:
Expands our perception by engaging all senses (nature provides different challenges, like avoiding stepping on a snake, that means all senses are heightened and engaged, a state we rarely experience in an urban setting)
Promotes clearer thinking
Calms and focuses the mind
Enhances creativity
Reduces stress
Enhances mood and increases feelings of happiness, contentment and peace
Reduces anger, depression, anxiety
Increases physical fitness
Heals (reduces blood-pressure for instance, promotes speedier recovery after illness or hospitalisation, reduces pain)
Encourages and facilitates relationships (people bond and communicate better 'in nature')
Gives a stronger sense of spirituality, self and connectedness
Encourages eco-awareness and the preservation of natural spaces
(And a benefit that I want to add) saves you money. No consumerism when looking for crabs in pools or when on walk-about through the bush.
The book includes clinical studies that support many of these claims, if you're interested in reading further.
Getting your daily dose of Vitamin (N)ature
How much time do you need to spend in nature to benefit from it? While there's no exact answer, it's true to say that most of us could do with a little more time outdoors.
The National Wildlife Federation recommends one hour a day interacting with nature.
However, one hour day can be a challenge for many of us; after all there's work or school to attend, dinner to cook, homework to complete.
Adding to the challenge is finding places to go (particularly if you live in an urban setting, a unit or townhouse); the lure of technology and the Screen; and fears, both conscious and unconscious, that prevent us from venturing far from our living rooms.
So here are some ideas for getting into the natural world each day.
Get out of the house: visit local parks, national parks, walking trails, the beach, the river, patches of bush or state forest, picnic grounds, farms open to the public, pick-your-own farms, empty lots. Walk on the nature strip. Eat lunch away from the office (preferably on some grass and under a tree). Visit open gardens. Star gaze. Eat a dawn breakfast on the beach or an evening dinner at the park. Look for nocturnal creatures in trees along the street. Jump in puddles. Stand in the rain. Build snowmen. Kick autumn leaves. Forage. Hike. Fish. Go camping. Take a drive in the mountains. Go on a bike ride. Go to an outdoor cinema. Visit the farmer's markets. Enjoy outdoor festivals. Play backyard cricket. Kick a ball round the local oval. Do inside things outside: read under a tree, shell peas on the back porch, take your work outside.
Deepen your natural knowledge: use your local library or internet to learn about the plants, animals and insects that make up your local eco-system. Go on guided walks, join groups (or start your own), take workshops, watch a documentary. Explore bush tucker. Create your own nature guides (great with kids): bird watch; start a plant journal. Become an amateur naturalist. Smell the flours. Photograph. Sketch. Take notice. Notice the details.
Bring nature to you: start a garden, focus on natives that will encourage insects thus bring wildlife into your garden. Grow your own food. Use natural materials when building or decorating your home (wood, stone, wool, cotton etc). Grow indoor plants. Open the doors and windows. Dig in the mud. Build a fairy garden. Install a bird bath. Meditate or do some yoga in the backyard. Watch the birds on the clothesline. Feed the birds. Start a worm farm. Get a pet. Read in the sun. Celebrate the solstices. Feel the breeze on your face. Take notice where you are.
Conserve nature: join a conservation group, plant a tree. Help eradicate known weeds from your local area. Pick up rubbish.
Our natural world is shrinking as our urban landscape spreads. Appreciating nature, in fact, just noticing it, is the first step towards conserving our natural environment or creating (re-generating) new ones. The benefit is mutual – both to ourselves, and the eco-system at large.
What's your favourite way to enjoy the great outdoors? Do you spend an hour a day or more outside?