Fresh Tomato Salsa Recipe – Perfect for Summer Entertaining
This website may earn commissions from purchases made through links in this post.
Looking for a quick and tasty dip for summer entertaining? This fresh tomato salsa recipe can be on the table in less than 10 minutes and is always a crowd-pleaser.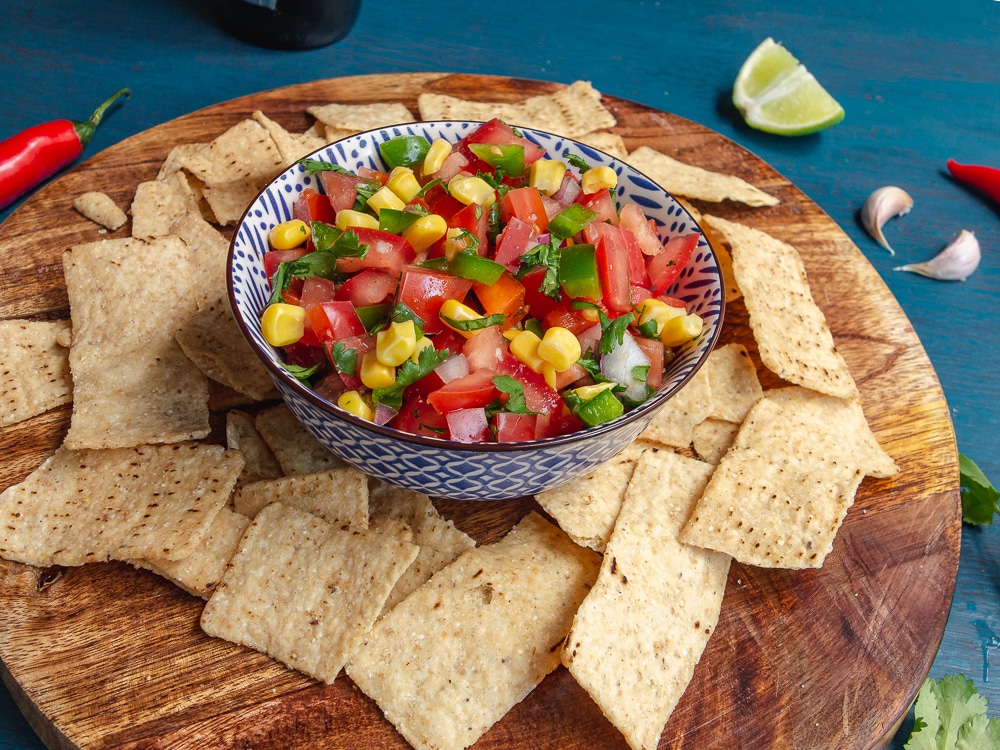 Nothing says summer like tomatoes and backyard entertaining. And this easy salsa recipe combines the two.
Using fresh ingredients that are at their peak during the summer months, this fresh salsa recipe (also known as Pico De Gallo) is quick and easy as well as versatile.
Not to mention delicious.
Use the basic recipe as a starter and then mix and match other ingredients you have on hand.
(I'm quite partial to the addition of fresh nectarines.)
Serve this with corn chips and maybe some avocado dip, or as part of a bigger nibbles platter.
Here's everything you need to know to make the perfect tomato salsa.
Basic Ingredients
The basic ingredients for salsa are:
tomatoes
onion
garlic
coriander / cilantro
lime
chilli (although I leave this out for the kids)
To these basic ingredients, you can add other items like capsicum, which bulks out the salsa, and corn, which adds a nice colour. Pickled jalapenos also make a tasty addition to the basic salsa.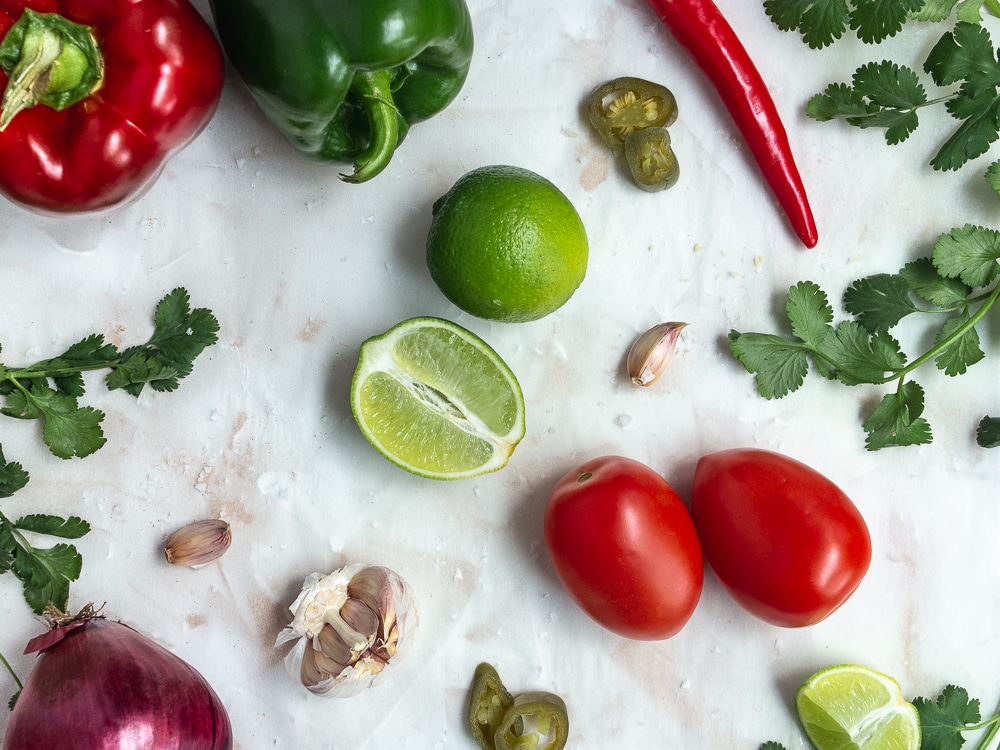 What tomatoes are good for salsa?
You can use any tomato for salsa but I prefer Roma because they are more fleshy and have fewer seeds.
If you're using a 'regular' tomato and it has lots of seeds, you might like to remove the seeds first so that your salsa is less liquidy. This is entirely personal preference. If you do remove seeds, you may like to add an extra tomato to compensate.
Do you have to peel the tomatoes?
Heck no! Unless you want to. Chopping your tomatoes and throwing the salsa together as is makes it quick and easy.
But if you would prefer to peel your tomatoes, this is how you do it.
Bring a pot of water to the boil. Fill a separate bowl of COLD water. ICED water is better if you have ice.
Using a sharp knife, cut a shallow cross in the bottom of the tomatoes as pictured below.
Place the tomatoes into the boiling water for 30 seconds and then transfer straight to the cold water to stop the cooking process.
Once the tomatoes are cold use your sharp knife again (or just your fingers!) to peel the tomatoes from where you cut the slit in the bottom.
Incidentally, this is the same way you peel stone fruit like peaches and nectarines.
How to turn this into an easy cooked tomato salsa
You don't need a separate cooked salsa recipe. The easiest way to make a cooked salsa is to throw this fresh salsa into a pot and cook it up for around 10 minutes or until it's cooked to your liking.
It's a little hard to tell from the photo below, but that's what I did with this salsa.
Why would you want to cook fresh salsa? Cooking it deepens the tomato flavour and mellows the onion. It's a similar flavour to the fresh salsa, just a little more dramatic.
Prefer your salsa to be a little saucier?
Pulse the salsa (cooked or fresh) in a food processor until processed to your liking.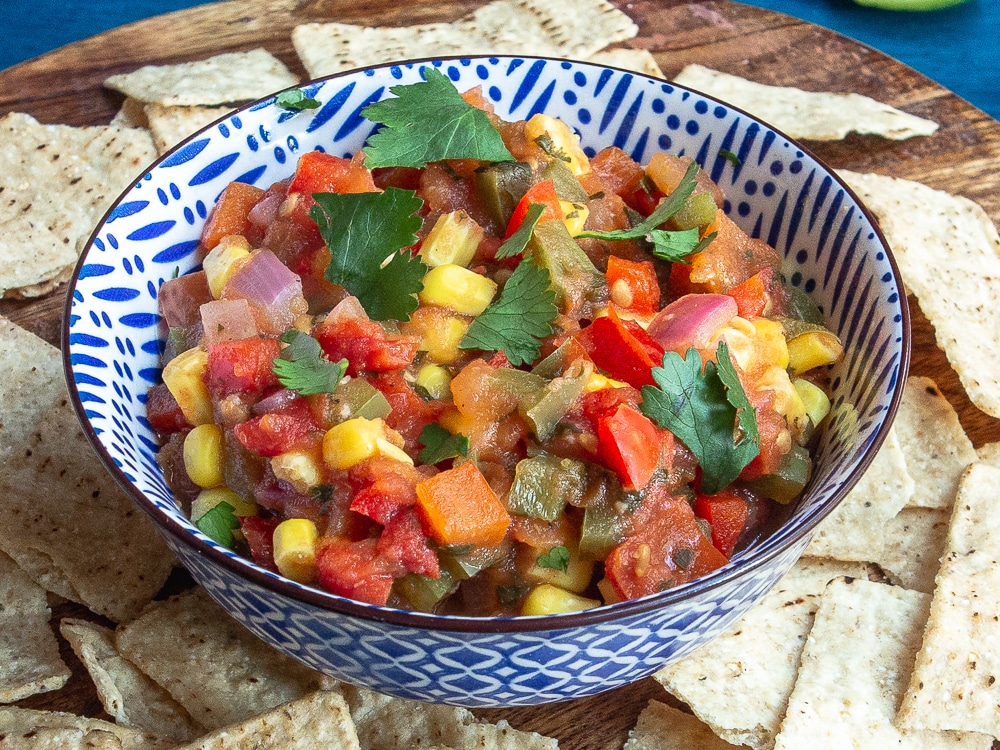 Other ways to use up your homemade salsa
Not that there will be leftovers, but this fresh tomato salsa recipe can be used many ways besides a dip.
Use it as a fresh sauce to spoon on top of cooked fish, chicken or meat.
Put it in tacos or burritos.
Make extra and cook with some beans for easy vegetarian nachos.
Here's the recipe:
Yield: 2 cup
Fresh Tomato Salsa Recipe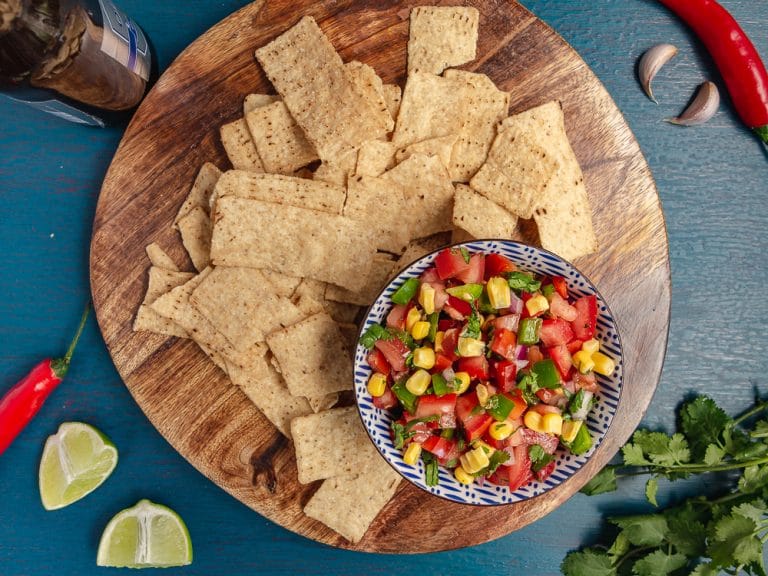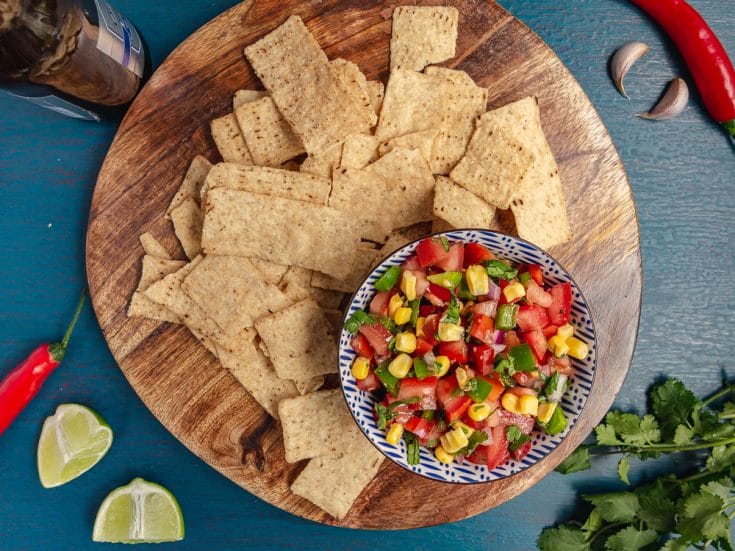 This fresh tomato salsa recipe is quick and easy to throw together in minutes.
Ingredients
4-6 tomatoes
1/2 capsicum
1/2 red onion
1 clove garlic
1/2 lime, juiced
1/2 cup coriander
1 tsp cumin
salt and pepper to taste
Instructions
Roughly chop tomatoes and capsicum into small pieces.
Finely dice the onion. Mince the garlic clove.
Mix all ingredients together. Taste and adjust.
Let sit in the fridge for a couple of hours or overnight to let the flavours develop.
Notes
Add chopped chilli to your salsa for a kick. Leaving the seeds in will make it extra spicy or you can scrape them out for less of a hit. Or add pickled jalapeno chillis instead.
Add corn for colour and variety.
Add fresh mango or nectarine for a hint of sweetness.
Serve with corn chips.
Nutrition Information:
Yield:
12
Serving Size:
1
Amount Per Serving:
Calories:

25
Total Fat:

1g
Saturated Fat:

0g
Trans Fat:

0g
Unsaturated Fat:

1g
Cholesterol:

0mg
Sodium:

30mg
Carbohydrates:

5g
Fiber:

2g
Sugar:

2g
Protein:

1g
Nutritional information is calculated automatically using the Nutritionix database. Nutrition information can vary for a recipe based on factors such as precision of measurements, brands, ingredient freshness, serving size or the source of nutrition data. We strive to keep the information as accurate as possible but make no warranties regarding its accuracy. We encourage readers to make their own calculations based on the actual ingredients used in your recipe, using your preferred nutrition calculator.
JOIN THE NEWSLETTER