9 Easy Homemade Dip Recipes for Budget Entertaining
This website may earn commissions from purchases made through links in this post.
Instead of buying expensive dips for your next party, make your own and save. Here are nine easy homemade dip recipes to try.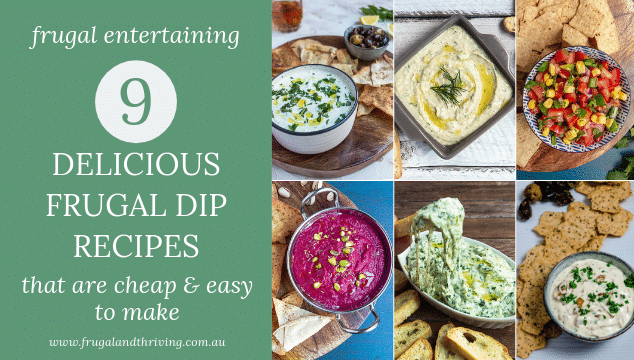 While entertaining at home is a lot cheaper than eating out, the cost can add up, especially the cost of nibbles and appetisers.
One great way to save money on nibbles is to make your own.
But if you're not keen on spending hours in the kitchen before and during a party, I hear you! Which is why the following dip recipes are not only frugal but quick and easy to make and have few ingredients.
The exception is the French Onion dip, which, if cooked from scratch, does take time for the onions to caramelise. But you can "cheat" and make it using French onion soup mix and sour cream and have it ready in under three minutes!
What to serve with dip
While chips are a classic dip accompaniment, there is a wide range of possibilities. Here are some ideas:
Crackers (these homemade pita crips are an easy cheap option as well as these parmesan pastry twists)
Corn chips
Bread and croutons. Baked Turkish bread and ciabatta and baguette are all frugal options. Bake them in the oven brushed with a little olive oil for croutons.
Crudites. Cut carrot, celery, capsicum, cucumber, snow peas, radishes, raw green beans, cherry tomatoes.
Homemade veggie chips
And of course, you can serve dip as part of a larger nibbles platter.
How long will dip keep in the fridge?
Homemade dips will keep for up to four days in the fridge.
For storebought dips, refer to the packaging.
Can you put leftovers back in the fridge after it's been served?
You've been sitting enjoying good company, a cool drink and a few nibbles. Packing away the leftovers, the question becomes: can I put them back in the fridge?
According to Food Standards Australia, potentially hazardous foods that normally need to be refrigerated (like most dips), can be put back into the fridge if left out for less than 2 hours (including prep time).
Foods are still safe to consume for up to four hours (but not returned to the fridge).
This is known as the 2 hour/4 hour rule. Under 2 hours, it's ok to go back in the fridge. 2-4 hours, it's still good to eat. Over four hours, throw out.
"Although potentially hazardous food should be kept at 5°C or colder or 60°C or hotter wherever possible, this food can be safely between 5°C and 60°C provided it is between these temperatures for less than four hours. This is because it takes more than four hours for food-poisoning bacteria to grow to dangerous levels."

[source]
9 Easy Homemade Dip Recipes
Here are nine easy homemade dip recipes to try.