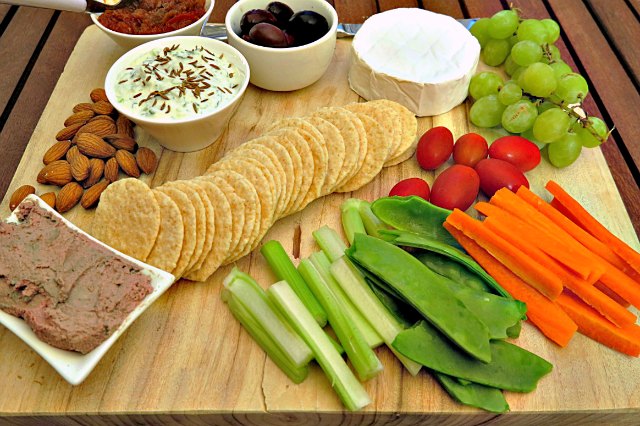 "My idea of good company…is the company of clever, well-informed people, who have a great deal of conversation; that is what I call good company.' 'You are mistaken,' said he gently, 'that is not good company, that is the best." –Jane Austin, Persuasion
There's nothing so enjoyable as relaxing on a summer Sunday afternoon with friends, sharing good conversation, laughter and knocking back a few cold ones while the kids race around getting up to who-knows-what mischief.
Those are the ingredients for good living.
But you can't entertain without food, and a simple nibbles platter is an essential component of informal entertainment.
No one wants to spend hours in the kitchen on a hot day preparing elaborate h'orderves, as enjoyable as they are to eat. Nor do we want to spend a fortune on nibbles, which isn't that hard – snacks can be expensive!
Which is where the simple nibbles platter comes in. No cooking, no fuss and no broken budget (or overly expanded waistline – surely there's room for just a little indulgence) over the silly season.
Here's how to put together a great nibbles platter on a beer nuts budget.
Theme your platter
Start by thinking of a theme your platter. A theme narrows down the elements so you're not overwhelmed by choice, and it helps you to mix complimentary flavours.
Some examples of themed platters include:
Mexican: layered Mexican dip, served with corn chips, a sharp cheese and seasonal vegetables.
Greek: Tzatziki dip, dolmades, marinated fetta, crusty bread, olives, seasonal vegetables, cured meat.
Classic French: Brie cheese and another cheese, quince paste, pate, lavosh bread, nuts and dried fruit, seasonal fruit, cured meat.
Antipasto: Marinated olives, eggplant, dried tomatoes, cured meats, breadsticks, water crackers, seasonal fresh vegetables, white bean dip, halloumi.
Bring back the 70s: cubed cheddar, gherkins, stuffed olives, cabanossi, pickled onions, Jatz biscuits, French Onion Dip.
Start with one or two cheeses
Cheese is usually the main attraction of a nibbles platter, but it can also be the most expensive element. However, you don't need to spend a fortune.
I don't mind a good cheese. When I lived in Sydney, my flatmate and I would head to a little cheese shop in Martin Place to pick up a special ash covered washed rind or a small farm chevre. The whole shop was one big cold room with the cheeses out on display on pedestals around the room.
Very swish.
But it was also a lot less expensive than you might think. After all, we were uni students; forget the beer budget, we were on a lemonade budget!
Here's the thing: even if a cheese is $40 a kilo, 100g is $4. Not too expensive for a very special treat. And 100g of one or two cheeses is plenty for a nibbles platter.
But you don't need to go to a cheese provedore for good cheese, or spend $40 a kilo!!
If you're fortunate enough to have a good deli in your town, then you can pick up some amazing cheeses, cut to the amount you require, for just a couple of dollars.
Or you could just go to Aldi, which is where I now head for some nice, inexpensive cheese. You can pick up a whole wheel of brie for less than $3.
Serve it alone, or with one other select cheese (Aldi has a pretty good range) and you're good to go.
Make your own dips
The best way to save on a nibbles platter is to make your own dips.
Store-bought dips can add up quickly! Two good dips alone can set you back around $10.
While you can't knock up a brie in a few minutes, you can make dips quickly and easily for a small fraction of the cost.
One of the easiest dips is simply some cream cheese covered with sweet chilli sauce. Or you could go retro and mix up some sour cream and corn relish. Mayonnaise and garlic make a simple aioli. Growing an abundance of basil? Whip up your own pesto.
Other dip ideas include:
Tzatziki – super simple: yoghurt, grated cucumber, chopped mint, lemon juice and garlic to taste.
Beetroot dip – I keep roast beetroot in the freezer
French onion dip
Pate (love pate, and it's a super healthy way to serve offal!)
Homemade chutney (goes great with cheese)
Olive oil and homemade dukkah
Along with some cheese, add a dip or two to your platter. Now you've got the star elements; it's time to add the accompaniments.
Crackers or Bread
Crackers or bread are the usual vehicle for your cheeses and dip to go from table to mouth (although if I let her, my two-year old would just scoop dip up with her fingers).
The carb component of the nibbles platter is also the cheapest component (and let's be honest, the most favoured – the crackers usually go long before the carrot sticks), so let the crackers flow freely.
We don't buy crackers for everyday consumption in our house, but at this time of the year, or if I know there's some entertaining coming up, I keep an eye out for specials and stash some packets in the back of the pantry.
An alternative to the usual cracker is bread. Some toasted Turkish bread fingers, flatbread triangles, lavosh or crusty French loaf torn into pieces all make a nice alternative to crackers.
Seasonal Fruit and Vegetables
Seasonal fruit and vegetables are cheap, healthy, tasty and add colour and excitement to your platter. I favour the veggie sticks over the crackers, because it's a good way to keep the silly season weight off.
Seasonal fruit also makes a lovely accompaniment to cheese and is a lot less expensive than the traditional quince paste or similar.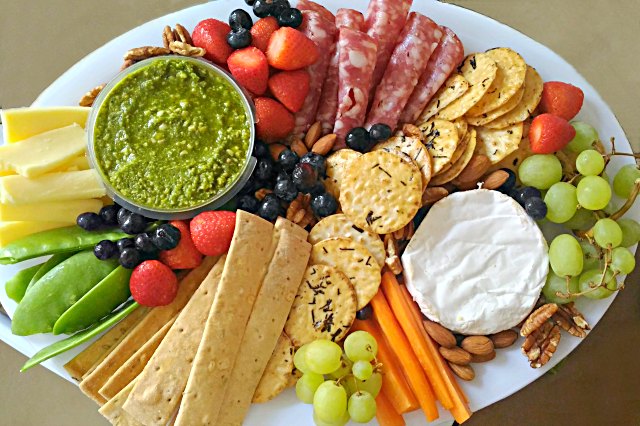 Speciality Items
Now that you have the foundation of your platter, you can add a couple of speciality items, depending on your theme and your budget. You only need a sprinkling of these – use what's already in your fridge and pantry or check out your supermarket deli and buy just the amount you need.
Some ideas include:
cured meats
marinated vegetables
olives
nuts
dried fruit
pastes
Spend more time with friends this Summer, and less time in the kitchen with these easy, inexpensive nibble platters that can be assembled in a matter of minutes and without turning on the oven.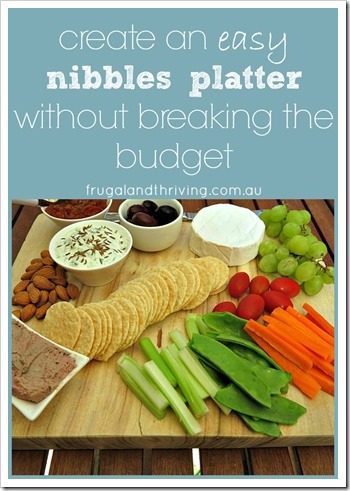 Share your ideas. What are your favourite nibbles platter recipes or combos?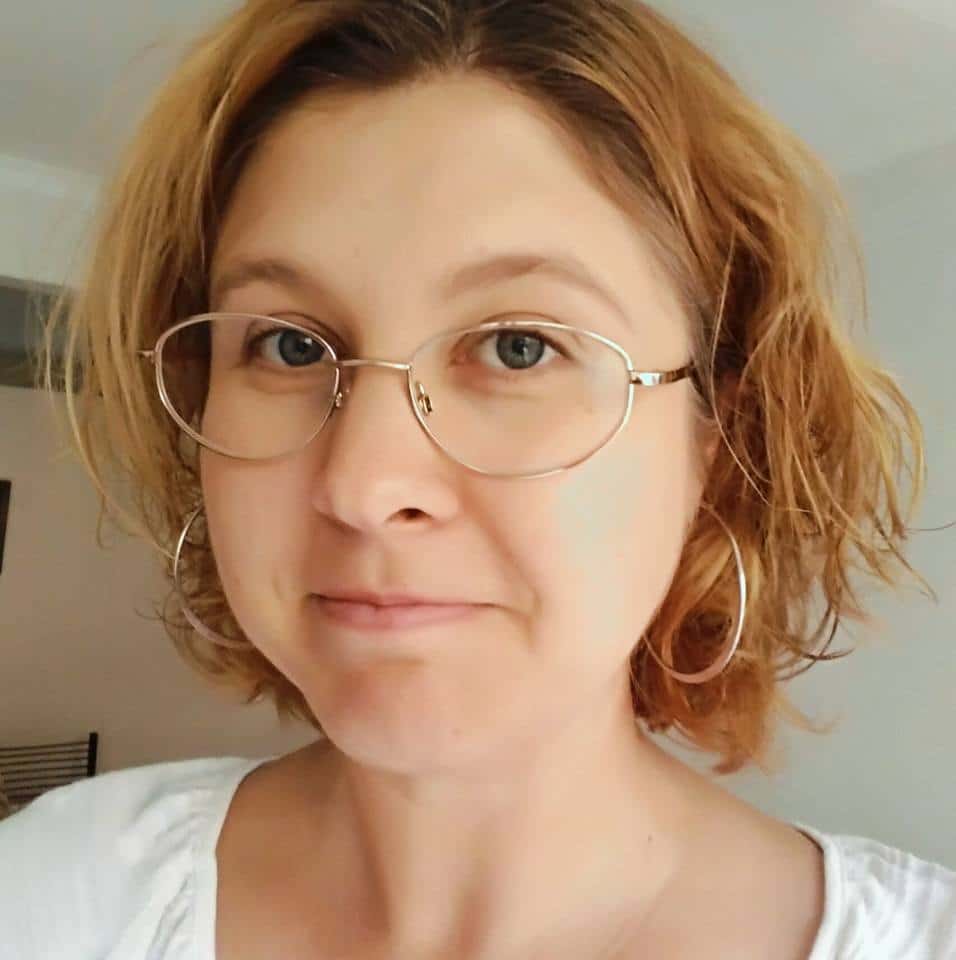 Melissa Goodwin is a writer and the creator of Frugal and Thriving who has a passion for living frugally and encouraging people to thrive on any budget. The blog is nine years old and is almost like her eldest baby. Prior to being a blogger and mum (but not a mummy blogger), she worked as an accountant doing other people's budgets, books and tax.