Entertaining for Less – Create an Easy Nibbles Platter Without Breaking the Budget
This website may earn commissions from purchases made through links in this post.
Entertaining? Spend more time with your friends and less time in the kitchen with an easy nibbles platter/grazing board that's sure to satisfy but won't break the budget.
"My idea of good company…is the company of clever, well-informed people, who have a great deal of conversation; that is what I call good company.' 'You are mistaken,' said he gently, 'that is not good company, that is the best."

Jane Austin, Persuasion
There's nothing so enjoyable as relaxing on a summer Sunday afternoon with friends, sharing good conversation and laughter and knocking back a few cold ones while the kids race around getting up to who-knows-what mischief.
Those are the ingredients for good living.
But you can't entertain without food, and a simple grazing platter is an essential component of informal entertainment.
Here's how to put together a great nibbles platter on a beer nuts budget.
Platter Basics
To create a grazing platter, you will need:
a plate or board
a couple of small bowls
a cheese knife
If you want to be fancy and entertain a lot, you can pick up an attractive board from Kmart for under $20.
Otherwise, budget options include a cutting board, a baking tray, or even a piece of wood offcut or sturdy cardboard wrapped in foil.
Small bowls are handy for dips and olives. They are cheap to buy from discount stores, and our local thrift store has dozens for $1. It's also fine to keep dips in their containers and not buy bowls.
Finally, a cheese knife or two for cutting cheese, but any knife will do in a pinch.
Depending on what you're serving, you may also want to consider toothpicks and napkins.
Grazing Board Ingredient
Just about anything goes on a grazing platter, but below are some suggestions for a typical board.
platter ideas
2-3 cheeses
1-2 dips
crackers/bread/bread sticks
seasonal fruit & vegetables
cured meats
olives
marinated vegetables
nuts, seeds, trail mix
dried fruit
pastes
Planning Quantities
How much should you buy and serve so people don't go hungry, but also so you don't have too many leftovers?
Below is a rough guide for a grazing board that is an appetiser to the main meal:
Plan to serve 25g-50g of cheese per person
(a 125g block of brie and a 230g block of vintage cheddar will serve seven people)
approx. 100g of meat per person
1x200g container of dip will serve approx. 4 people
fruits and veg approx. 80g per person
nuts approx. 60g per person
If the grazing board is the entire meal, you may want to double or triple the quantities.
Start with Two or Three Cheeses
Cheese is usually the main attraction of a grazing board, but it can also be the most expensive element.
If you're fortunate enough to have a good deli in your town, then you can pick up some amazing cheeses cut into small amounts for just a couple of dollars.
Even if a cheese is $40 a kilo, 100g is $4. Not too expensive for a very special treat. And 100g of one good cheese, paired with a cheaper cheese, makes for a special platter.
For cheaper but still very good cheese, head to Aldi. You can pick up a whole wheel of brie for less than $5.
Serve it alone or with one other select cheese (Aldi has a pretty good range), and you're good to go.
The cheapest cheeses are usually brie and camembert (home brand), flavoured cream cheese, and regular cheddar. Keep an eye out for sales, or if entertaining a crowd, the pre-packed cheese selection boxes can be cost-effective.
Make Your Own Dips for a Cheaper Nibbles Platter
Store-bought dips can add up quickly! Two good dips alone can set you back around $10.
The best way to save on a nibbles platter is to make your own dips.
While you can't make brie in a few minutes, you can make dips quickly and easily for a small fraction of the cost.
Don't feel like making dips?
Save money by shopping at Aldi or look out for sales to reduce the cost.
Make cheap store-bought dip look lux by serving it in a bowl and maybe sprinkling on some herbs, spices, a drizzle of olive oil, or load it up with some bacon bits, chopped tomatoes or toasted chopped nuts.
For dip ideas, check out the article:
Save money on entertaining by making your own dips. Here are 9 classic and easy homemade dip recipes for your next party platter.
Crackers or Bread
Crackers or bread are the usual vehicle for your cheeses and dip to go from table to mouth.
The carb component of the nibbles platter is also the cheapest component, so let the crackers flow freely.
If I know there's some entertaining coming up, I keep an eye out for specials and stash some packets in the back of the pantry.
An alternative to the usual cracker is bread. Some toasted Turkish bread fingers, lavosh or crusty French loaf torn into pieces all make a nice alternative to crackers.
Cheap but delicious cracker recipe: Homemade Pita Bread Crisps.
Seasonal Fruit and Vegetables
Seasonal fruit and vegetables are cheap, healthy, tasty and add colour and excitement to your platter. I favour the veggie sticks over the crackers because they are low-calorie, so a guilt-free indulgence.
Seasonal fruit also makes a lovely accompaniment to cheese and is a lot less expensive than the traditional quince paste or similar.
Speciality Items for Your Platter
Now that you have the foundation of your platter, you can add a couple of specialty items, depending on your theme and your budget. You only need a sprinkling of these – use what's already in your fridge and pantry, or check out your supermarket deli and buy just the amount you need.
Some ideas include:
cured meats
marinated vegetables
olives
nuts
dried fruit
pastes
If you have vegetarian or vegan guests, you may want to keep the meats and cheeses separate.
Mixed nuts found in the chip aisle are cheaper than the fancy ones in the fruit and veg section. Nuts in the baking aisle are often cheaper as well, and great if you prefer unsalted.
Plan ahead and keep an eye out for half-price sales to save on meat. It can be frozen for later.
How to Build Your Grazing Platter
Putting together an Insa-worthy platter is easy when you follow these simple steps.
Place bowls and cheese around the platter first. Consider cutting up hard cheese to make it easier for people to eat.
Place larger items, crackers, and meats around the bowls and cheeses.
Fold meat to make room and for presentation.
Add the vegetables and fruits, filling the gaps.
Fill the remaining gaps with the smaller items.
Below is a timelapse of how I put together the platter in the feature photo above.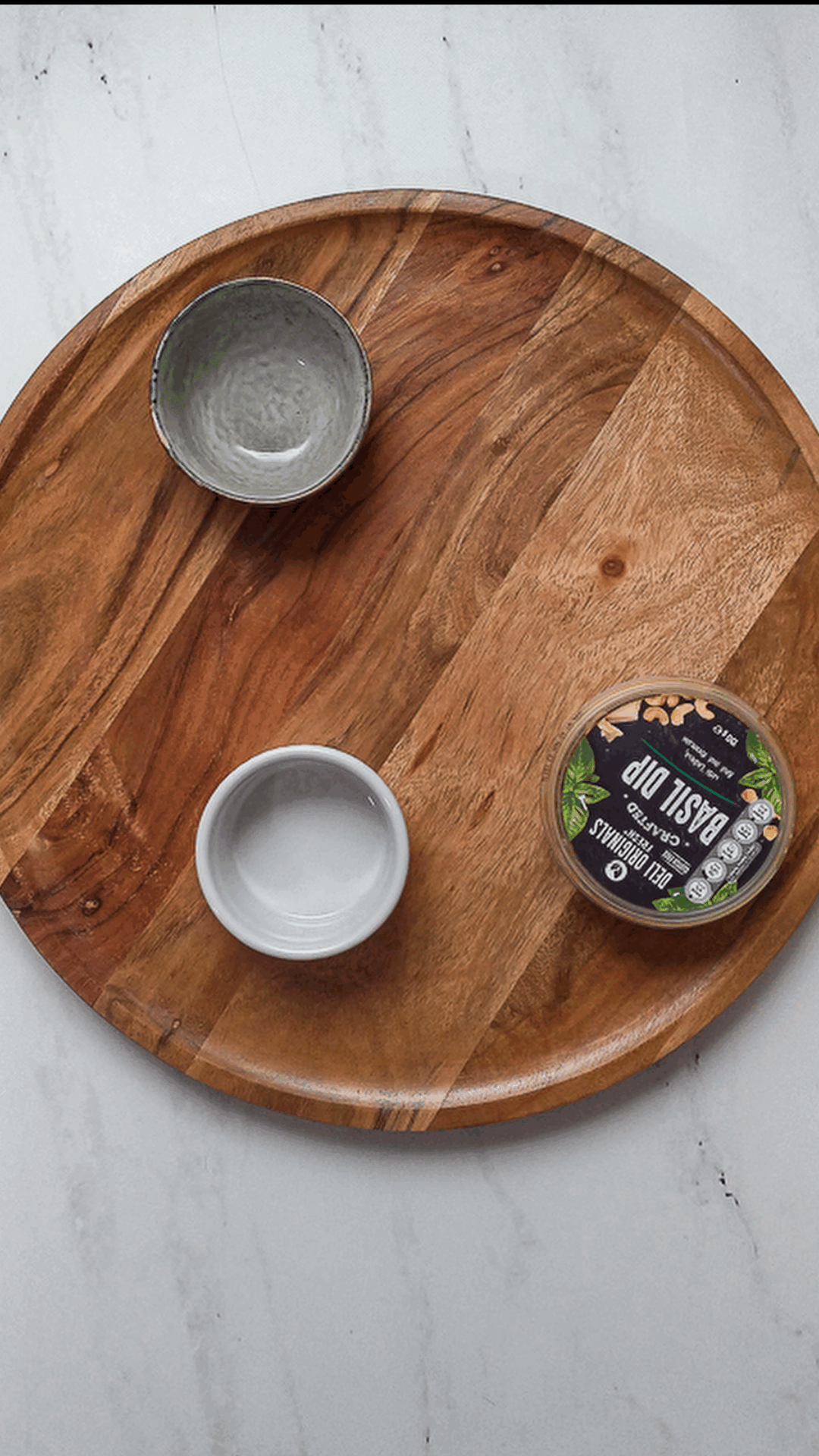 Grazing Board Themes
You can, if you like, theme your platter.
A theme narrows down the elements so you're not overwhelmed by choice, and it helps you to mix complementary flavours.
Some examples of themed platters include:
Mexican: layered Mexican dip served with corn chips, sharp cheese, and seasonal vegetables.
Greek: Tzatziki dip, dolmades, marinated fetta, crusty bread, olives, seasonal vegetables, cured meat.
Classic French: Brie cheese and another cheese, quince paste, pate, lavosh bread, nuts and dried fruit, seasonal fruit, and cured meat.
Antipasto: Marinated olives, eggplant, dried tomatoes, cured meats, breadsticks, water crackers, seasonal fresh vegetables, white bean dip, halloumi.
Bring back the 70s: cubed cheddar, gherkins, stuffed olives, Cabanossi, pickled onions, Jatz biscuits, and French Onion Dip.
You can also do a dessert-themed platter:
Indulge in a variety of sweet treats with these dessert platter ideas. Perfect for parties, events, Valentine's Day, or a special treat.
Grazing Platter and Food Safety
As someone who does catering and has a food safety certificate, food safety is always top of my mind when I entertain guests. The last thing you want is to give your friends food poisoning!
That's why grazing boards or platters are much better than grazing tables, which are currently on trend – it's better to serve small amounts and replenish as necessary than have heaps of food sitting out of the fridge!
Keep in mind the 2-hour/4-hour rule when serving nibbles.
Anything out of the fridge for more than 2 hours should be eaten, not returned to the fridge. Anything out of the fridge for 4 hours should be thrown away.
As no one wants to waste money throwing good cheeses away, it's best to serve small amounts and replenish them when eaten!
Everyone should have a basic understanding of food safety. Food Standards is an Australian (i.e. celsius) government website worth checking out and bookmarking, as well as the Food Safety Information Council.
Spend more time with friends this Summer and less time in the kitchen with these easy, inexpensive nibble platters that can be assembled in a matter of minutes and without turning on the oven.
Share your ideas. What are your favourite nibbles platter recipes or combos?