These vegetable patties are cheap and healthy. Serve with a side salad.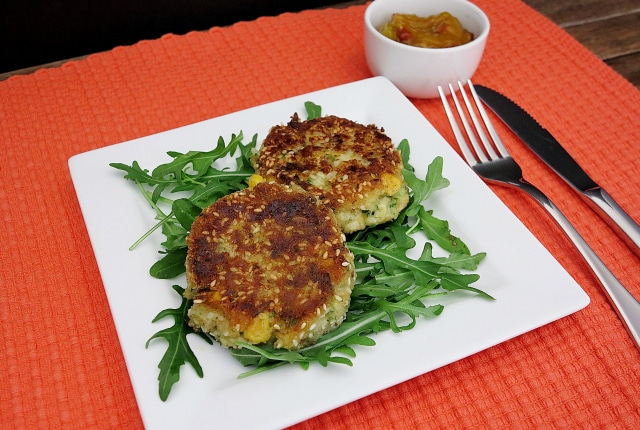 These rice and vegetable patties are cheap to make but they are a healthy and delicious in a mild, comfort-food sort of way.
While the patties take a while to prepare, you can make them ahead of time or make a double batch and freeze for later.
To freeze, freeze the mixture flat in a zip-lock bag (saves space) and make up the patties after defrosting the mix. You may need to drain the mixture after defrosting if there is too much water and add some extra breadcrumbs to combine.
You lose a little texture in the cooking process, but not enough (in my mind) to counter the time saved by making double!
These vegetable rissoles have a mild flavour, so you like a bit of extra flavour from your pattie, you can add flavour 'enhancers' like chopped sundried tomato or olives or capers.
I like to combine them with a homemade mango chutney for flavour.
I serve these with a side salad or coleslaw (my kids won't eat salad but will eat my homemade coleslaw, so we have a lot of that – it's simply shaved cabbage with mayonnaise). You can also serve with a crusty bread or make a burger from your patties.
Vegetable Patties
Ingredients
1 cup uncooked brown rice
2 zucchini, grated and squeezed of excess moisture
3/4 cup corn kernels
1/2 cup grated cheese
1 large carrot, grated
1 tbsp chopped parsley
salt and pepper to taste
1 egg
4 tbsp flour
dry breadcrumbs and sesame seeds to coat
Instructions
Cook rice using your favourite method and drain.

Combine all ingredient except for the breadcrumbs and sesame seeds. Give it a good squish with your hands to mix well. If the mixture is too moist and doesn't come together easily, I usually add some breadcrumbs to bind.

Form the patties into equal portions.

Combine the breadcrumbs and sesame seeds and coat the patties in the breadcrumb mix.

Leave to set in the fridge for 15 minutes before shallow frying in oil (or oil and butter) until golden brown on both sides.

Drain and serve.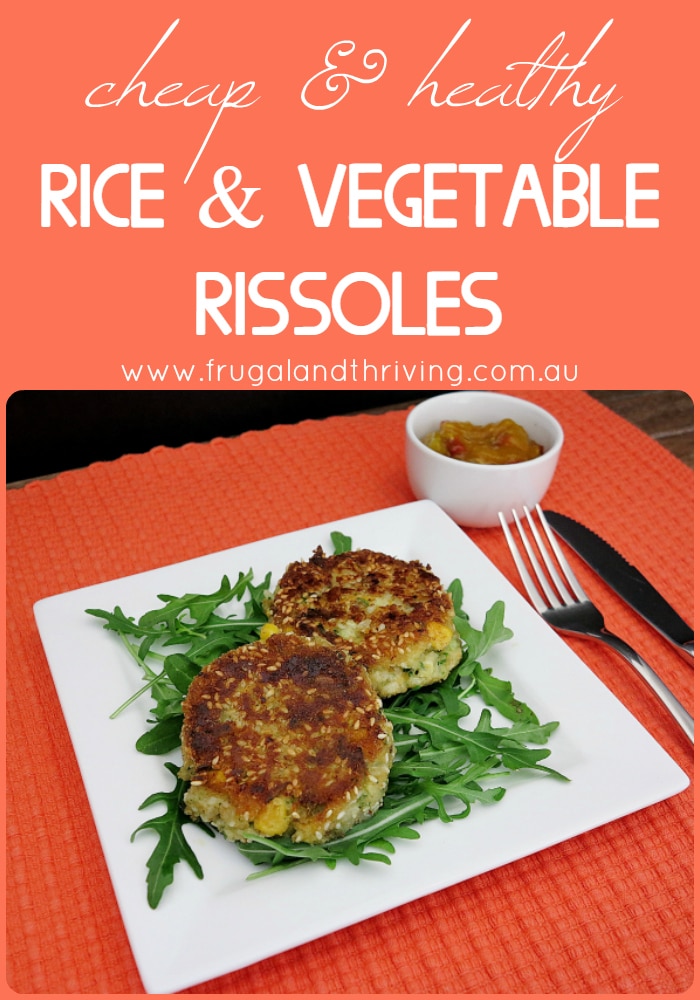 Melissa Goodwin is a writer and the creator of Frugal and Thriving who has a passion for living frugally and encouraging people to thrive on any budget. The blog is nine years old and is almost like her eldest baby. Prior to being a blogger and mum (but not a mummy blogger), she worked as an accountant doing other people's budgets, books and tax.