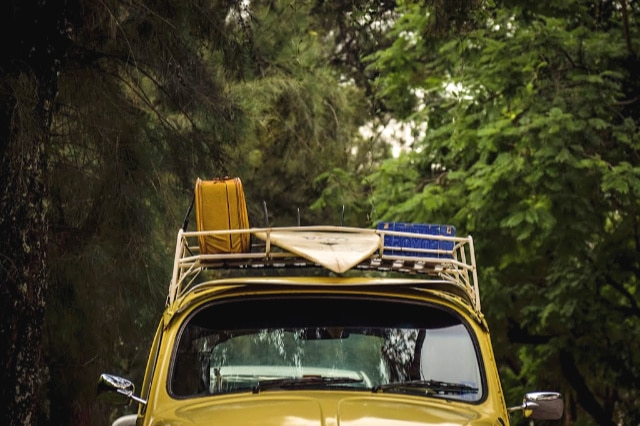 A road trip is a great way to explore the country and see a few things you wouldn't normally see if you fly on vacation. Hitting the country road, seeing the wide open spaces, is a great way to unwind.
We've done a lot of road trips over the past few years – we've been from the tip of Tasmania to about halfway up the Queensland coast; we have made many trips inland and interstate to visit family and friends and we even spent our honeymoon driving around New Zealand. We've travelled without kids and with kids.
I guess you could say road trips are our preferred holiday experience.
Whether you're going on holiday, visiting family or friends, or the drive is your holiday, petrol, the food and the accommodation can add up. Here are some tips on saving money on your next road trip.
Budget Road Trip Tips
One of the best ways to save on a road trip is to drive less and do more. Instead of planning to go across the country, consider exploring a portion of your state. Drive a few hours and then spend time at your campsite, hiking through a national park, surfing at the beach or exploring a small town.
Besides driving less, here are five more ways to reduce the cost of your next road trip.
1. Avoid Costly Breakdowns
Before you begin any long road trip, it's a good idea to get your car serviced; you don't want to be broken down in the middle of nowhere.
Keeping your car regularly maintained will also ensure that it's running at it's most efficient, which in turn will reduce fuel consumption. A well-tuned car can improve mileage by up to 4% [source]. Maintenance includes keeping the engine tuned, ensuring the tyres are correctly inflated, cleaning the filters and regularly changing the oil [source].
And don't forget to check wear on the tyres, and check the spare tyre too!
It's a good idea to also check your roadside assistance membership and your coverage. If you break down 50 kilometres from the nearest town, will it cover you for towing that far?
Take it from someone who has spent hundreds of dollars on towing fees after breaking down in the middle of nowhere – paying a bit extra on your roadside assist can save you hundreds!
If you're hiring a car, choose the most fuel efficient model to save on petrol costs.
2. Plan Your Driving
If you just want to get to your destination in the shortest time, take the most direct route and save money on petrol. Google maps is invaluable for working out routes, although you should add a couple of extra hours to their estimate.
However, it is also a good idea to also check state and local websites for road closures, roadworks and tune into local radios for road congestion. Sometimes the longer route is quicker if the main road is heavily congested.
Speaking of which, avoid driving during peak seasons, public holidays or weekends if you can. Fuel is more expensive during this time and getting stuck in traffic jams can cost in petrol.
When planning your trip, look for places that you can stop for a rest. Note more rest stops than you need, especially if you are travelling with children. You will need to stop more frequently with kids and a run in the park will make a trip more bearable for everyone.
Make sure to take note of rest stops with toilet facilities and take a roll of loo paper. Just in case.
3. Pack snacks and lunches
In the past 10 years, we've seen the inside of many, many MacDonald's restaurants. But what stands out most in my mind is a little rest stop at the top of a mountain near Toowoomba.
Here we supped on coffee and fresh, homemade slice, both of which I had packed before we left.
We enjoyed valley views and watched native wildlife check us out.
By packing a picnic and taking the time to enjoy it, not only are you saving money, you're making the trip itself part of the holiday experience.
To save money on food, pack some snacks, a flask of hot water, tea, coffee or whatever your preferred beverage is, a sandwich and plenty of cold water. Keep it in a cooler bag with a few ice blocks.
For the kids, pack some healthy snacks in a lunchbox that they can eat when they like to cut down on pestering.
When you pass through small towns, stop at the local supermarket for some bread rolls and your favourite fillings for a cheap lunch.
4. Save money on petrol
As well as getting your car serviced prior to your road trip and ensuring the tyres are correctly inflated, you can save money on petrol by sticking to the speed limit and avoiding excessive acceleration and braking.
Check fuel prices ahead of time and save using apps like Fuel Map, so you can plan the cheapest places to fill up. But note, while useful, it is user updated, so it may not be 100% accurate.
Avoid letting the petrol run so low that you have no choice but to fill up at the most convenient petrol station. Tiny, one-pump stations out the back of beyond can be expensive.
5. Save Money on Accommodation
If you need overnight accommodation, it's a good idea to work out in advance just how far you think you will drive each day and book accommodation ahead of time. This can help you look for deals and avoid missing out on accommodation altogether.
(We travelled along the coast once during a surf carnival and everything was completely booked out. We ended up driving into the night and then finding a tiny room for the four of us in a dingy pub with a rock band playing until 1 am.)
However, the downside of booking accommodation ahead of time is that it forces you to keep driving, even when you and the kids have had enough. This can be dangerous and stressful.
The alternative is to check out accommodation ahead of time and note down several places along your route which are cheap. Rather than getting whatever at the last minute, you already know the best accommodation options in each town.
Use internet booking sites to scope out cheap accommodation and write down a list of potential stopovers, their rates and phone numbers. That way, you can ring ahead to book (or just stop in), ask what their best deal is (they may be able to do better than the booking sites) and save the small town hoteliers the huge fees that some of these booking sites charge.
*Top tip: If you have a motoring membership (NRMA, RACQ etc.) ask if the hotel has a members discount – many do!*
Caravan parks can be an inexpensive accommodation option. Many have cabins or onsite caravans that you can use for a fraction of the price of a hotel room (especially in the offseason).
The other up-side is that you will have cooking facilities available, which can save you money on dinner. You will need to check though, whether they provide linen and towels if you're not travelling with these.
And of course, if you already have the gear, camping is the least expensive accommodation choice!
*Tip: If you're thinking of investing in camping gear, keep an eye on the Anaconda sales catalogues for package deals and half-price tents.*
While it may save you money, sleeping in your car is uncomfortable and can be dangerous. It's worth paying the money for a good night's rest. Keep your family and everyone else on the road safe by not driving fatigued.
Fatigue related accidents tend to occur during normal sleep hours or when you have been sleep deprived [source, source]. Skipping out on accommodation to save a buck is a good example of the difference between being cheap and being frugal.
A road trip is a great way to travel at your own pace and see a bit of the country while you do it. It's more convenient than trying to lug stuff through an airport, although not as quick. Plan your trip and you can see the country without overspending.
*Another top tip: check websites like Groupon for cheap accommodation and experiences.*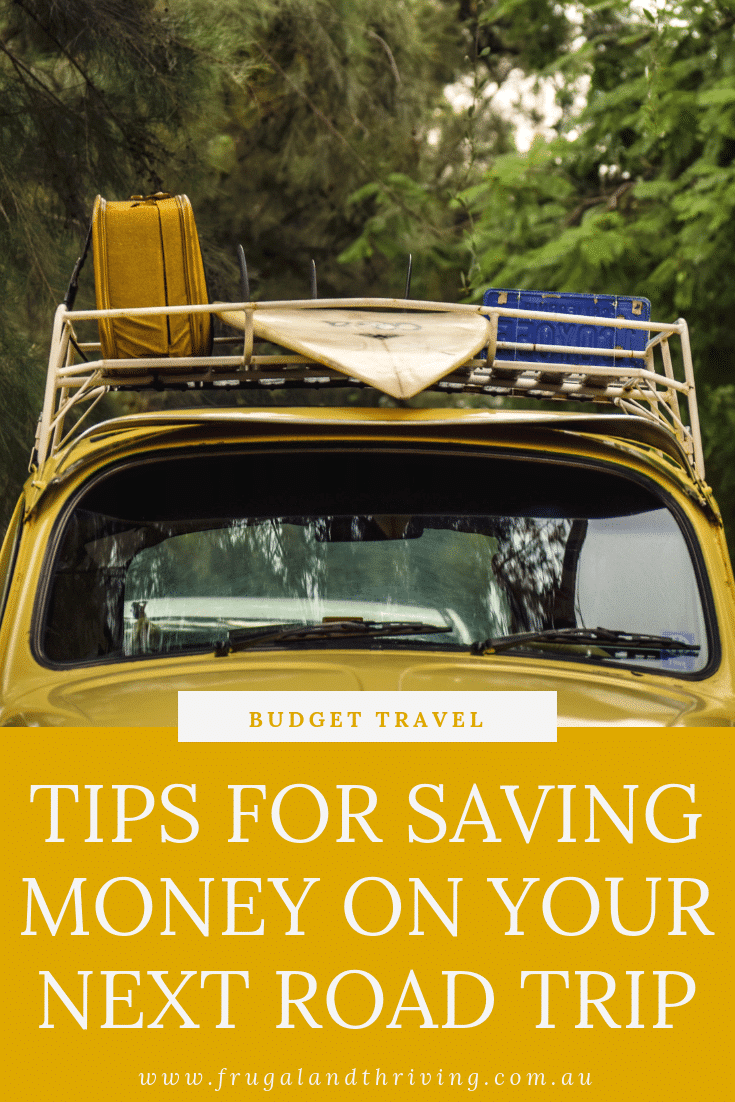 Melissa Goodwin is a writer and the creator of Frugal and Thriving who has a passion for living frugally and encouraging people to thrive on any budget. The blog is nine years old and is almost like her eldest baby. Prior to being a blogger and mum (but not a mummy blogger), she worked as an accountant doing other people's budgets, books and tax.