How to Get the Best Price on Domestic Airfares in Australia
This website may earn commissions from purchases made through links in this post.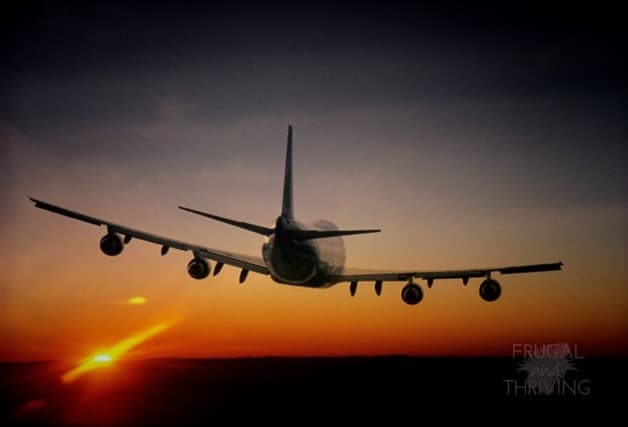 To start with, it was all talk.
We should sooo have a girl's weekend in Melbourne, we said, knowing that it would do us all good to have a mini-break. Knowing that we really wouldn't.
Because, you know. Money. Kids. Time.
And a dozen other reasons not to.
But you know what? We only live once.
Talk turned into reality and I found myself with two other friends on a plane flying all the way down the east coast for my first weekend away in over 6 years.
While I loved getting away and enjoying good food and AMAZING coffee, reality didn't go away and we still had a budget to stick to. We had to make sure we got the best price on flights that we could.
Here's what I've learned about getting cheap flights within Australia.
SCORE CHEAPER FLIGHTS IN THE OFF SEASON OR SHOULDER SEASON
Peak season is usually in the school holidays, with December being the most expensive month to fly, but each destination will vary with their own local peak and off-season.
While the off-season might not be an ideal time to travel, the shoulder times – those times just before and just after the peak season is the time when you can enjoy the best your destination has to offer, while still saving money.
To get a general idea of when it's cheaper to fly to your destination of choice, check out the Google Flights tool (this tip comes via Lifehacker).
To use Google Flights, enter your departure and destination and then when you enter your dates, choose the price graph option. This gives you a general idea of the fluctuations in the price of airfares.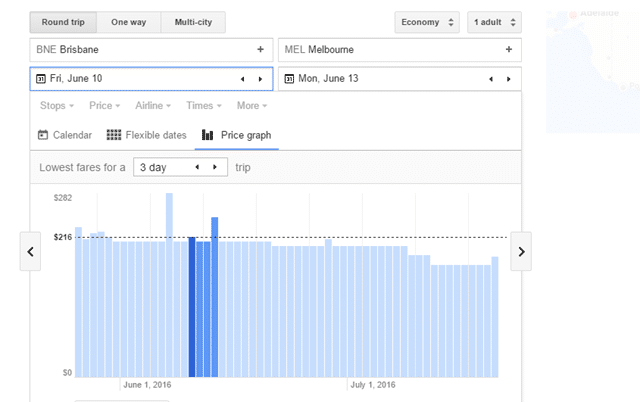 Alternatively, research your destination for the peak and off-peak times.
What if you don't have any flexibility as to when you can travel?
If you have to travel at a specific time, but you're flexible as to the destination, you can use Google Flights Discover Destinations tool to get an idea of what places you can visit for the best price.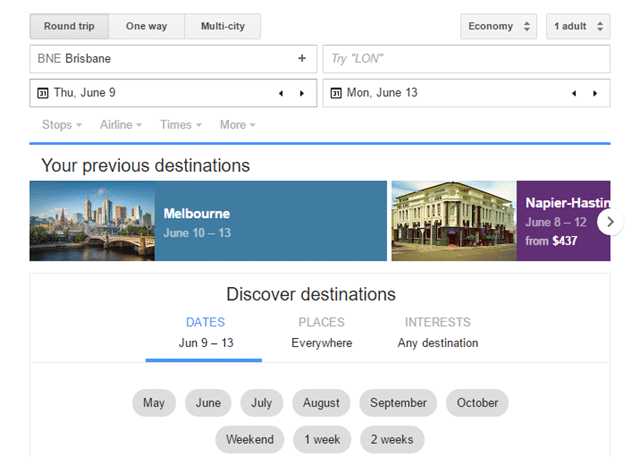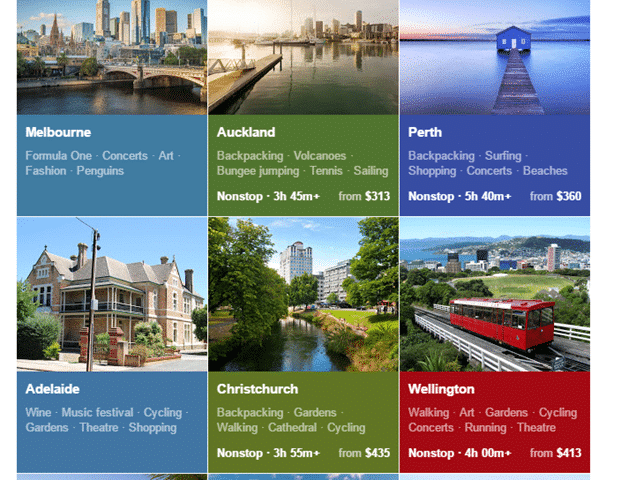 TRAVEL AT THE CHEAPEST TIMES TO SAVE MONEY ON AIRFARES
The cheapest times to fly are usually mid-week. Friday to Monday is the most expensive time, so if you can fly on a weekday, you'll save.
Not only are some days cheaper than others, some times are as well. Mornings and afternoon/early evenings are peak times to fly and are the most expensive, so if you can fly during the day or late at night, you'll save even more.
BOOK YOUR FILGHTS IN ADVANCE TO SAVE UP TO 25%
According to the infographic by Skyscanner [found here], you get the best deals on domestic flights and save up to 25% if you book at least 4 weeks in advance and up to 15 weeks if you're travelling to Perth. Usually, the earlier you book, the cheaper the price.
Leaving it until the last minute not only means you usually pay more, but you have less choice and may even risk not getting a seat at your chosen flight time.
SIGN UP FOR AIRLINE MAILING LISTS
Each airline offers regular email updates on flight sales. You can sign up directly on each airline's website to keep up to date with the latest sales and offers.
You can also download each airline's app.
Airline apps allow you to view the latest flight specials, book tickets, manage your flights, check in and monitor your flight status.
GET TO KNOW WHEN TICKETS GO ON SALE
Airlines have regular sales periods when you can save big bucks on the regular price of a plane ticket.
Virgin's 'happy hour' is every Thursday at 4pm. You can get notifications of their sales via email.
Jetstar and Tiger Airways have regular deals on their deals and specials page, stay tuned with email notifications.
USE AN ONLINE COMPARISON TOOL TO COMPARE PRICES
After watching prices and missing out on a great deal by just 1 day (as a result of fluffing around on my part), we ended up finding a flight and accommodation package through Webjet.
Comparison sites like the ones below help you to compare prices between the airlines in order to get the best deal, just compare prices to the airline's own website to make sure you're getting the best deal.
Flight comparison sites include:
When comparing prices, it's important to check extra costs including:
booking fees
extra fees for using a credit card
baggage allowances and extra baggage
on-flight dining, entertainment and wi-fi costs
Make sure you stay under the baggage limit to avoid extra fees at the airport.
It's good to get away on a holiday and Australia has so much to offer. Enjoy it for less by getting the best price on airfares you can.
What are your tips for saving money on plane tickets? Have you ever used Flybuys? How has that worked out for you?
*Affiliate link