Budget Holiday in Australia – The Rural Road Trip
This website may earn commissions from purchases made through links in this post.
Looking for options for a budget holiday in Australia? Why not try a rural road trip? There is lots to explore beyond the coastal fringe in this big country of ours.
Australia is a big country.
At 7.7 million square kilometres, its the seventh biggest country in the world.
And there's plenty to explore and see.
Every holiday, coastal tourist destinations swell with tourists. Prices go up. And it gets busy.
And while a beach holiday is nice, if you're looking for a budget alternative that's relaxing, but with plenty of opportunities to learn more about our great land, you can't beat a rural holiday.
Last holiday we took a trip out west to Roma in central Queensland. It's not exactly your typical holiday destination (we were visiting friends), but it was a new experience for us.
There were lots of things to see and do, both in Roma and on the road trip to get there, and there was plenty to learn as well. We visited the second largest cattle sale yard in the southern hemisphere, which was a learning experience for all of us. And on the way home, we stayed in the beautiful Bunya Mountains national park.
In this article, I'm sharing the benefits of taking a rural road trip and some of the tips and tricks we've learned during the many road trips we've taken over the years. If you're considering a road trip, there are some packing lists you can download and print to help you get organised.
Whether you're exploring your home state or another state, there's plenty to see and do outside the usual the popular coastal tourist destinations.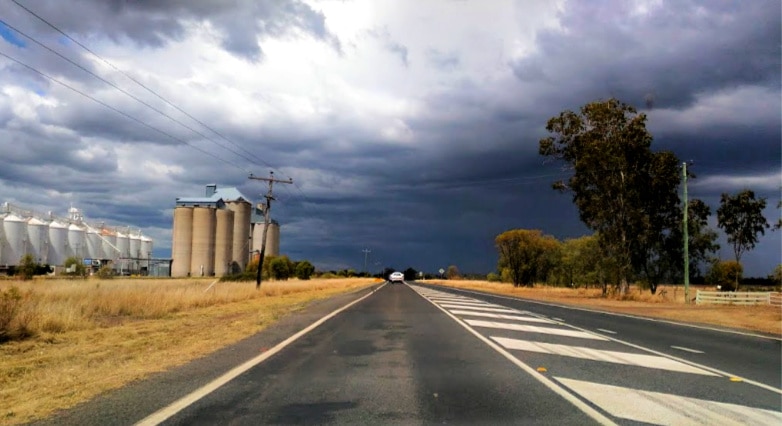 5 Reasons to Consider a Rural Road Trip for Your Next Holiday
Australia is the most urbanised country in the world, with 85% of us living within 50kms of the coast (ABS stat). If you're one of the 85%, escape the same-old and explore some of the other sights our country has to offer. Here are 5 reasons why:
1. Escape the busyness
If you want to relax and unwind this holiday, a rural escape is the perfect option. Popular tourist destinations get busy during the holiday season, which can make holidaying noisy and stressful.
Don't spend your holiday standing in queues or looking for parking spots at the beach, enjoy a real break somewhere quiet.
2. Save Money
Popular tourist attractions can also be expensive, especially in peak tourist times like school holidays.
The less popular tourist destinations are hidden gems where accommodation is cheaper, the experiences are cheaper but the holiday is just as enjoyable!
3. Get in touch with nature
Australia has a diverse natural beauty. From wetlands to deserts, Eucalyptus woodlands to rainforests, tussock grasslands to rolling plains – each is uniquely beautiful and worth experiencing, appreciating and conserving.
4. Learn more about our history, culture, environment and economy
Our history and culture are woven from a rich tapestry of stories. The local stories – the small town histories, local aboriginal history, local landmarks, local industries – we don't hear these stories until we go looking for them. An attitude of curiosity can make a rural holiday an enriching learning experience for both adults and kids alike.
5. Support the local economy
Rural communities are doing it tough because of the drought. Visiting as a tourist is a great way to directly support rural areas while also having a great holiday.
"Buy a coffee, refuel, stay the night, go to the supermarket, because that is a really tangible way of helping all the people in our community." (source)
Planning Your Rural Trip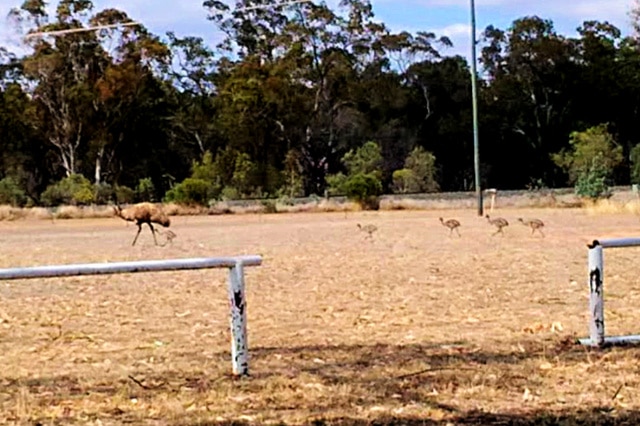 The perfect rural road trip doesn't take a huge amount of planning and it's best not to stick to a strict schedule.
But a loose plan will save you money and will help you make the most of your holiday time. Here are some planning tips to consider:
1. Plan Your Destination
A road trip is all about the journey and not so much about the destination, but it's useful to know how far you plan to go before you turn back and head home.
Or maybe the destination is your holiday. A week's stay in a cabin in the country is wonderfully relaxing and frugal holiday.
If you're road tripping, the duration of your holiday will determine your destination. Don't try to go too far and rush to get there. Instead, pick somewhere closer to home and savour the journey.
1. Plan your travel route
Now you have your destination, how will you get there? What will you see and do along the way? Where will you stay?
Make the most of your journey by looking for places you can stop along the way, things to do and experience on the journey and consider what scenic detours are worth taking. Get off the highways and see things you wouldn't normally see.
Google maps are super helpful for the planning stage of your holiday along with the app Roadtrippers.
Tripadvisor is a great resource for accommodation and experience suggestions as well as reviews.
And don't forget to check out the local official tourist information websites for lots of ideas of what to do and where to stay on your holiday.
3. Plan your accommodation
There are several options for budget accommodation when road tripping:
Camp or caravan (if you already have the gear)

Hire a campervan

Stay at a caravan park in one of their onsite cabins, tents or caravans

Use Airbnb

Look for local bed and breakfasts, farm stays, hotels/motels

Holiday cabins or vacation rentals
You can save a heap of money if you stay somewhere self-catered where you can cook your own meals, rather than eat out. We like to stay in a self-catered cabin, usually in a caravan park.
It pays to check in advance what you will need to take. For example, if you stay in a cabin, will you need to take your own linen?
If you're thinking of investing in camping equipment, keep an eye on the sales at Anaconda. They often do package deals and half-price tents.
For more tips, check out: How to Save Money on Your Next Road Trip
4. Save money by planning your meals
I know, it's a holiday, you don't want to be slaving over every meal. But taking an esky with some food and snack and planning simple meals ahead of time can save you a heap of money.
Stopping off at a local supermarket for bread rolls and filling will be a lot cheaper than buying takeaway. And it gives you the flexibility of stopping anywhere, whenever you like.
And you can enjoy a relaxing picnic lunch in a local park or rest stop, kick a ball around with the kids and have a stretch.
5. Plan Your Activities
You don't need to map out every second of your holiday, but if you hope to do a bit of swimming, it's a good idea think ahead and pack your swimmers!
Will you need your hiking boots? Are you staying somewhere the kids can ride their bikes? Will you want to take entertainment like books or card games?
I don't like making lots of decisions on holidays, so I'm much more relaxed if I have a loose itinerary and back up ideas of what we're going to do.
You might also like: Road Tripping with Kids – Tips for Staying Sane on a Road Trip
When you arrive in a town on your road trip journey…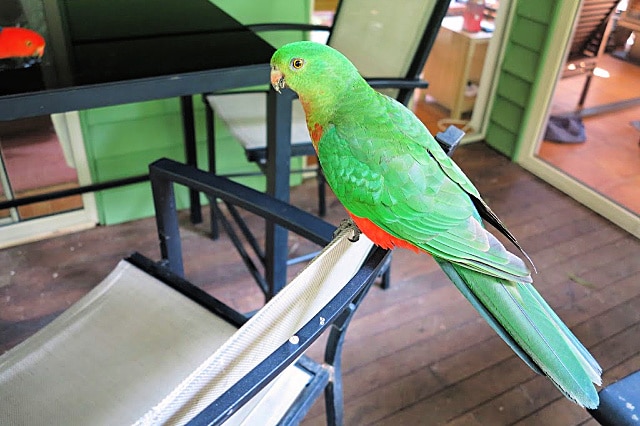 …First stop: visit the Tourist Information Bureau
Once you arrive in a town, make the visitor centre the first port of call and meet the locals.
Local volunteers have a wealth of knowledge about the best places to stay, the best places to eat, what experiences are a must-do and hidden local gems that don't make it to official websites.
Inspiration file: things to do on a rural holiday
Worried there won't be much to do on a country holiday? Here are some ideas:
Relax in a cabin or farm stay (this is my favourite part of a holiday)

Visit local farm gates

Check out the farmer's markets or market stalls

Look for local tourist attractions

Take a factory tour or a sale yard tour

Visit a winery

Learn about farming at a farm visit

Go hiking

Enjoy a local bike trail

Try horse riding

Visit local national parks or natural attractions

Picnic at the local park or local scenic lookout

Visit when there is a local festival on

Visit local art galleries and museums

Enjoy water sports at the local dam

Stargaze

Taste the local produce

Browse local antique shops and speciality shops

Take an eco tour

Take in and learn about the local architecture

Learn about the local history and economy

Enjoy the local flora and fauna

Birdwatch
Tips for Driving on Country Roads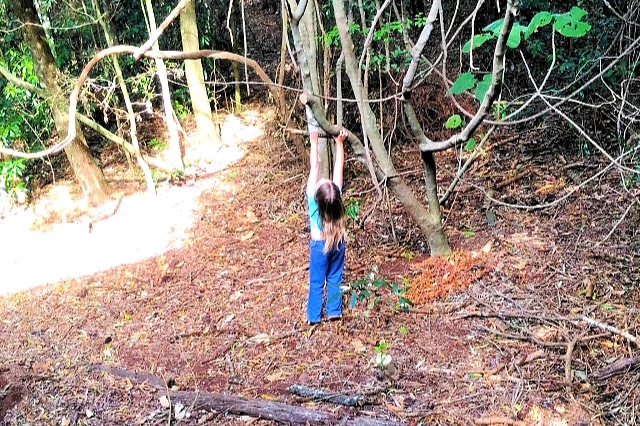 Driving is the cheapest way to get around and it allows you to take all the things you need and you can stop anywhere along the way.
But long trips on country roads is different from driving in built-up areas. If you're driving in the outback or really remote areas, then check out this resource from the Queensland government (pdf) on safe outback driving.
The following are some tips for driving on rural roads.
Before You Go
Join a roadside assist club if you're not in one and check it's coverage. How many kilometres does it cover?

Get your car serviced before you leave and make sure you tell your mechanic you're going on a long drive so they check everything, including whether your tires are up to a long trip.

Make sure you have a spare tire and car jack.

Fuel up before you leave and get fuel regularly along your journey. There can be long distances between petrol stops. Check fuel stops with Google maps before you go.

Look at Google maps to get an idea of distance and times but assume it will take longer. It takes us at least 2 hours longer than Google maps estimates. You may also want to

download your map for offline viewing

. Phone and internet coverage is spotty on the road. It's also a good idea to purchase a paper map. This can be fun for kids to follow.

Check for road closures and local weather events.

At the same time, consult weather forecasts and warnings before you drive.

Let friends or family know where you're travelling and your estimated time of arrival.

Pack plenty of water for drinking, snacks and a first aid kit.

Audiobooks are great for keeping the kids entertained. Check out your local library for free audiobooks to download or check out

Audible

. Download entertainment at home on wi-fi to save data.
On the Road
Stop. Revive. Survive. Every 2 hours. Short naps can make all the difference. Even if you're only 20 minutes from your destination, if you're sleepy, pull over and rest. Avoid driving at night when you're normally asleep, this can increase the risk of fatigue-related accidents. Plan to drive for no more than 10 hours a day and share the driving if you can.

Stick to the speed limit. No excuses. Be a responsible driver. Take your time and enjoy the journey.

Make sure you have plenty of room when overtaking, especially road trains, large trucks or oversized mining and farming machinery.

Roads can flood quickly and bushfires travel fast, so tune into the local radio station to stay tuned for local information or check out your state's traffic and travel website or hotline.

Slow down at railroad crossings and be alert for signs. Most rural crossings don't have boom gates.

Dawn and dusk can be dangerous times to drive because of sun glare and wildlife on the road. Avoid driving at these times or slow down. Swerving to avoid kangaroos at high speeds is dangerous.

Drive with your lights on. This makes you more visible at the low light time, in foggy and rainy conditions and even on a bright sunny day. Heat haze during the middle of the day can reduce visibility and play tricks on your eyes, so driving with your lights on makes you easier to see.
Tips for packing for your road trip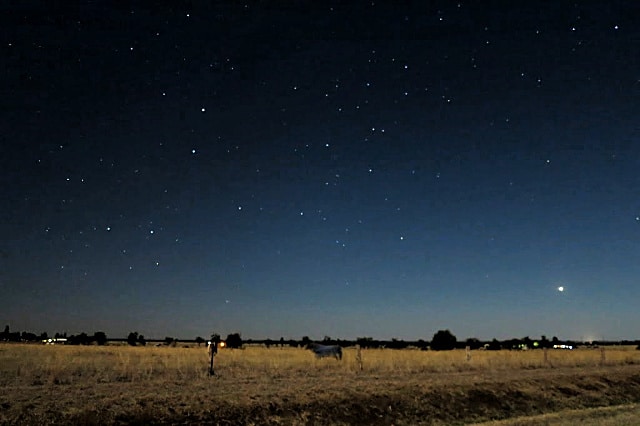 Travelling by car allows you to take a lot more stuff than travelling by public transport. But you don't want to be spending half your holiday packing and unpacking all that stuff. Here are some packing strategies that have helped us.
The 3-bag packing system
The 3-bag packing system includes:
One large bag for when you reach your destination.

One small bag

each

with stuff you need for any overnight stays along the journey; and

A day pack
The kid's daypacks usually include water, travel snacks and travel entertainment, while mine might include a camera, raincoat, sunscreen, water and all the other things mums carry.
With your large bag, packing cubes can make life easier and are worth investing in if you travel a lot, although I use old pillowcases or large zip-lock bags for a budget option.
As an alternative to the 3-bag system, on our last trip I did not use a large suitcase, instead, I packed each of our clothes separately in cheap supermarket cooler bags (the ones with zippers). They were easy to pack and unpack, they squish nicely to make more room in the car, and each person could find their own clothes and toiletries.
At the end of the trip, I just repacked any clean clothes into one bag and put the dirty clothes together into the others.
As well as packing clothes, you may also want to consider:
a foldable cooler or two for food

a small cardboard box for non-perishables like your flask, tea and coffee

a vacuum bag for linen and towels.
To make packing easier, I've included two printable packing lists below: a road-trip packing list and a cabin stay packing list. Click the links below to download and print.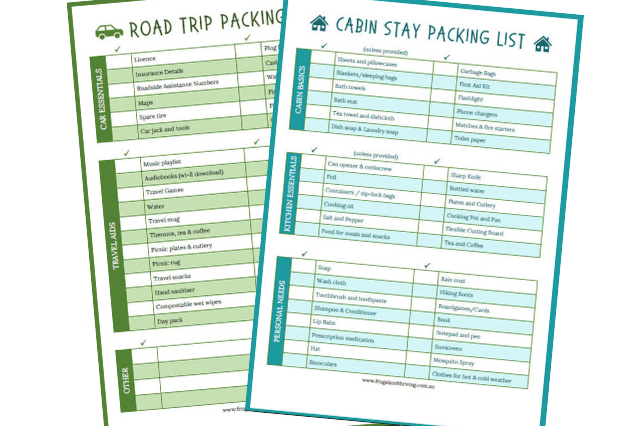 A road trip to small country towns is a budget way to get away, relax, learn more about our country and support local economies. There are plenty of places to explore, each with their own unique culture and heritage. So if you're looking for a budget holiday in Australia, consider a rural road trip for your next getaway.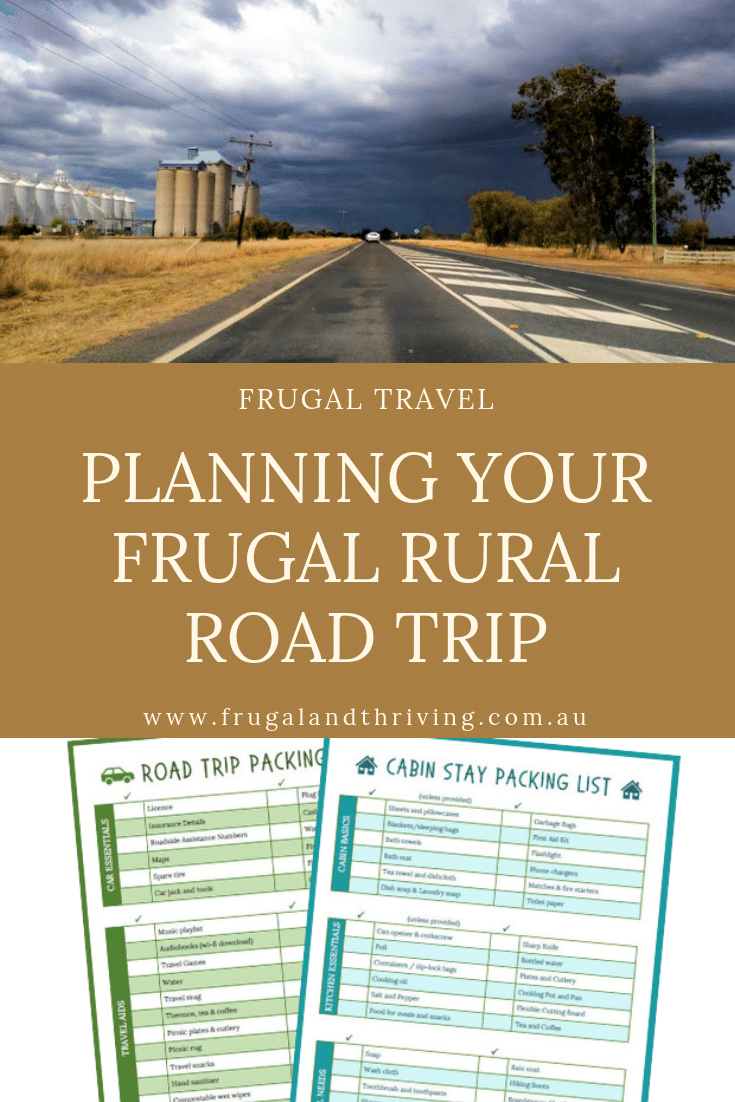 JOIN THE NEWSLETTER