25 Practical and Creative Ways to Use Old Bedsheets
This website may earn commissions from purchases made through links in this post.
Reduce the amount of bed linen in landfill by repurposing your bedsheets. Here are 25 practical & creative ways to use old bedsheets.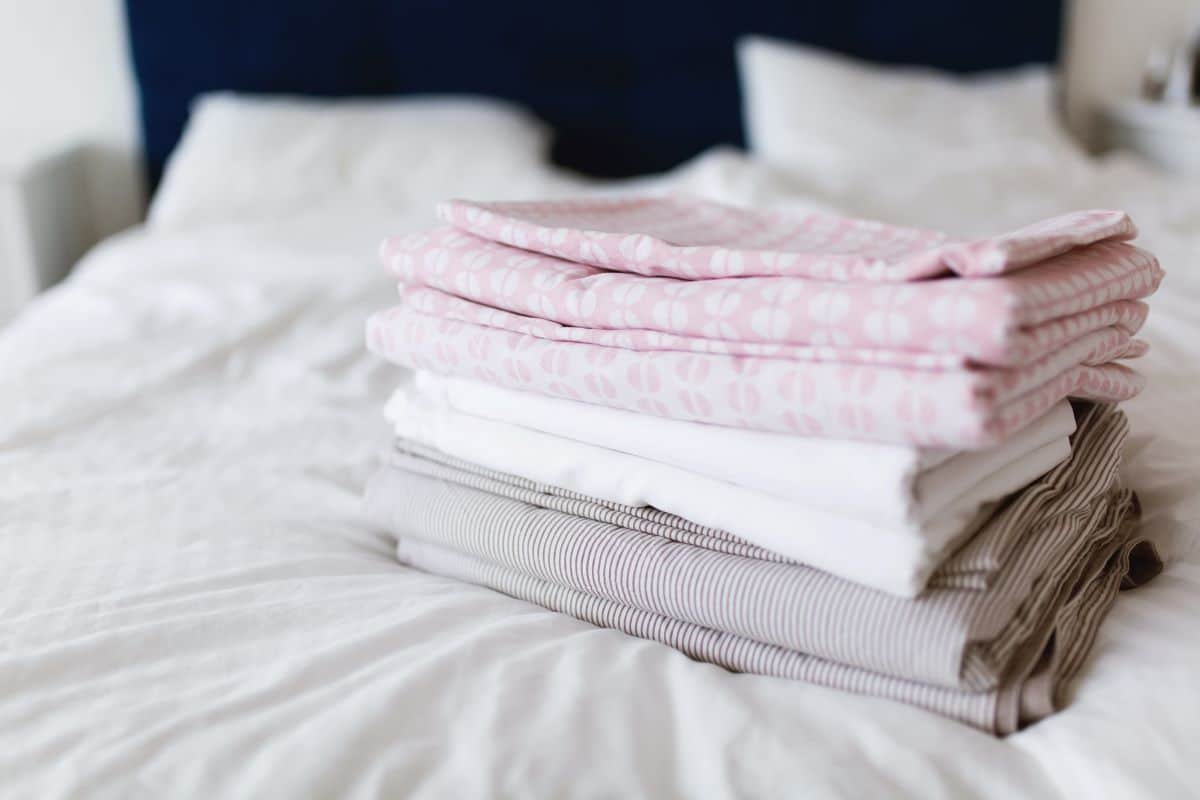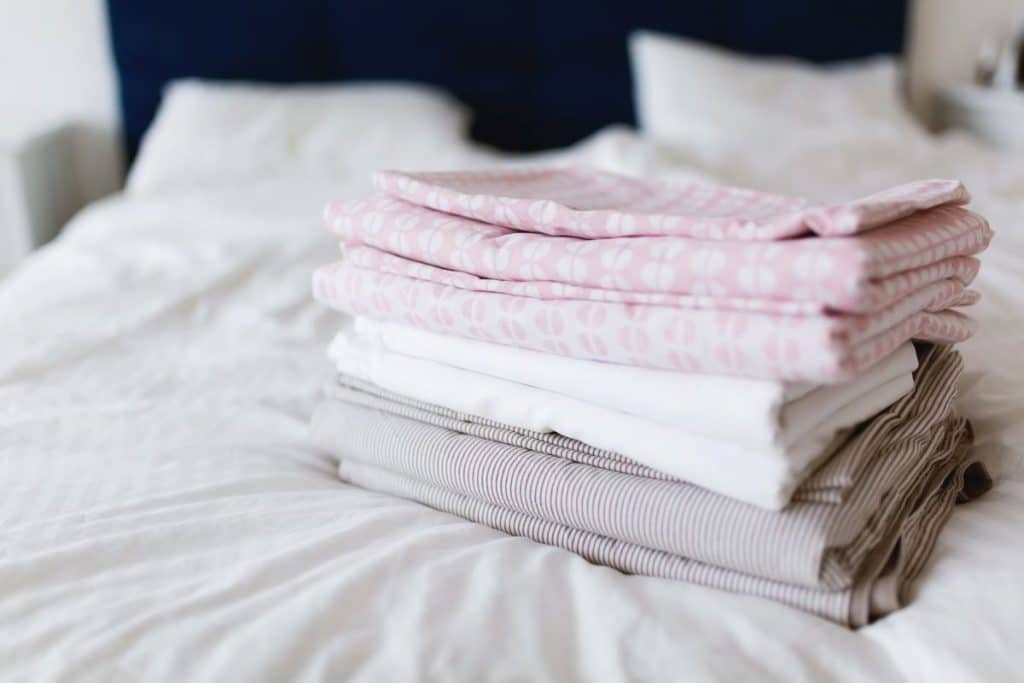 Millions of tons of bed linen ends up in landfill every year across the globe.
You can keep old sheets out of landfill for as long as possible and reduce your consumption of other resources by repurposing your old sheets into other things.
In this article I share 25 practical ways to use old bedsheets around the home.
Best Bed Sheets to Repurpose
While you can definitely repurpose polyester-cotton bedsheets, the best ones to reuse is 100% cotton ones. Poly-cotton sheets are popular because they are easy to care for and don't tend to wrinkle. They are also a lot cheaper than 100% cotton.
However, poly-cotton tends to pill or form 'pellets'/micro balls, which makes it less great for repurposing projects. It's also flammable, sheds micro-fibres into our waterways when washed, is made from petroleum bi-products and isn't as breathable as cotton.
So while cotton sheets are a bit pricier upfront, the last longer and can then be repurposed more ways at the end of their life.
What's more, sheets made from 100% natural fibres can be composted, keeping them out of landfill altogether.
25 Ideas for Old Sheets
Here are 25 ways to use old bedsheets:
1. Repurpose vintage sheets into clothing
Vintage sheets have beautiful designs on them that are all the rage again. Rather than buying expensive fabric, upcycled old sheets into clothing and save money as well as reduce waste.
If you're new to sewing, a simple pyjama pattern is a good place to start. Mistakes don't matter on items you'll be wearing to bed and with fabric you didn't spend a fortune on.
2. Turn an old sheet into an apron or art smocks
Make your clothes last longer by wearing aprons!
Aprons are cheap to make when you use old bedsheets and you won't care about wiping dirty hands down your apron when it's an upcycled bedsheet. This pattern from A Beautiful Mess is a very simple apron from a square piece of fabric and it includes a no-sew option at the end of the article.
For an easy no-sew art smock, simply cut a hole in the middle of a square of bedsheet and wear it like a poncho.
3. Use vintage sheets to make frugal quilts
Quilts are the perfect frugal sewing project because they lend themselves to recycling a variety of scraps of fabric.
Again, the perfect fabric type for quilts is 100% cotton that is woven like bedsheets ususally are.
An alternative to cutting bedsheets up to make into a patchwork quilt is to use them as the backing of a quilt. It can be hard and expensive to find fabric large enough to back a quilt but sheets are usually the perfect size.
Or if you like to do embroidery, you can use a sheet to make a whole cloth quilt.
4. Turn old sheets into napkins
Avoid disposable napkins by using cloth ones made from upcycled sheets.
To make your own napkins, cut down your bedsheet into the appropriate size. Lunch-size napkins are 30cm square, and more formal dinner napkins are 45cm square. Don't forget to add a bit extra for seam allowance.
Once you've cut your fabric, fold over each seam twice, press and stitch down. You can do square corners, which are easier, or if you want to go fancy, you can sew mitred corners. But hey, they are old sheets to wipe grease off your face with, so plain corners work just fine.
5. Make a sleeping bag liner
Keep sleeping bags cleaner, longer by making a sleeping bag liner out of an old sheet. These are easier to wash than the whole sleeping bag, giving you more time between washes.
In summer, you can use the liner on its own for comfortable sleeping and it can even be used in less than hygenic travel hostels or when couch surfing.
Using a sleeping bag as a size guide, lay an old sheet on top of the sleeping bag to measure and fold the sheet over until you have the right size. Trim the excess on the sides and top and then sew up the bottom and most of the side. Don't forget to leave a gap so you can get in and out of the liner.
6. Create a rag rug from old sheets
A rag rug is a frugal and waste-free way to add a mat at the kitchen sink or in the bathroom or anywhere you want a rug.
Cut your old sheets into strips to plait them together to make a rag rug.
Once the strips are plaited, sew the plaits together in a circle to form your rug.
7. Make a draught snake
A draught snake goes against doors to stop cold air getting into your home, making it more energy efficient in winter. Making your own draught snake from recycled materials is even more eco-friendly.
To make a draught snake, cut a rectangular length of sheet a bit longer than the width of you door and sew it into a log shape, leaving one end open for stuffing.
Stuff your draught snake with old pillow stuffing, old plastic bags, old newspaper, rags (or the remaining sheet), fine gravel or rice. Sew the end and enjoy a warmer house.
8. Turn an old sheet into a table cloth
Table cloths not only look fancy, but they also preserve your table, making it last longer. Instead of buying an expensive one, make a table cloth from an old sheet – vintage sheets with designs are great if you're going for that boho look.
For plain sheets, you can stencil designs on it to brighten it up, or embroider it if that's your thing.
9. Repurpose an old sheet into spare pillowcases
Do you have custom pillows that have hard to buy pillowcases? Or maybe you just need some extra pillowcases for guests.
Make your own pillowcases from old sheets and save money as well as get the perfect fit.
10. Create a cot sheet from an old bedsheet
Does your sheet have a hole in the middle. Maybe only part of it has gone threadbare. Save money on cot sheets by making your own from an old sheet.
Make sure to put elastic in the cot sheet to make it fitted so it's nice and snug and safe for baby.
11. Make dolls clothing
If you're not into wearing old sheets yourself, you can use them to make clothing for dolls.
Pinterest is a great place to find free patterns for dolls – everything from Barbie dolls to larger dolls like Cabbage Patch dolls.
12. Make grocery bags from old sheets
Make your own foldable grocery bags from old sheets. I made the one pictured above in 2010 and I'm still using it in 2020.
To make this, used an old plastic bag as a pattern to make the bag but I made the handles a little longer for more comfortable carrying. Then I added tabs at the top to fit into a supermarket packing frame. The seams are French seams so the bag will carry a lot without the bottom falling out.
13. Use old sheets as drop sheets
Old sheets make great drop sheets not just for when you're painting but they can also go under high chairs for easy cleaning, under a child's painting easel, over the carpet when kids are playing with playdough, furniture covers, wrapping furniture in when moving house… pretty much any time you need to cover a large area or object to stop it getting dirty.
A word of warning when painting rooms: old sheets are thinner than painters drop cloths, so if you drop big blotches of paint and don't clean it up, it can soak through the sheet.
14. Make cushion covers
Another way to use old bedsheets is to make cushion covers from them. This is especially true of vintage sheets or your favourite sheets with a pretty design.
While the bottom sheet tends to wear thing and fray, the top sheet can get a new lease on life as cushions and you can continue to enjoy the pattern.
15. Make an ironing board cover
Need a new ironing board cover?
Why not make one from an old sheet instead of buying one.
Ironing board covers are padded to prevent the metal imprinting on your clothes when you iron. You could upcycling an old blanket or quilt instead of using polyester padding.
16. Convert them into curtains
Not just the thrifty solution of first time renters, curtains upcycled from sheets can look classy as well as be a practical solution for privacy and light blocking.
While these ones weren't upcycled, they give you an idea of what you can do with sheets.
17. Use old sheets as pet bedding
Don't spend a fortune on pet accessories, repurpose an old sheets by lining their bed with it to make your furry family member comfy.
18. Make eco-friendly gift wrapping
Furoshiki is the Japanese art of wrapping gifts in fabric. Not only is it very chic, it's eco-friendly when you reuse the fabric over and over.
It's even better for the environment if you are upcycling fabric rather than buying it new.
While you can wrap a gift in a piece of fabric and tie a ribbon around it, there's a special art to Furoshiki wrapping, with different ways to tie the fabric..
19. Keep them for kid's play
Kids love building forts, but it always seems like there's never enough sheets and blankets.
Keep an old sheet or two and some pegs or clamps and rope for a go-to fort kit for rainy day play.
20. Create a makeshift shade sail
When our kids were little, we would extend the play space in our courtyard in summer by pegging sheets to the fence, clothesline and parts of the house to create a makeshift shade. The sun is HOT in Queensland, but adding a bit of temporary shade meant the kids could play outside.
The easiest way to create a bit of extra shade is to place a sheet over a clothesline. This is great for barbeques when you need more temporary shade.
21. Keep frost off the garden
Protect your delicate plants by covering your garden overnight with an old sheet to keep the frost off.
100% cotton sheets are also compostable, which is another great reason for buying natural fabrics. So instead of throwing linen in the landfill, you can cut your sheets up into smallish pieces and add them to your compost bin. Just be sure there is no polyester in them.
22. Use an old sheet as a picnic blanket
An old sheet can be used as a picnic blanket just as it is, which is the cheapest, easiest and most eco-friendly picnic blanket.
Alternatively, to make a waterproof picnic blanket, sew a vinyl tablecloth to the back with the vinyl side facing out. Vinyl tablecloths can be picked up cheaply from discount stores.
23. Make a garment bag out of an old sheet
A garment bag will keep your clothes clean and dust-free when they are being stored out of season. Instead of buying one, make a simple garment bag from an old sheet.
Cut the sheet into a rectangle long enough to cover your clothes when doubled over and wide enough to fit over them.
Sew up the side seams, leaving the bottom open. Cut a slit in the top middle to poke the coat hanger through.
24. Cut an old sheet into hankies
Hankies are a bit old-fashioned these days, but if you still use them, it can be cheap and easy to make them from old sheets. Flannel sheets are particularly soft for nose wiping – bamboo sheets would also be nice.
25. Cut sheets up into cleaning rags
Finally, every household needs rags for cleaning and other messy work. To turn your sheets into rags, cut or tear them into varying sizes. For fitter sheets, remove the elastic before tearing the sheets up.
Millions of tons of textiles end up in landfill each year. By reusing old sheets as much as possible, we keep them out of landfill longer and repurposing means buying fewer things overall, reducing our waste.