extending the life of rubber gloves
This website may earn commissions from purchases made through links in this post.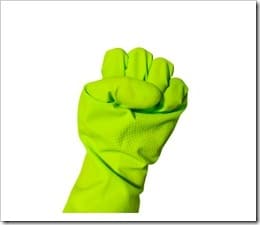 Disposable rubber dishwashing gloves aren't exactly the most environmental product, but I'm someone who suffers from eczema, and gloves are a lifesaver on my hands when washing up and cleaning.
This is an old trick my dad used to help make rubber gloves last longer:
Firstly buy good quality rubber gloves. One or two pairs of sturdy gloves per year is cheaper than going through the poor quality ones regularly, and there's less waste.
When you finish the washing up, dry your hands well with the gloves still on. Once dry, turn them inside out and let them air dry that way. This stops them getting sweaty and stinky on the inside. You can also give them a quick rinse in cold water while inside out if they need it and then let them air dry well.
You can get natural latex gloves washing-up gloves that are meant to be more environmentally friendly. I found that the don't last very long, they get sweaty very quickly (and they come in plastic packaging, which is a little ironic).
Apart from using rubber gloves to loosen tight jar lids, I have yet to think up some ways of reusing them once they have a hole and are no good for their intended use.
What are your tips on reusing rubber gloves once they have holes in them and are no longer good for washing up?
JOIN THE NEWSLETTER