cooking and freezing beans
This website may earn commissions from purchases made through links in this post.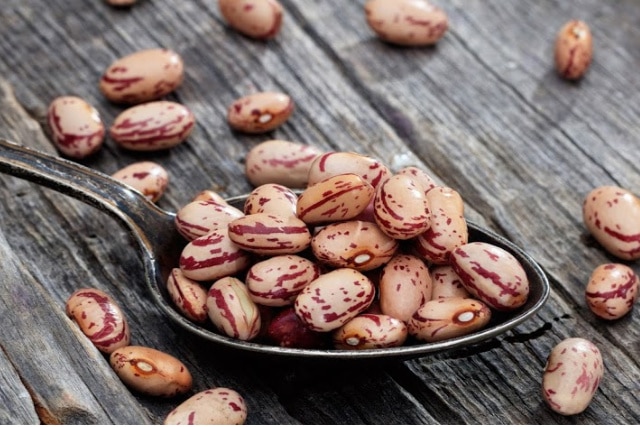 We're full of beans this year.
While tinned beans have been a regular part of our diet for a few years now, they haven't made an appearance for months -we've been experimenting with dried beans instead.
I've always thought cooking with dried beans would be difficult and time-consuming – it's not.
They do take a little organisation, but if you cook a large batch and freeze it in portions, you have the convenience of tinned beans along with the cost saving of dried.
All up, cooking beans takes about 5 minutes of hands-on time – at the very most. A few seconds to bung them in a pot with cold water to soak. A few more seconds to drain them, rinse them add a little more water and turn the stove on. 1 more minute to drain them a second time. 2 minutes to wack them in the freezer. Not much more time than it takes to open and rinse a tin of beans really.
In this post, I cooked up some Adzuki beans. Half went into the vegetarian nachos, half in the freezer. 1 cup of dried beans made up 3 cups of cooked.
Check out soaking and cooking times on the net for the beans you're cooking, but taste them as they cook so they are just the right tenderness. The Adzuki beans were overcooked by about 15 minutes, but as I'm juggling a newborn, a toddler and a camera, I guess I can let myself off the hook.
I've drawn up a bean cooking guide and placed it our household folder. Each time I cook a new bean, I look up cooking times and jot them down in this guide for future reference.
If you're new to experimenting with dried beans like we are (and there are many, many varieties!), pick one bean and one recipe and start from there, adding to your repertoire over time.
I like to purchase beans from the bulk bins at our local natural food store (we're lucky, we have an awesome one). These beans are usually organic.
You can substitute one bean for another in most recipes – in our vegetarian nachos, I've used Black, Adzuki, Pinto and Kidney beans at different times.
I got all artistic with the picture above – the little fella can have fun sorting the beans out again. Pictured is Cannellini, Adzuki, Black beans and green split peas.
cooking beans
soaking the beans
Soaking your beans is as easy as placing them in a pot and adding some cold water – enough to cover the beans plus some as the beans will expand during soaking.
The usual soaking time is around 8 hours although not all beans need this long – the larger the bean, the longer the soaking and cooking time.
I just soak them overnight and cook them in the morning while I'm making breakfast. Alternatively, you could soak them in the morning and cook them when you come home from work.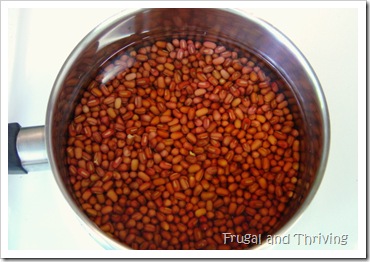 Drain, rinse and cook beans
Drain the beans and give them a rinse. Soaking beans makes them less 'gassy' so you don't want to cook the beans in the same water as you soaked them.
Add fresh water, cover and put them on to boil. Simmer until tender – depending on the size of the bean, this may be from 20 minutes to 1 1/2 hours.
Add extra water as necessary during cooking to prevent the water drying out and the beans burning on the bottom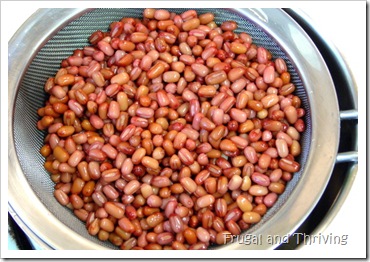 Freezing beans
By cooking up a large batch of beans and freezing them in serving sizes, you can save time and have the same convenience as tinned beans.
Beans don't need to be frozen in any liquid – simply place the drained beans in your chosen freezer container, label and freeze.
You can freeze beans in recycled glass jars (leave a little 'head' room), plastic containers or freezer bags.
I've been using freezer bags since I read this post at Monarch House Blog in order to conserve freezer room.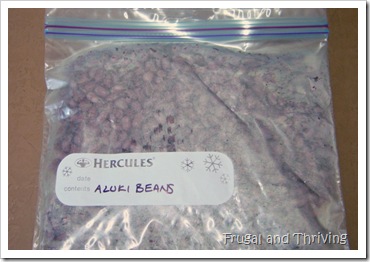 I was a little worried that the seal on these bags wouldn't be tight enough for liquid, but haven't found it to leak yet. Below is a picture of frozen homemade chicken stock along with the beans. As you can see, because the bags freeze flat, I can fit a lot more in our small freezer than I could if I used containers or jars – that's 2 litres of stock!
And I can simply wash and reuse the bags.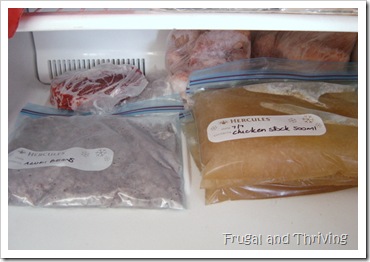 Storing dried beans
We store our beans in recycled glass jars (you can see where I've been too lazy to peel off the old label on the Adzuki bean jar!). I find this the simplest way to store beans, particularly as they don't come in their own packaging besides the brown paper bag.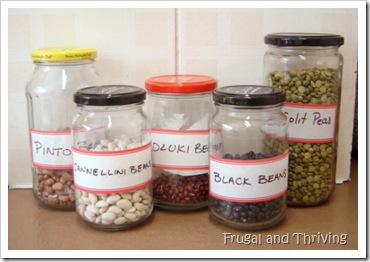 Cooking with beans
Frozen beans can be defrosted and added to a meal according to the recipe. I find the texture of defrosted beans is slightly different from freshly cooked beans, but the difference is small and it doesn't worry us.
If you're wanting some bean recipes, Kitchen Stewardship has a great little eBook called The Everything Beans Book with lots of recipes. You can find a free sample recipe here. Many of these recipes have an American and particularly a South American influence; you can also find great bean recipes in traditional French and Italian cookbooks – check out your local library for inspiration.
In the coming weeks, I'll share our favourite vegetarian nachos recipe, which is the main way we enjoy beans at the moment (even DH says they couldn't be improved with meat!).
Do you cook your own beans? What are your favourite bean recipes?
JOIN THE NEWSLETTER