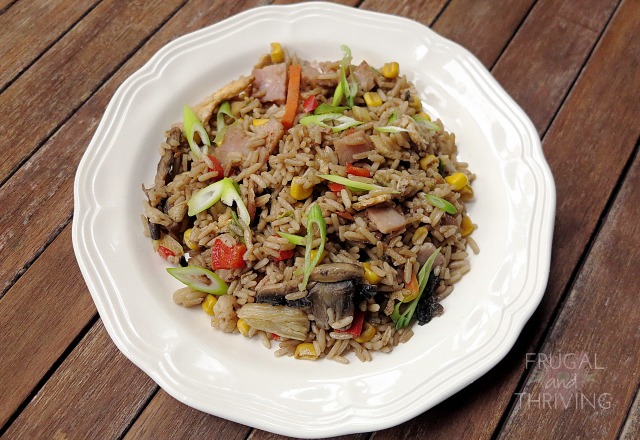 I don't know why, but up until a few months ago, I've always been scared off from making fried rice, I thought it was too hard. Well I couldn't be more wrong. It's easy. Last time I made an easy lemon chicken and fried rice. It was like having Chinese takeaway only better, healthier and cheaper!
Assuming that the rice is already cooked (great for leftovers!) I can have this on the table in less than 20 minutes, including chopping time. An excellent quick and tasty meal. Occasionally we serve it with a few oven baked spring rolls.
I don't follow a recipe just throw in whatever I have so everything is approximate. Add whatever ingredients that you like in your fried rice, or whatever is lurking in the crisper.
Ingredients
1-2 cups of cooked white rice
2 eggs beaten
1-2 rashers of bacon, chopped
1/2 onion or so, chopped
1/4 capsicum, sliced
couple of mushrooms, sliced
frozen peas and corn
spring onions, chopped
soy sauce to taste
Method
Place the frozen peas and corn in a bowl and pour boiling water from the kettle over to defrost (or use fresh!)
Heat oil in a wok or frypan and add the egg swirling to get a thin coating. Cook and set aside. If you like, add a couple of drops of sesame oil to the eggs before cooking for extra flavour.
Add the bacon to the wok, and after a minute or two add the onion. Once the onion is becoming soft, add the capsicum and mushroom and cook for a minute or two.
Add the rice and drained peas and corn and spring onions, and cook tossing the rice so all gets nice and fried and cooked through.
Add soy sauce to taste and the chopped fried egg, heat and serve alone or as an accompaniment.
Disclosure: Links to merchants within this post may be affiliate links.