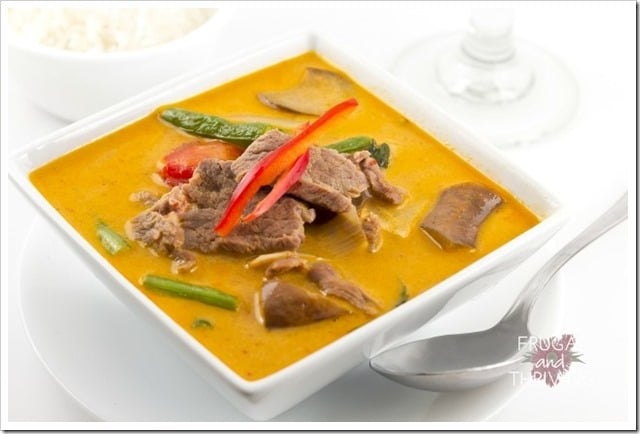 This is by far one of our favourite family meals. If you have pre-sliced the meat before freezing, then it is so quick and easy to prepare. In the above picture I have added sliced capsicum and some frozen beans, but I often use carrot and zucchini for the vegetables. Natural crunchy peanut butter works well in this recipe. Serve with rice or noodles. Serves 4.
Ingredients
500g sliced beef
1x400g tin coconut milk or cream
1-2 Tbsp Thai red curry paste
1-2 Tbsp peanut butter
1 small tin of bamboo shoots, drained
1/2 sliced capsicum
handful green beans
dash of fish sauce
juice of half a small lemon
1-2 tsp brown sugar
Method
Heat some oil over high heat in a wok or large pan (peanut oil works well here, although I like to use macadamia nut oil – don't use olive oil it will burn and the flavour doesn't really suit). Brown the beef strips in batches until just done. Remove meat from the pan.
Add 1/2 the coconut milk or cream (the thick cream on top) and simmer for a couple of minutes to reduce (traditionally it's meant to split). Stir in the curry paste and simmer for a few seconds or until fragrant.
Stir in the peanut butter then add the bamboo, capsicum and beans. Simmer for 5 – 10 minutes until beans are soft and cooked through.
Return the beef to the pan and stir in the fish sauce, lemon juice and brown sugar. Taste and adjust as necessary. Simmer on low for a further couple of minutes to warm beef through. Serve with rice.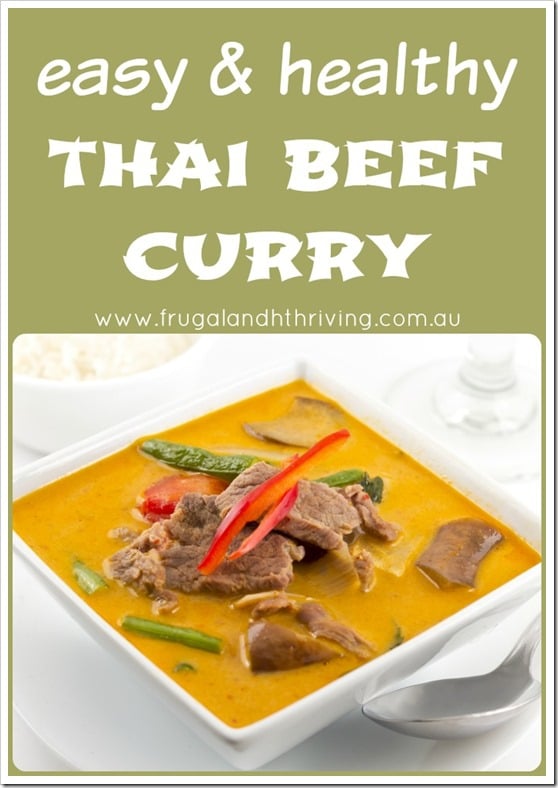 Melissa Goodwin is a writer and the creator of Frugal and Thriving who has a passion for living frugally and encouraging people to thrive on any budget. The blog is nine years old and is almost like her eldest baby. Prior to being a blogger and mum (but not a mummy blogger), she worked as an accountant doing other people's budgets, books and tax.