Make Bill Paying Easier With A Modern Envelope System (Cashless)
This website may earn commissions from purchases made through links in this post.
This modern envelope system is a twist on an old-fashioned technique for saving for the bills and other everyday expenses.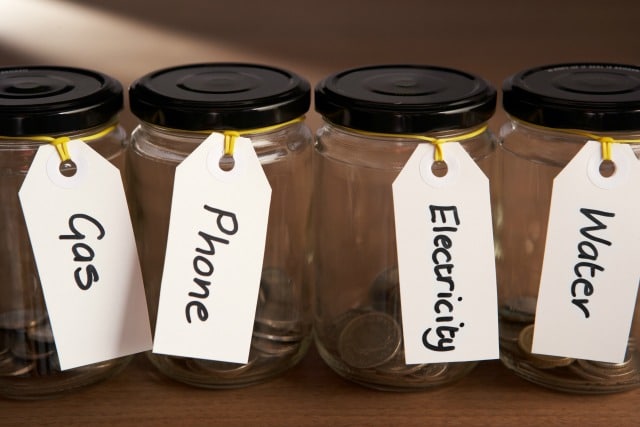 The envelope budgeting system has been around for a long time.
Our grandmother's grandmother used it to take care of the household finances. It's a time-honoured system because IT WORKS.
However…
Modern banking and finance mean that the old cash stashed in envelopes system is in need of an overhaul.
I've outlined the modern day envelope budgeting system that I use below. First, however, I'll an overview of the traditional envelopes system.
The Traditional Envelope System
Before we get to the modern envelope system, here's how the old-fashioned envelope system worked.
Every payday, allocate your pay to different expense categories. Work out how much you will need for the groceries, how much for the petrol, how much for the bills etc.
Divide your cash and fill your envelopes. Withdraw the amount of cash you need and put it into separate envelopes, one for each expense category.
It's not necessary to have an envelope for everything you spend your money, on just the main categories. For example, you may have an allowance envelope for things like coffee and magazines. You might also have a groceries envelope and a petrol envelope and an electricity envelope.
Spend until it's gone and spend no more. If you spend all the money you have allocated in the first few days, it means you have to make do until your next payday.
Put any leftovers into savings. If you have any money left over in any of your envelopes, put this aside into your savings account.
An important aspect of this system is that you are spending CASH. The reality of handing over cold hard cash hurts, so you are more conscious of your spending and less likely to overspend.
There are drawbacks to this system. One obvious one is that we don't pay cash for many expenses anymore. The other is having a large amount of cash around the house isn't very safe.
This system worked fifteen years ago, but it doesn't work now. It's time for an update.
The Modern Envelope System
This system is similar in principle, but with a modern twist.
You will still need to budget your money and spend within your allocated budget. Use your budget to calculate how much you need to put aside each payday for upcoming expenses.
Pay yourself first. Allocate money for investments/ savings first, then any debts then fixed expenses such as insurance or utilities, then spend what's left.
Draw only the cash you need for the week's allowance money and any other cash expenses like petrol and groceries. Once this is spent, that's it for the week.
The amounts that you allocate for expenses goes into a high-interest bank account rather than drawing cash and stashing it into envelopes.
Keep track of how much you have saved and allocated for each category, by keeping a record of your savings account balance, broken up into your expense categories. This can be done on paper or in excel. When I first started this, I kept an exercise book with a page per expense, and a total page that equalled what I had in the bank. Now I use a spreadsheet in combination with my budget. I still allocate an amount each fortnight to the electricity account, for example, but it goes into a bank account instead of into an envelope.
(Update: since writing this, there are now banks that allow you to have several savings accounts without fees so that you can divide each expense into a separate savings account.)
Keeping your money in a bank account means you are earning interest and it is still allocated into VIRTUAL ENVELOPES.
Take Your Modern Envelope System One Step Further
Using your credit card to pay for expenses and they paying it off immediately can work out well if you use it wisely.
When the bills come, you know that you are able to pay them in full because you have saved your cash and allocated it towards the bills.
Rather than using your savings, use your credit card to pay the bills.
Pay off your credit card in full every month with the allocated cash in your high-interest savings account to ensure that you accrue no interest on your card.
This method works well if you have NO OUTSTANDING DEBTS already and you PAY YOUR CREDIT CARD BALANCE OFF IN FULL EVERY MONTH.
Using your credit card to pay the bills means that you are earning interest for longer on your savings and you can take advantage of any loyalty programmes offered by your credit card merchant. Using a credit card and paying it off on time, every time will also establish or improve your credit history.
The modern envelope system makes paying the bills easier because instead of scrambling to find money to pay the bill when it arrives in the mail, you smooth the bills out by putting a little away for each bill each payday. That way, you already have the cash on hand when the bill does arrive. Take the stress out bill payment and the money out of the mattress with the modern envelope system.