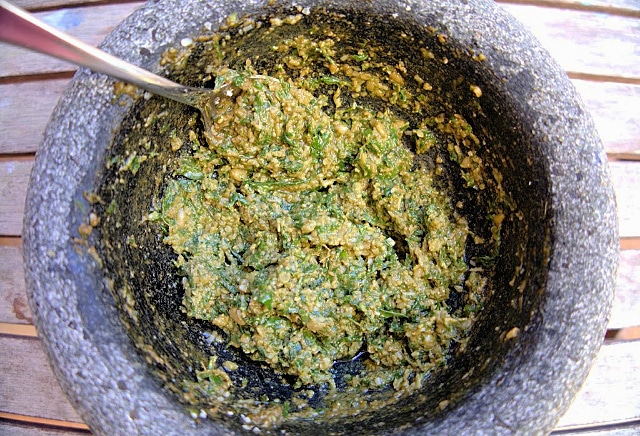 For the past two years, I've planted basil seeds throughout the garden, only to have a single seed germinate each time.
But each time, that single basil plant has grown Jack-and-the-Beanstalk ginormous and as a result, has provided plenty of basil during the summer months.
By harvesting only the top half of the plant, it grew bushier and bushier, yielding increasing amounts of basil.
The basil bush that keeps on giving.
Basil is certainly one of my favourite herbs and I love growing it; it is much tastier picking it straight from the garden, rather than cooking with lank cuttings from the fridge.
And my favourite way to eat it: pesto. Fresh pesto tossed through zucchini noodles.
Delicious.
The last time I purchased bottled pesto, I was surprised at several things: the pick-me-up-off-the-floor price, how salty it tasted, that it had sugar in it and that it used sunflower oil rather than the traditional olive oil.
We try to steer clear of PUFAs these days, so making pesto from scratch means I can use the best quality ingredients for a fraction of the cost of ready made.
You can make basil in the food processor, but I like to use an old fashioned mortar and pestle. Breathing in the aroma of the basil and the garlic while you pound away makes the experience so much more sensual and chefy than simply throwing everything into a noisy contraption.
I buy pine nuts either from the bulk bins at the health food store, or from the supermarket when they are on sale. Alternatively, you can use sunflower seeds, almonds or cashews – this will reduce the cost but will still taste great.
Pesto can be frozen for up to four months, so it's a great way to make the most of a basil bounty.
Ingredients
2 small garlic cloves, peeled
pinch of course salt
1 1/2 cups or so of fresh basil leaves
1/4 cup pine nuts
60 grams of parmesan cheese, grated (about a handful of grated parmesan, more or less to taste
a glug or two of olive oil
Directions
Pound the garlic with a tiny pinch of salt in the mortar and pestle. The salt helps everything grind to a paste. If you use a food processor, you can leave the salt out, but a little does bring out the flavour of the ingredients. Go easy on it though, parmesan is pretty salty.
Tear the basil leaves into the mortar and give those a pound until roughly ground. Add in the pine nuts and grind everything to desired consistency.
Stir in the parmesan cheese and oil. Taste and add extra as desired.