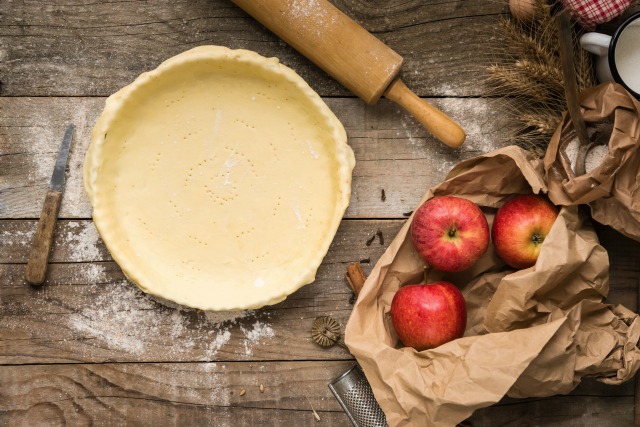 While store bought pastry is convenient, it's usually made with vegetable oil and other less than wholesome ingredients.
Making your own will not only save you money, it will be superior to what you can buy at the supermarket.
But what if you don't have time for all that malarky?
You can make pastry ahead of time and freeze it. Form the dough into a disc, wrap it tightly and store in an air-tight container in the fridge.
Easy Shortcrust Pastry
Ingredients
180g butter, cut into small pieces and chilled
240g plain flour
pinch salt
water, chilled
1 egg yolk
Method
Sift flour and salt into a large bowl, add butter and lightly rub mixture to combine. Alternatively, process in a food processor until it looks like fine breadcrumbs.
Make a well in the centre and add egg yolk and a little water until the dough forms a ball. Knead lightly on a floured surface, press into a flat cake, cover and refrigerate for at least 30 minutes.
Roll out the pastry, dusting with flour. Line pie dish, pressing dough into the edges. Trim the edges. Prick with a fork and chill for at least 30 minutes preferably longer to prevent shrinkage.
Fill the bottom of the pastry with lightly scrunched foil or baking paper and fill with rice or pastry weights.
Bake at 200°C for 15 minutes, then remove weights and bake for a further 5 minutes.
Makes 1 quantity of dough for a large dish. I usually use salted butter and I don't add extra salt. For a sweet crust, add a tablespoon of caster sugar or more to taste. Experiment with adding spices, cocoa and other flavourings.
Melissa Goodwin is a writer and the creator of Frugal and Thriving who has a passion for living frugally and encouraging people to thrive on any budget. The blog is nine years old and is almost like her eldest baby. Prior to being a blogger and mum (but not a mummy blogger), she worked as an accountant doing other people's budgets, books and tax.