Making gravy is an essential (but easy) cooking technique. Make the best gravy in the world with this easy homemade gravy recipe.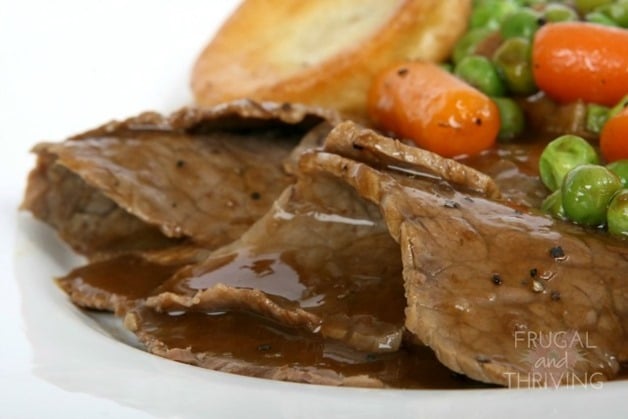 Homemade gravy blows storebought gravy out of the water.
When your kids are fighting over who will lick the pan clean after dinner, you know you've hit the gravy train.
In our family, licking the gravy pan clean is a tradition that is at least four generations old. Some simple pleasures never die out.
A traditional gravy starts with the drippings in the pan after the meat has roasted.
To scrape up all that tasty goodness, you need a metal roasting pan* that you can use place on the cooktop as well as in the oven.
Tip the pan up and spoon off any excess fat, leaving the meat juice and just a couple of tablespoons of the fat in the bottom of the pan. The fat rises to the top and the juices are a darker brown and sink to the bottom. If you don't do this, your gravy can come out a bit greasy.
Place the roasting tin over low heat on the stove.
Then sprinkle in your flour, stirring well with the back of a spoon, mixing it with the dripping and letting it brown for a couple of minutes.
The next key ingredient for perfect gravy is a good stock. I make my own stock using this simple, quick and convenient method, and freeze it in batches. It's cheaper and more nutritious if you make your own stock but a tetra-pak stock works well too. Just avoid stock powder, which does not have a real-food flavour.
For a beef roast, use beef stock. For everything else, you can use chicken stock or make stock from the lamb or pork bones to use for gravy the next time you have a lamb or pork roast.
Pour your cold stock into the hot pan gradually, mixing it well with the back of a spoon (or whisk if you prefer) to prevent lumps. Season to taste with salt and pepper. Add your salt and pepper, taste and then add more until it's just right. You'll need less salt if you use commercial stock.
Bring to the boil and continue to cook, stirring, until your gravy reduces to a delicious sauce. Reducing the gravy this way gives it a rich flavour.
If it's thicker than you like it, use the water you're boiling or steaming your greens in to loosen your gravy up – it will still keep its rich taste.
And that's it.
This basic gravy recipe takes minutes to make but will leave lasting impressions. And it's something you can build on. Adding a little garlic and rosemary from a lamb roast, for example, will add a different flavour profile.
So too will sloshing in a little wine.
Traditional Homemade Gravy
Pan drippings with about 2-3 Tablespoons of the fat remaining
2-3 Tablespoons of plain flour
3-4 cups of stock
Salt and Pepper to taste
1. Pour off all but a remaining couple of Tablespoons of fat.
2. Place the roasting pan over low heat.
3. Sprinkle in the flour and stir and scrape it around the pan, mixing it with the dripping for a few minutes to lightly brown.
4. Gradually pour in the cold stock, stirring as you pour.
5. Bring to the boil and then simmer, stirring until reduced.
6. If it becomes too thick, thin it out with a little cooking water. If it's too thin, continue to simmer and reduce to your favourite gravy consistency.
*Don't throw those extra pan drippings away! Use the excess fat to cook with at another meal. Or use any drippings that sink to the bottom to make a gravy when you don't have a roast.
*For a gluten-free version, use a commercial gluten-free flour, rice flour or arrowroot flour (which is my favourite alternative).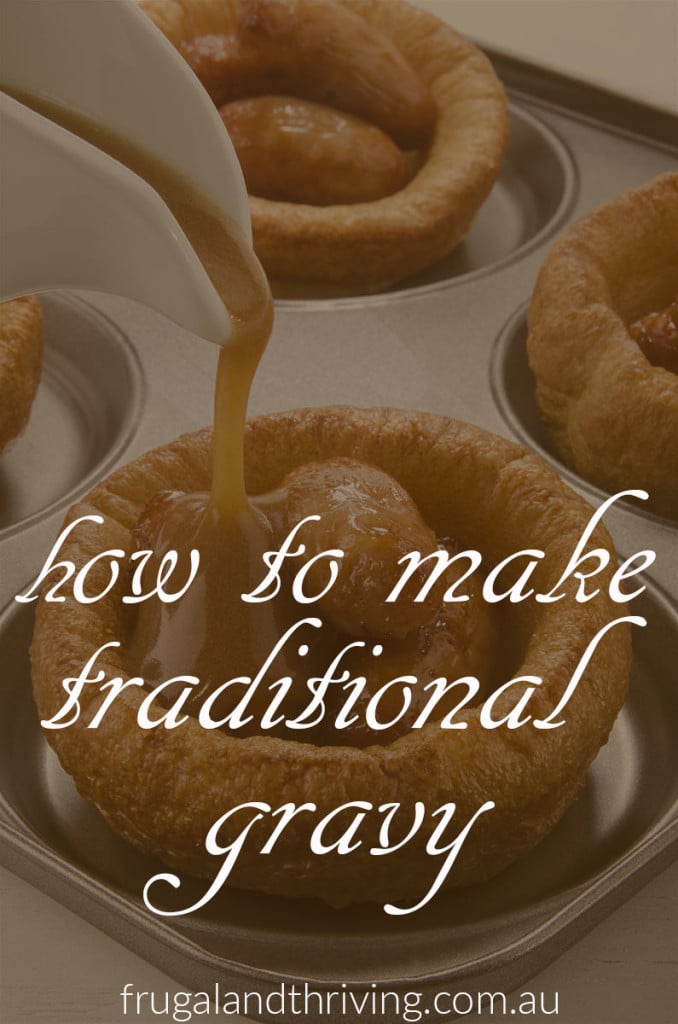 *Affiliate Link.
Melissa Goodwin is a writer and the creator of Frugal and Thriving who has a passion for living frugally and encouraging people to thrive on any budget. The blog is nine years old and is almost like her eldest baby. Prior to being a blogger and mum (but not a mummy blogger), she worked as an accountant doing other people's budgets, books and tax.