How to Flash Freeze Fruit For A Year Long Bounty
This website may earn commissions from purchases made through links in this post.
Flash freeze fruit is to quickly and easily preserve it when it's at it's cheapest. Enjoy local summer fruit in winter by freezing for later.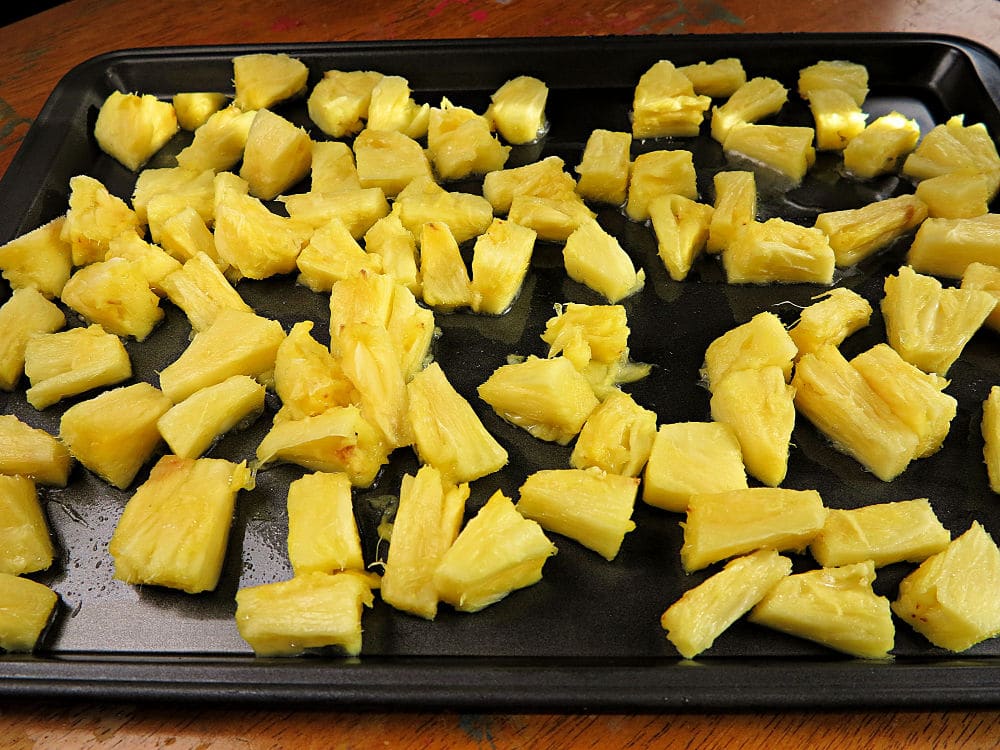 You can save money by eating local, seasonal fruit but the benefits don't stop there. You're also eating fruit at it's most nutritious and delicious.
And if you flash freeze fruit when it is at its best, you can enjoy it all year round without relying on imported fruits.
Our local area produces an abundance of pineapples. I can pick up a whole pineapple, ripe and sweet, for less than $2.
Freezing it prevents waste. Once cut, pineapples can go mouldy quickly, even in the fridge. Freezing it stops the mould.
There are several methods of freezing fruit, but quickest and simplest is to flash freeze it.
Flash freezing involves freezing fruit on a tray before putting it into bags or containers.
By freezing it on a tray, you avoid it all freezing together in one big clump. Instead, you can pull out a few pieces at a time as you require.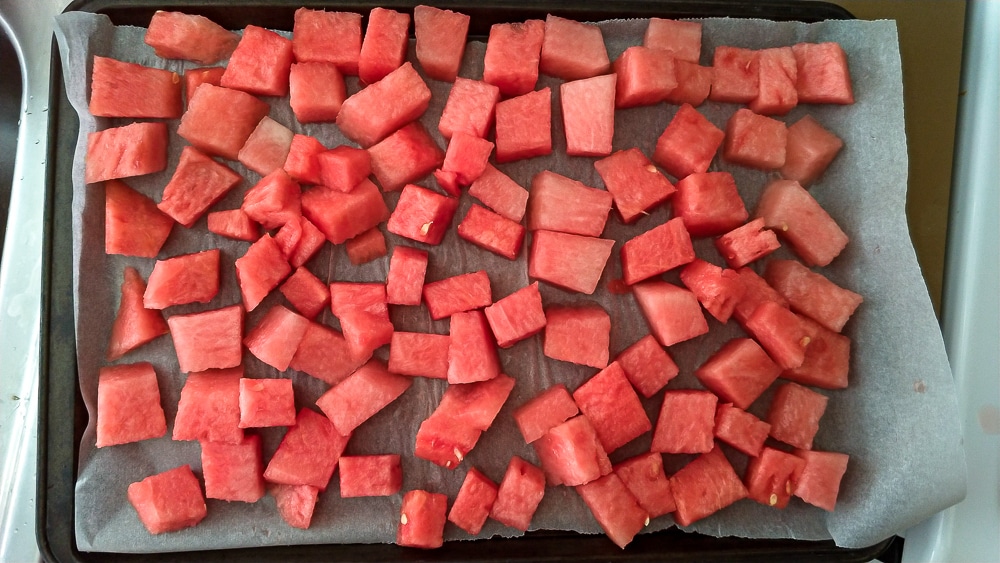 Using Frozen Fruit
Frozen fruit tends to go a bit mushy once it defrosts. This can be great for many recipes, but it won't have the same texture as fresh fruit.
Here are some ways to use frozen fruit:
Blend in smoothies
blend to make purees and sauces
use in baking like muffins and cakes
use in crumbles
thaw and make jam
defrost in the fridge and eat on top of porridge or pancakes. You can macerate them by stirring in a little bit of sugar or honey and leaving them to sit, forming a sweat fruity sauce.
use in homemade ice cream and ice blocks
add to punch or use as flavoured ice blocks in Champagne
turn into a chutney
use in a salsa
make pies or tarts
Frozen fruit will keep in the freezer for at least 3 months – berries for up to six months.
In fact, frozen fruit will keep longer, but they may start to form ice crystals after then.
You may also like: How to Make Jam with Frozen Berries
Yield: 1 Tray
How to Flash Freeze Fruit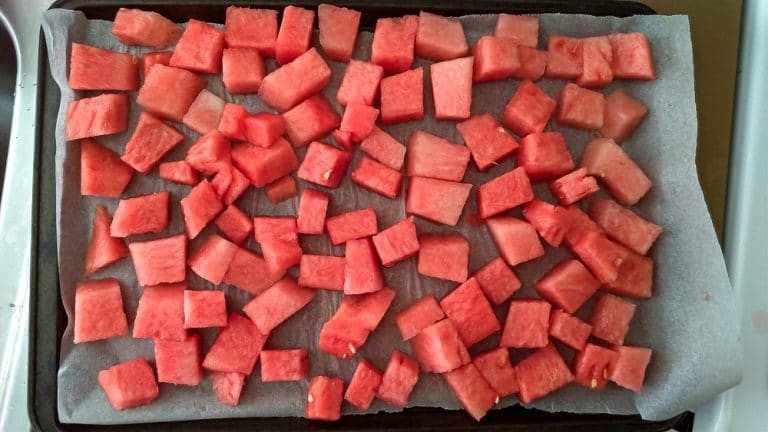 Flash freeze fruit to quickly and easily preserve fruit to enjoy eating it all year long. Buy at its cheapest to save money and freeze for later.
Total Time
2 hours
5 minutes
Tools
Tea towel or paper towel
Baking Trays
Baking paper
Sharp knife
Containers
Labels
Sharpie
Instructions
Select quality fruit that is just ripe.
Wash and drain your fruit well.
For fruit that goes brown like apples, toss in a mixture of citric acid that has been dissolved in water and then drain well. Use 1 tablespoon of citric acid to 4 cups of fruit, dissolved in about 1 cup of water.
Dab dry with a tea towel or paper towel. Excess water will form ice crystals when freezing, so it's important to dry your fruit well.
Peel fruit if desired and cut into pieces to desired size, removing any bruised or damaged bits. Try to make each piece fairly similar in size so they freeze at the same time.
Place fruit on a tray and freeze for 1 – 2 hours or until frozen. Don't leave it overnight as the fruit may get freezer burn. Make sure each piece isn't touching so they don't freeze together.
Place frozen fruit into a container or freezer bag and label. It's now ready to use as needed.
Notes
You can buy citric acid in the supermarket alongside the baking powder. Alternatively, you can use lemon juice or vinegar.