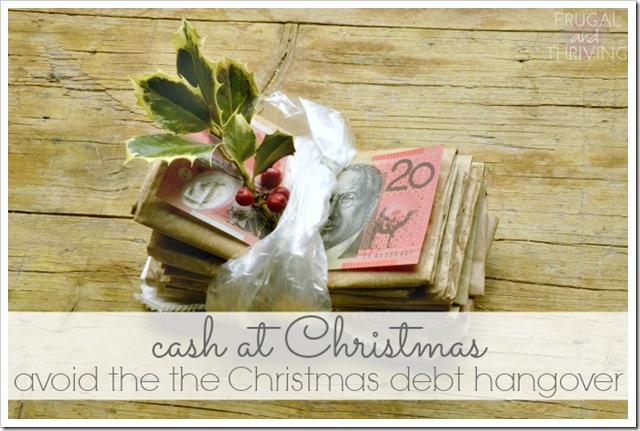 There was once a young couple named Della and Jim. It was the day before Christmas, and they had no money to buy each other a Christmas present.

Della looked at herself in the mirror and sighed, wondering what she could give her beloved husband. And then she had a brilliant idea. She could sell her long, beautiful hair – hair that shone bronze in the sunlight and reached below her knees – and use the proceeds to buy Jim the best Christmas gift ever.

As she wandered around the streets, she found the perfect gift for Jim – a silver chain from which to hang his one prized possession: his grandfather's gold watch."
You may have heard this story before. It's The Gift of the Magi, by O Henry, it's one of my favourite. If you haven't heard it, you may guess where the story leads.
Imagine getting the perfect gift for Christmas. You just love it!
Now imagine the person who gave it to you put themselves into financial hardship to buy it.
It sounds extreme and yet that's exactly what many of us do to ourselves each year! We extend ourselves financially and then live with the pain later.
We take it for granted that Christmas will be a big credit card blow out and we'll wake up in January with a big debt hangover.
When Jim got home that night he was shocked to see Della's hair shorn short.

'It's just hair,' Della reassured him, 'it will grow back! I sold my hair to buy you the perfect Christmas gift. I love you so much, I wanted to give you something special.'

Jim sank onto the couch looking bewildered. Della couldn't understand Jim's reaction.

'Merry Christmas, Della. Open my present first and you will understand why I'm a little in shock.'

Della opened the gift and there were the most beautiful set of shell combs she had ever seen – just the right colour to match the long hair that she no longer had.

'Never mind, Jim. It will grow back. Open your gift.'

Jim opened his gift and nearly cried. There was the beautiful silver chain, perfect for his heirloom watch.

'Oh Dell,' Jim sighed. 'I sold the watch to buy you those combs!'"
We all want to be generous at Christmas time. That generosity of spirit is something beautiful to be cherished. But we have to ask ourselves whether we should be putting ourselves in debt over giving. Its about finding the balance.
Ideally, you started your Christmas fund at the beginning of the year. If you did, then the Christmas season will be much easier.
But what if you don't have a Christmas fund? At the end of October, it's no use talking about hindsight.
Below are 10 ways to find some spare cash to make this Christmas a debt-free Christmas.
The essential takeaway is this: put any extra money you save or earn over the next few weeks leading up to Christmas towards your fledgling Christmas fund.
10 ways to find some spare cash for Christmas
1. Set a Budget
First things first, before you go looking for extra cash, you need to work out how much extra money you need for Christmas.
To work out your Christmas budget, write a list of all the people you want to give a gift to and how much you want to spend on each person. Then include a food budget and money for extras like wrapping paper, travel if you are travelling to visit relatives, Christmas decorations, your work's Christmas party and secret Santa.
Add it all up and you've got your Christmas budget.
Does that amount look impossible to reach? Then it's time to get savvy with your Christmas shopping.
2. Buying on a Budget
How are you going to get that perfect gift on a budget? It's time to start your Christmas shopping now so that you can:
keep an eye out for sales
shop online (and have your gift arrive on time)
consider and scout around for second-hand gifts
Write a list of ideas for each person that are within your set budget. Don't leave the Christmas shopping until the last minute, when it will be more expensive and more stressful!
3. Sell your Clutter
One of the fastest, easiest way to raise some extra funds quickly is to sell your unwanted clutter.
For tips on how to sell your second-hand stuff, check out:
4. Trim the Luxuries
It's time to take an honest look at your outgoing expenses. Do you enjoy life's little luxuries on a regular basis? Work lunches, dinner out, takeaway, coffees, magazines, wine, clothes, nail treatments…while it's nice to enjoy these things when we don't have other more pressing expenses, they can add up quickly and so are a good place to start saving now.
With 8 weeks to go until Christmas, cutting back on the discretionary expenses can really boost your Christmas savings account.
5. Famine before the Feast
Because the groceries are one of the most flexible expenses in the budget, it's easy to reduce your grocery expense to save some extra cash for Christmas.
That might mean more vegetarian meals over the next few weeks, cheaper meals that don't require any specialty ingredients or forgoing your favourite brands for cheaper brands.
With the savings you make on the groceries, you can either put it straight towards your Christmas fund or, if you are entertaining this year and need to feed a crowd, you can start buying a couple of non-perishable or freeze-able food items each shop.
6. Save your Change
Do you have a wallet full of spare change? It's amazing how quickly that silver can add up!
While it's not going to cover all of Christmas, it's another way to save some extra cash for the festive season.
7. Work Overtime
If your job offers paid overtime, this is a great way to earn a little extra over the following weeks to pay for Christmas. Put your overtime income towards you Christmas fund.
8. Side Hustle
A side hustle is an informal way of earning a little extra cash outside your regular job. Maybe you can mow a neighbour's lawn, do a bit of cleaning or sell your amazing face painting skills at the local farmer's markets.
Need some side hustle ideas? Check out 101 ways to make money from home from The Thrifty Issue.
9. Use up Gift Cards
Do you have gift certificates lurking in your wallet? Maybe a birthday present or even a gift certificate from last Christmas?
It's not the most fun way to spend your own gift cards, but if it keeps you out of debt, use them up to purchase gifts.
10. Pay your minimum for just one month
If you already are in debt, then it's a good idea to be paying more than the monthly minimum to get out of it! If you are paying more than the minimum repayments, hurrah! But…
…in order not to dig your debt hole any deeper, for just one month, put any extra repayments towards your Christmas fund. As soon as Christmas is over, get back on track with your debt reduction plan.
And finally, don't forget: start a savings plan for next year
When Christmas is all over, after the presents are unwrapped, the turkey is stripped clean, and the leaves on the Christmas tree have started dropping all over the carpet, then it's the best time to start saving for next year.
If your Christmas budget is $500, then all you need to put aside is $9.60 a week to cover it. No scramble at the end of next to find some extra cash and no big debt blowout. Start the new year on the right foot, by paying cash at Christmas.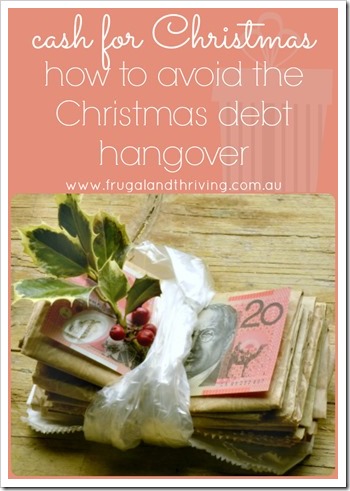 Thrive on any Budget!
Subscribe to the newsletter and join a community of like-minded people!
As a bonus: get your copy: FREE Quick Fix Guide: 5 Money Fixes You Can Implement Straight Away to Save More.
We take your privacy seriously. No Spam. See our Privacy Policy.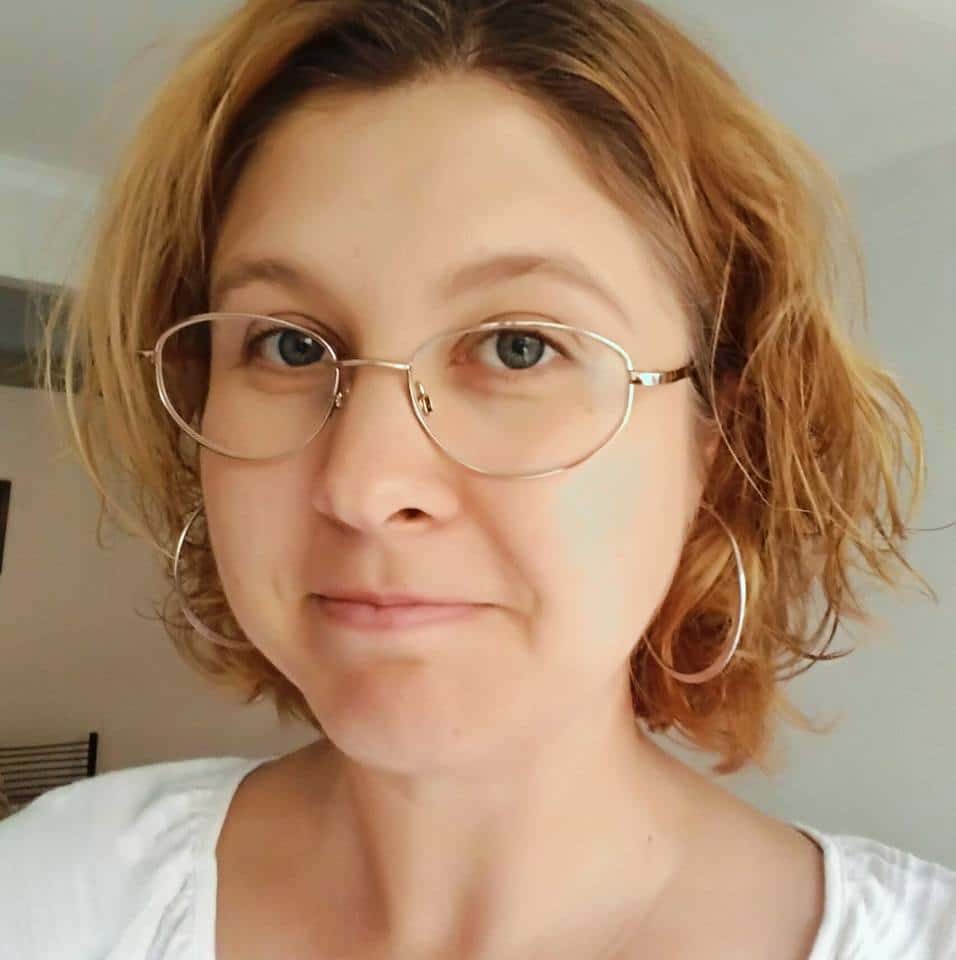 Melissa Goodwin is a writer and the creator of Frugal and Thriving who has a passion for living frugally and encouraging people to thrive on any budget. The blog is nine years old and is almost like her eldest baby. Prior to being a blogger and mum (but not a mummy blogger), she worked as an accountant doing other people's budgets, books and tax.
Disclosure: Links to merchants within this post may be affiliate links.