Christmas Decorating on a Budget – 6 Inexpensive Decorating Ideas
This website may earn commissions from purchases made through links in this post.
Not only is Christmas decorating on a budget achievable, but it can also make Christmas more enjoyable and meaningful and reduce consumer waste.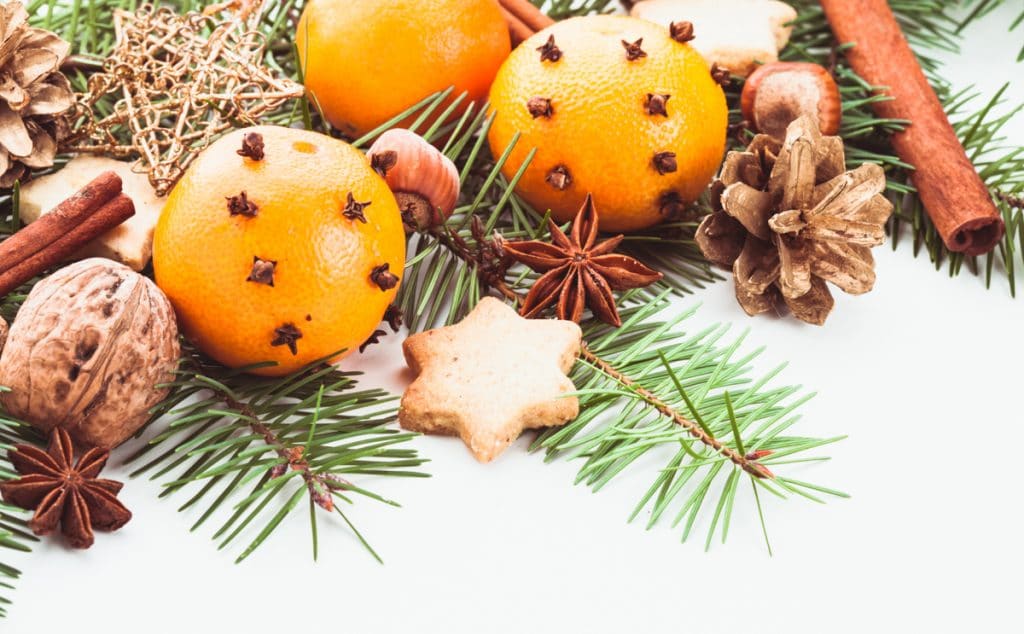 No matter how old you get, there's something magical about Christmas.
When I was a kid, one of my favourite things to do at Christmas was to stay up late, turn all the lights off and watch the Christmas tree lights blink and sparkle.
Decorating your house is an integral part of celebrating Christmas. It really heralds in the festivities and encourages a Christmas spirit. But what if you don't have any decorations and there's no room in the budget to buy them?
If money is tight, the last thing you want to spend it on is decorations. But sometimes, when money is tightest, and everyone is feeling the strain, getting a little festive can really lift the mood of the whole family.
In years gone by, decorating the house for Christmas didn't involve spending huge amounts on plastic at the shops. Decorations were made from natural objects or handcrafted and treasured.
Reclaim some of these old traditions, save money on Christmas decorating and make memories that last for generations.
6 Ideas for Christmas Decorating on a Budget
Decorating really gets you into the Christmas spirit. Decorate on a budget and avoid a lot of plastic and waste with these six ideas.
1. Decorate with Nature
The first Christmas decorations weren't shiny, plastic baubles, but were made from nature brought inside. The Christmas tree is the obvious example of this, but there's also the mistletoe, the wreath, berry garlands, dried orange garlands and orange and clove pomander balls.
And there's always pinecones of course. You can do some amazing things with pinecones, my favourite at the moment are these cute pinecone owls.
I love the idea of a herb wreath, mostly because I have masses of rosemary in the garden. But an Australiana style wreath looks lovely too.
The great thing about decorating with nature is that's free, or very cheap, and you don't need to store it throughout the year! Not to mention the reduction in plastic.
2. Decorate with Food
In the past, home-baked cookies were often hung in a tree as decoration, ready to be eaten on Christmas day.
If you're not keen on having cookies hanging around your house (we have some mighty big cockroaches here in Queensland, and I don't want to encourage them), salt dough ornaments make a nice alternative and are a whole heap of fun to make with the kids.
Dried fruit and spices also make nice Christmas decorations as well as stringing popcorn to hang as a garland. If you like candy (I'm more a chocolate girl myself), then you can also use cheap candy or candy canes to decorate or make edible ornaments.
3. Make Your Own Decorations
Decorating the house for Christmas gets you into the festive spirit, but making your own decorations makes the whole thing really special.
Your decorations may become heirlooms and the kid's homemade ones will remain special long after they grow up.
Some of my favourite frugal homemade decoration ideas include:
4. Start a Christmas Decorating Tradition
The lead up to Christmas can be just as fun as the big day. As activity ideas for our advent calendar, we spend time together making decorations for the tree.
But we also have a tradition (also part of the advent calendar) that each year each child is allowed to pick one decoration to buy for the tree.
The kids are given a budget and away they go. I try to time it for a day when they have 25% or 50% off decorations to save money.
Over the years, we get a lovely assortment of decorations for the tree that have been hand-picked by each child, making each ornament hold special memories.
Some families give these hand-picked ornaments to each child when they grow up and leave home as a special Christmas gift.
5. Save by Decorating with Second-Hand Ornaments
Keep an eye out in second-hand stores for Christmas decorations. In the past, we've picked up quite an assortment of ornaments at second-hand stores. This not only saves money, but it also reduces waste.
The other option is to keep an eye out for sales at discount stores. There are a heap of ways to glam cheap decorations up – this article has some great tips for DIYing with Dollar Store decorations.
6. Frugal Christmas Tree Ideas
Nothing says Christmas like a Christmas tree. But what if a tree isn't in the budget?
Here are some alternative Christmas tree ideas.
My favourite is bringing a potted plant – that you already have – inside. It doesn't have to be a pine tree. A large potted rosemary makes a great Christmas tree and can be used all year. But any type of large potted plant will be nice with a few decorations.
Another idea is to scavenge a large fallen branch or two (make sure you get permission before picking it up). Just stick it in a bucket of sand and decorate. Our school recently trimmed the trees and I was kicking myself that I didn't bring home a branch or two. If you can't find a branch, a stick tree is a really nice alternative.
For more ideas, check out this Pinterest board on alternative Christmas tree ideas.
Decorating the home is an integral part of getting into the Christmas spirit, especially if you have children. But you don't need to spend a fortune on Christmas decorations. Christmas decorating on a budget offers a chance to get creative, spend time with family and create special Christmas memories.
You might also like: