Make Personal Inexpensive Salt Dough Christmas Decorations
This website may earn commissions from purchases made through links in this post.
Don't spend a fortune on plastic decorations. Make memories and decorate for Christmas with these handmade salt dough Christmas Decorations.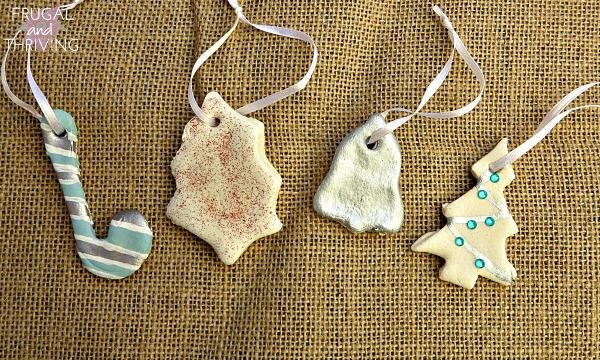 Waldorf schooling emphasises seasonal rhythms and festivals, making preparations for holidays a big part of their curriculum.
And while I don't subscribe to any particular philosophy, I think this is a great takeaway from Waldorf/Steiner.
Seasonal festivals serve to connect humanity with the rhythms of nature and of the cosmos. The festivals originated in ancient cultures, yet have been adapted over time. To join the seasonal moods of the year, in a festive way, benefits the inner life of the soul. Celebrating is an art. There is joy in the anticipation, the preparation, the celebration itself, and the memories" [source].
Crafting as a family is a great way to prepare for the holidays while strengthening connections and make memories that will last many years after the gifts are forgotten.
I don't remember what I got for Christmas when I was a kid, but I do have strong positive memories of the family traditions we enjoyed during the season.
Handmade ornaments are a lovely way to personalise Christmas as well as extend the joy and anticipation over the month of December.
Today's recipe is for salt dough Christmas decorations.
Salt dough ornaments are fun for all the family, easy and inexpensive to make and look amazing.
Making Salt Dough Ornaments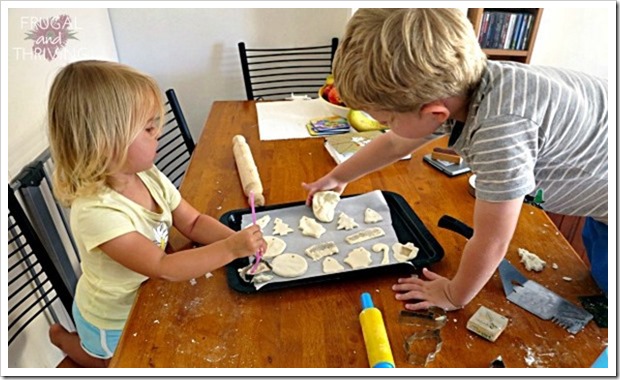 Salt dough is just like play dough, except you let it go hard on purpose (as opposed to the bits of play dough that get lost in the carpet or behind the lounge) in order to make the handmade Christmas ornaments.
Use a pencil or straw to put a hole in the top of your ornaments so you can attach ribbon to hang them on the tree.
You know the little bits of ribbon that come in the shoulders clothes? The little bits we always cut off? I keep those for craft projects just like this one.
These salt dough ornaments will last a few years – even longer if you spray them with a top coat to seal. However, because they are cheap and mostly natural (all natural if you don't use acrylic paints) then they can be composted after Christmas (again, if you don't use acrylic paint) and you can have fun remaking your ornaments every year.
Here's how to make your own salt dough ornaments.
Yield: lots
Salt Dough Christmas Decorations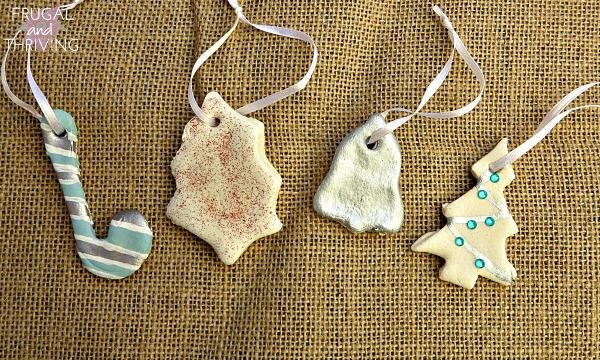 Total Time
3 hours
25 minutes
Materials
1 cup salt
2 cups plain flour
1/2 – 1 cup of water
Tools
Mixing bowl
Mixing spoon
Measuring cups
Rolling pin
Cookie cutters
Instructions
Mix salt and flour in a bowl.
Add the water a bit at a time until the flour forms a dough.
Knead until smooth and let rest for 20 minutes.
Roll out the dough and cut into shapes.
Bake at 120°C for 2 hours or until dry and hard. Cool completely before decorating.
Notes
See article for decoration ideas.
Recommended Products
As an Amazon Associate and member of other affiliate programs, I earn from qualifying purchases.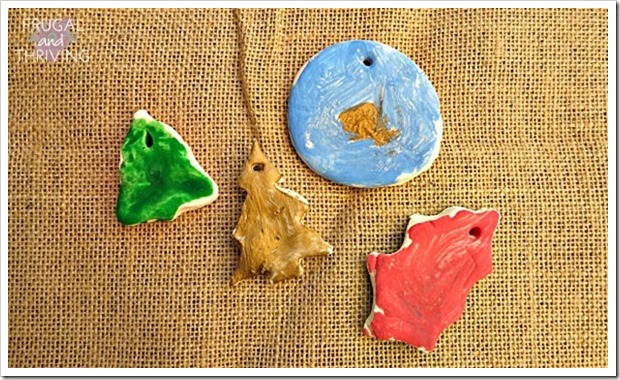 Ideas for Decorating Your Salt Dough Ornaments
*If you want to compost your ornaments at the end of the holiday season, stick to natural embellishments. Why not try making your own ocre paint by grinding up some coloured rock and mixing it with water!
Cut out using Christmas cookie cutters and leave plain. There's nothing like the elegance of plain white against the green Christmas tree.
Cut snowflake designs from your ornaments.
Stamp using regular paper stamps. You can either stamp your ornaments plain or use ink to give your impression a bit of colour. Don't forget, stamp before you cook your ornaments so that you leave an impression. It's easier to stamp first and then cut out your ornament around the stamp.
Add texture. Similar to stamping, add texture to your uncooked ornaments by pressing a textured surface into the dough. Ideas include leaves, lace, burlap, bark, shells. Anything textured. Again, it's usually easier to add texture to the dough first and then cut out your ornament shape.
An alternative is to add a raised textured design with glue after the ornament has cooked. Then paint over the glue.
Use a toothpick to draw designs or write words in your ornaments before cooking.
Paint your cooked ornaments. Paint them a single colour or paint faces on your ornaments.
Add embellishments to your cooked ornaments by gluing on glitter, sequins, buttons, seeds, ribbons, beads etc. For natural ornaments that can be composted, stick to natural embellishments.
Press your child's hand into the dough each year for a hand print ornament keepsake.
Use a marker to draw patterns or write on your ornament.
If you're super creative, rather than cutting out flat ornaments, use the dough to sculpt a 3D ornament. These will take longer in the oven to dry out.
You might also like:
Melissa Goodwin has been writing about frugal living for 10+ year but has been saving her pennies since she first got pocket money. Prior to writing about frugal living, Melissa worked as an accountant. As well as a diploma of accounting, Melissa has an honours degree in humanities including writing and research and she studied to be a teacher and loves sharing the things that she has learned and helping others to achieve their goals. She has been preparing all her life to write about frugal living skills.
JOIN THE NEWSLETTER