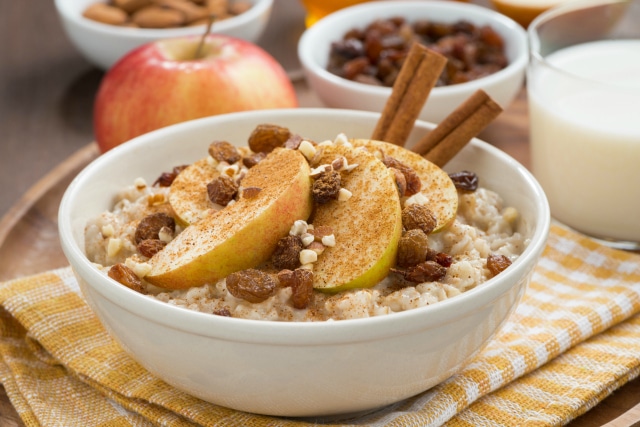 Start the day off on the right foot with this easy Bircher Muesli recipe. A super quick and easy twist on an old classic, this recipe cheap and jam-packed full of healthy goodness.
Traditional Bircher Muesli includes grated apple. This alternative is a little quicker to prepare. Also, if you want to make this on Sunday night so that you have an easy breakfast in the fridge for the week, grated apple can go a bit brown.
However, get all the goodness of fresh fruit by serving your muesli topped with it.
Easy Bircher Muesli
Serves: 4
Ingredients
1 cup rolled oats
1/2 cup apple juice
1/2 cup of yoghurt
1/4 cup sultanas
1 – 2 Tbsp. ground linseed (flaxseed)
Fruit, nuts, seeds and spices to serve
Method
In a container with a lid, mix together oats, juice, yoghurt and sultanas and place in the fridge overnight. (This makes the sultanas swell and become juicy. Add them later if you prefer them dry.)
Add remaining ingredients before serving. Except for fresh fruit, I usually just add everything else the next morning. Seeds and dried fruit will go a bit soggy by the end of the week, so if you prefer, add them separately every day.
The variety is limited to your taste, imagination and the season. Try a combination of nuts, seeds, dried fruit and fresh seasonal fruit. The yoghurt that you choose will also change the taste of the muesli. Try a drizzle of honey for sweetness, grated coconut or tinned fruit. Add cinnamon, nutmeg or cardamon for a delicious alternative.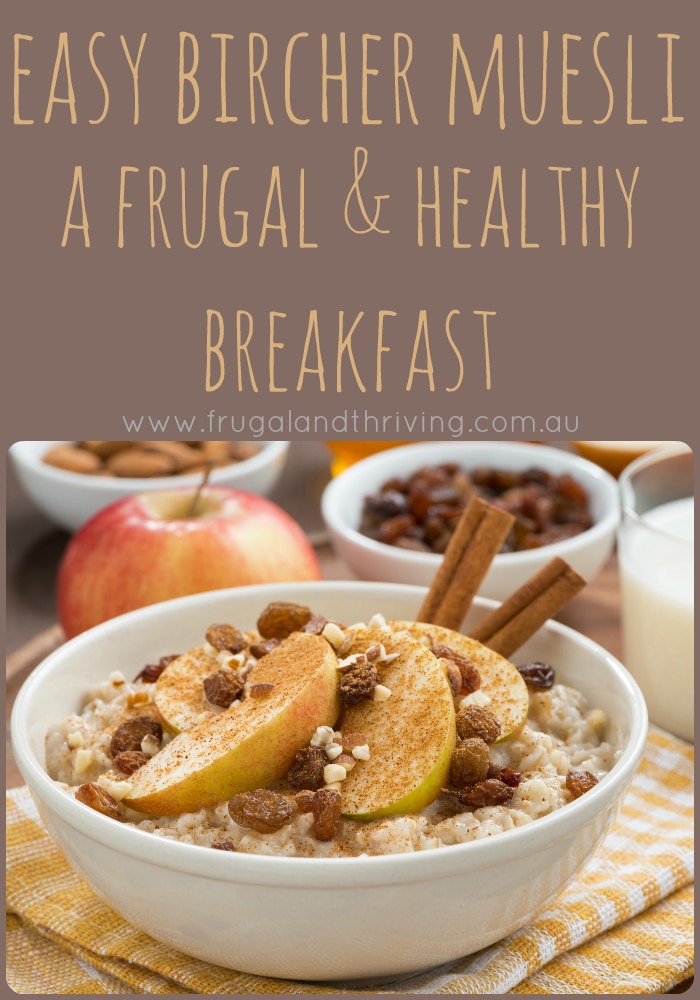 Melissa Goodwin is a writer and the creator of Frugal and Thriving who has a passion for living frugally and encouraging people to thrive on any budget. The blog is nine years old and is almost like her eldest baby. Prior to being a blogger and mum (but not a mummy blogger), she worked as an accountant doing other people's budgets, books and tax.