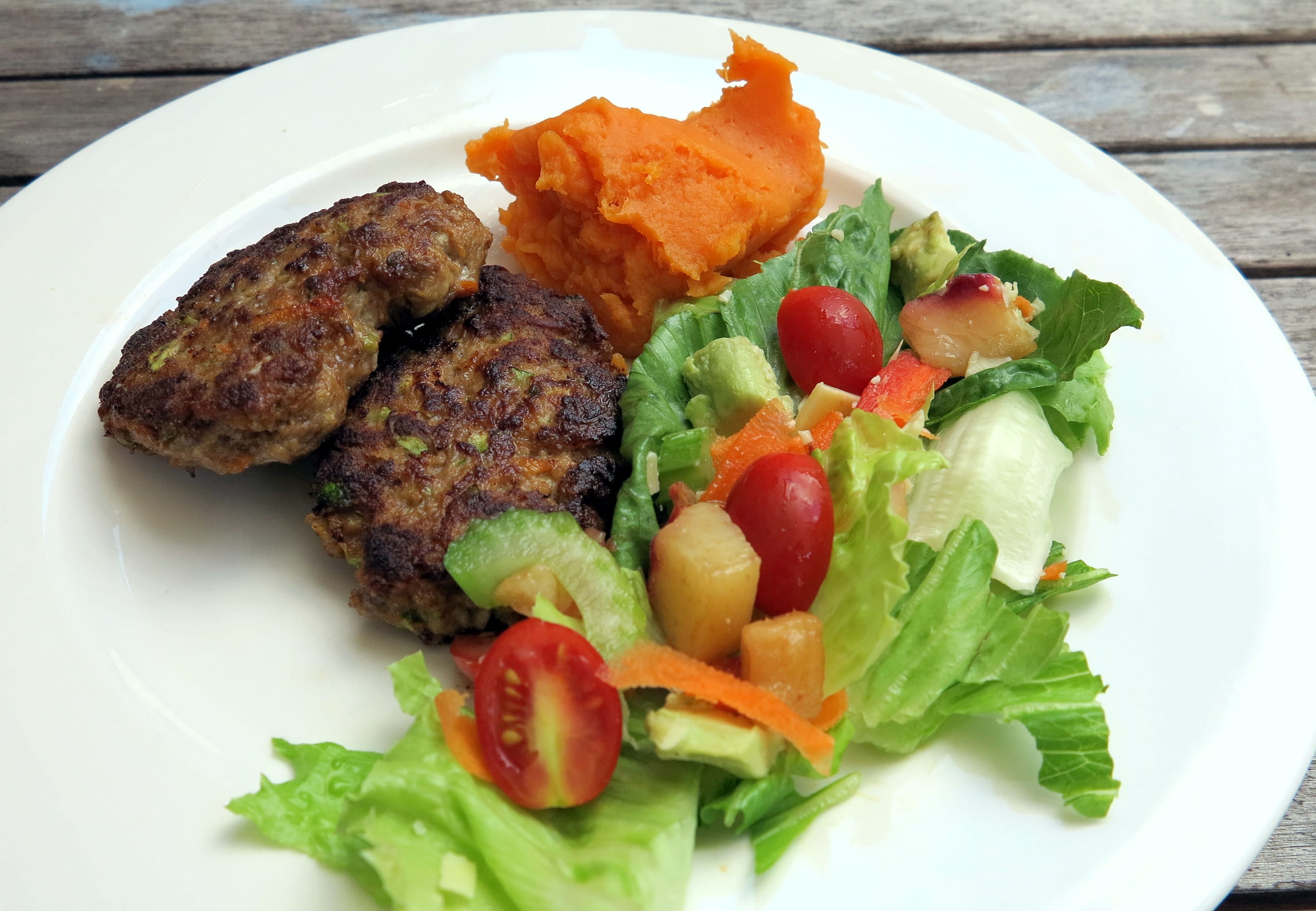 This recipe is an old family favourite, passed down from my grandmother to my mother and then to me. My addition to the recipe is the grated vegetables – it makes the meat go further and makes these rissoles that little bit healthier. You can also bulk these up with cooked red lentils – nobody will be the wiser.
We also make these now with lamb or kangaroo mince, but beef mince is the old traditional version.
This serves us, 2 adults and two wee kids, with rissoles left over for lunches.
Ingredients
400g mince
1/2 onion finely chopped or grated
1 carrot, grated
1 zucchini, grated
1 egg
1 tsp. or so of dried mixed herbs
A couple of good squirts of tomato sauce/ketchup
salt and pepper to taste
enough dried breadcrumbs to bind
Method
Combine all ingredients in a bowl. Mix well with your hands, adding enough breadcrumbs so that the mixture comes together without being sloppy.
Shape into rissoles and refrigerate for 10 minutes or so.
I like to fry these in a little macadamia nut oil flavoured with a little butter, but they BBQ and grill just as well.
Makes about 8 depending on the size you make the rissoles.
If you want to make the mince go further or make them a little extra healthy, I also add cooked red lentils to the mixture, about 1/4 or less of the mince. The lentils add fibre, but they can make the rissoles stick when you cook them on the BBQ, so you may need a little extra oil when cooking them.
If you combine the mixture well, giving it a good squish, no-one will see the vegetables and lentils and they won't even know they're eating them.
Nothing beats rissoles with mash and greens, but these rissoles can also form the best burgers ever.
Melissa Goodwin is a writer and the creator of Frugal and Thriving who has a passion for living frugally and encouraging people to thrive on any budget. The blog is nine years old and is almost like her eldest baby. Prior to being a blogger and mum (but not a mummy blogger), she worked as an accountant doing other people's budgets, books and tax.