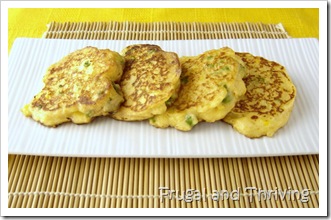 Bubble and Squeak is the queen of leftovers, particularly if you have leftover mashed potato. As it's full of vegetables, Bubble and Squeak makes a healthy breakfast alternative to cereal, or a great lunch.
The recipe below isn't really a recipe, more a description of the last lot of Bubble and Squeak we made. The whole point is to use up whatever leftovers you have in the fridge. Some nice additions might be leftover roast meat or even leftover rice.
Serves: Depends on how much leftover ingredients you have.
Ingredients
leftover mashed potato (ours had a little sweet potato as well)
leftover cooked greens (in the above pic it was leftover peas, corn and zucchini)
1 – 2 eggs
grated cheese to taste
salt and pepper to taste
a little flour (optional)
Method
Combine mash, greens, egg, cheese and salt until well mixed. If the mixture is a little on the sloppy side, you can add a little flour to help bind the mixture so that it stays together as it cooks.
Heat a frypan to medium and add a little butter or oil to the pan. Dollop spoonfuls of mixture into your frypan and cook until golden on both sides.
Serve warm.
What's your favourite way to eat Bubble and Squeak?
I'm thinking topped with some cooked bacon and a drizzle of maple syrup would be nice, but maybe that's pregnancy cravings kicking in.
Melissa Goodwin is a writer and the creator of Frugal and Thriving who has a passion for living frugally and encouraging people to thrive on any budget. The blog is nine years old and is almost like her eldest baby. Prior to being a blogger and mum (but not a mummy blogger), she worked as an accountant doing other people's budgets, books and tax.