Easy DIY dry shampoo to fix bad hair days
This website may earn commissions from purchases made through links in this post.
Cut grease between washes and save money with this easy DIY dry shampoo.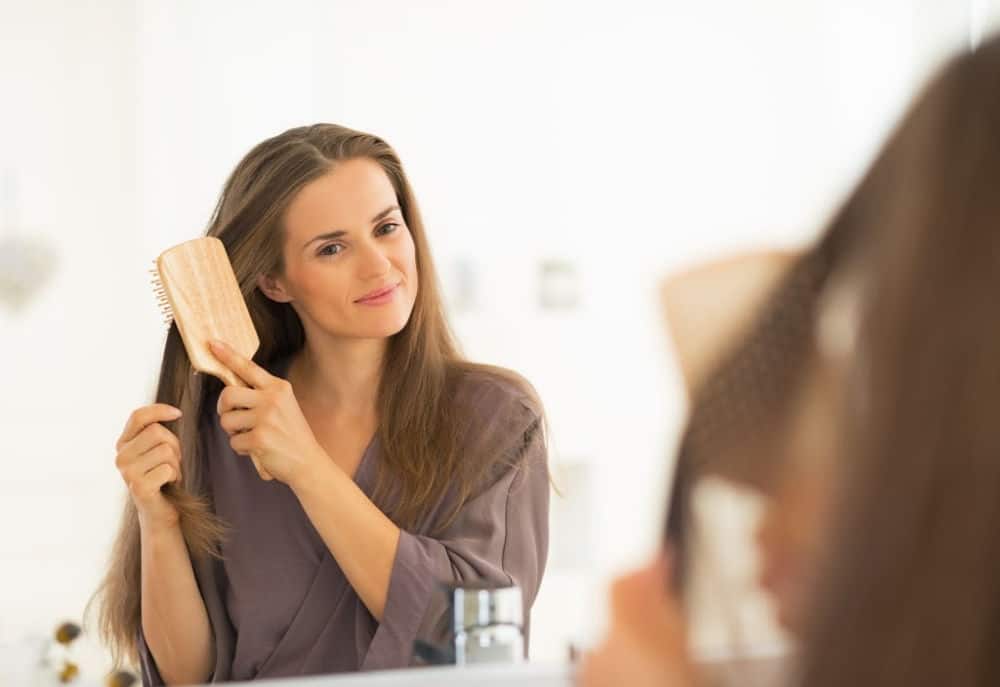 When it comes to looking after my hair, my nanna taught me two things: she taught me to rinse my hair in lemon juice to make it shiny. And she taught me to brush talc or cornflour through my hair to make it look less oily and gross if I didn't have time to wash it.
What's old is now new again and this old hair remedy has now been repackaged, remarked and commercialised as 'dry shampoo'.
However, you don't need to spend a fortune on store-bought dry shampoos that hold questionable ingredients. If you're having a bad hair day, the old-fashioned solution is right there in your pantry and it will only cost you a few cents.
Dry shampoo doesn't only stop that deep-fried greasy look between washes. Your hair is also easier to style with a little dry shampoo.
A quick history of hair powder for the history buffs
Hair powder was originally used to style hair.
Back in the 17th and 18th Centuries, wearing powdered wigs became popular to cover syphilis induced baldness, which apparently was running rampant. The wigs also helped with head lice, another big problem. Wearers shaved their heads to fit the wigs. Infested wigs could be easily boiled.
Women didn't wear the wigs so much, but they copied the powdered look and created the amazingly complicated up-dos that are famous for the period.
Those tight curls and elaborate hairstyles were the result of a lard and powder combo, sometimes scented with lavender or perfume to cover the porky smell.
Because it took so long to do the complicated hairstyles, women often kept them in for weeks without washing – just adding more scented powder to hide the grease and smell. Their hairdos were head lice heaven and all that lard attracted vermin like rats!
Eewww.
The things we do for fashion, right!
But I digress.
We're not going for the 18th Century powdered look!
We're going for a natural, clean look.
However, if you were wondering why powdering your hair makes it easier to style, now you know: unwashed (read greasy) hair + powder = 18th Century hair gel, hairspray and mousse all in one.
Easy DIY dry Shampoo
To make a basic dry shampoo, you need ONE of the following:
Cornflour (corn starch)
Bicarb soda
Arrowroot powder
I use bicarb because I have it in the bathroom anyway for cleaning. You can use Talc powder (baby powder), which is what my nanna taught me years ago, although talc is considered a potential carcinogenic.
TO USE:
To use sprinkle a little on the roots of your hair and then work through with your fingers. Alternatively, use a makeup brush to dab a little on the roots of your hair.
Start at the crown of your head and work down in sections, sprinkling just a little powder onto the roots of your hair and rubbing it in with your fingers.
It's important to remember that unless you want the 18th Century look, a little tiny bit goes a long way.
Once you've worked the powder through your hair with your fingers, give your hair a good brush to remove as much excess as possible.
Your hair will now look a whole lot less greasy and it will be ready to style.
Variations for darker hair
White powder in blond hair isn't so noticeable, but if you've got darker hair, you might want to tint your dry shampoo to avoid the powdered look.
If you've got reddish hair, you can tint your powder of choice with cinnamon. If you have brown hair, you can add a little cocoa powder.
Just mix a little cocoa or cinnamon into your bicarb or flour until you've got a tint that suits your hair. Make a batch ahead of time and store it in an airtight container, ready for use.
Your hair will look less greasy and smell like chocolate cookies. Yum!
If you don't tint your powder, you can add a fragrance by adding a couple of drops of your favourite essential oil.
Washing your hair less saves time and money and you're saving water. Which is especially important in drought and water restrictions.
You're also doing your hair a favour by not stripping it as much of its natural oils.
But if you're looking for a quick fix for greasy hair, DIY dry shampoo is a frugal and natural option.
Looking for more natural DIY hair treatments? You might also like:
JOIN THE NEWSLETTER