Enjoy some 'me time' with these relaxing DIY bath salts with lavender. Or put them in a nice jar for a frugal gift that is sure to please.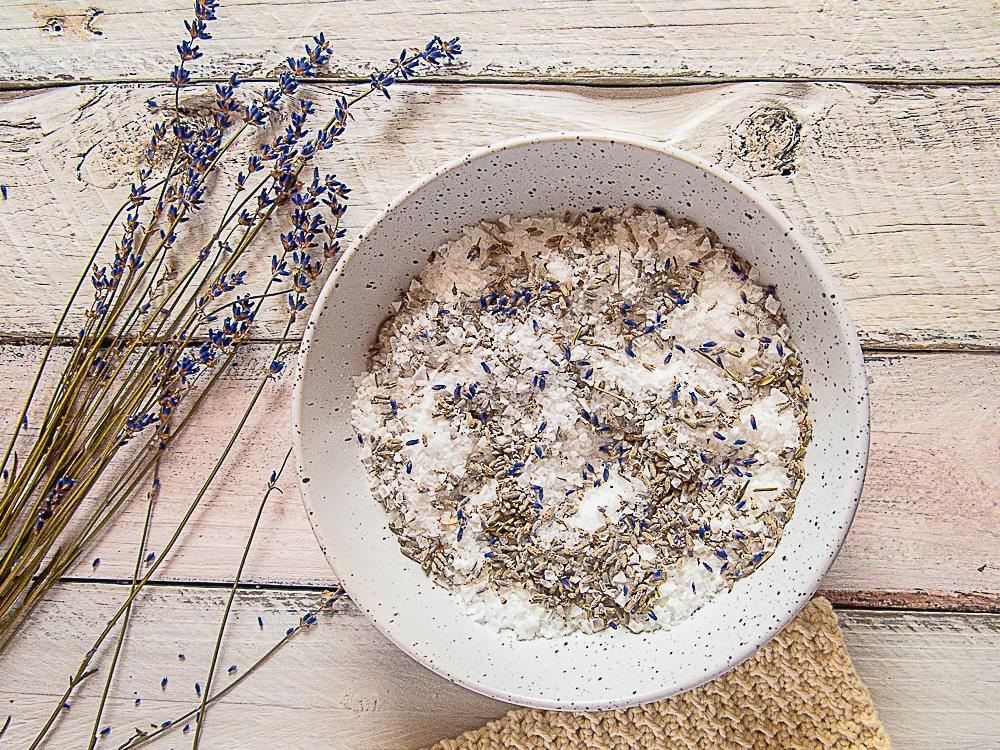 Sliding into a warm bath after a long day is deliciously relaxing.
And it's even more of a treat when the bath is full of lavender bath salts.
I saw a nice gift pack of bath salts in a shop the other day – the kind of shop that sells a little bit of this and a little bit of that: trinkets and gifts and homewares.
The price tag?
Twenty-eight dollars!
There's no need to spend a fortune on fancy bath salts – they are super easy and cheap to make yourself and you can get all the ingredients you need at your local supermarket.
And if you're looking for a nice gift for someone, then avoid the gift shop and package your DIY bath salts in a nice jar.
Pretty it up with a label (there's one to print out if you like at the end of this post) and you've got a nurturing frugal gift.
How do you make baths salts?
Read on for the recipe and the how-to!
DIY Bath Salt Recipe Ingredients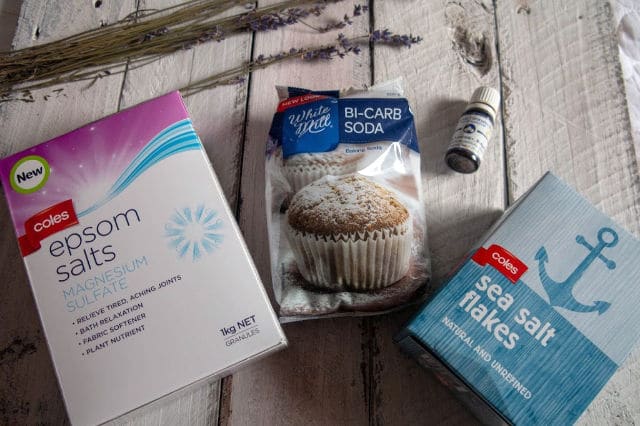 Making Epsom bath salts is easy and all of the ingredients (Epsom salts, sea salt, bicarbonate of soda and lavender oil) can be found in your local supermarket.
Epsom Salts
Find Epsom salts in the toiletries aisle of the supermarket, usually in the 'medicinal' section. Look on the bottom shelf and the top; they can be hidden sometimes.
Epsom salts are actually magnesium sulfate. When added to water, the 'salts' dissolve into magnesium and sulfate ions. It is the magnesium specifically that is supposed to have relaxing properties as it is absorbed into the skin.
While there are as yet no scientific studies done on the efficacy of Epsom salt baths, anecdotal claims suggest the salts help with muscle soreness, stress and insomnia among other things. People have been using them as a popular remedy for hundreds of years.
While Epsom salts are considered safe, some precautions should be taken. Epsom salts are not real salt, should NOT be eaten. Keep them out of the pantry, so there is no confusion.
Sea Salt
You probably already have this ingredient in your pantry. Just make sure it's not plain old table salt!
For making bath salts, real sea salt or kosher salt is best so that you still get all the minerals found in unprocessed salt.
Traditionally, dead sea salts are used, and there is evidence that bathing in dead sea salt is remedial for arthritis and is good for the skin.
Bicarbonate of Soda
Bicarbonate of Soda is traditionally used in a bath for its detoxifying properties. Because its PH is slightly alkaline, bicarb can neutralise acids, which is why it's used as a bath salt ingredient.
Lavender Essential Oil or Dried Lavender
You can buy lavender essential oil at the supermarket, in your local health food store or online.
Dried lavender can be found at the health food store and some discount stores.
Research shows that lavender oil is effective for treating mild insomnia, making it a great addition to a relaxing homemade bath salts recipe.
Precautions
All ingredients are generally considered safe for adults to use but as with anything, there are a few precautions to consider:
Take care when bathing if you have diabetes or high blood pressure. Consult your GP if you're unsure.
Avoid baths after drinking alcohol.
Don't have the bath too hot. If you feel dizzy, add more cold water to cool the bath down.
Lavender can interact with some sedative drugs, so avoid if taking.
Yield: 3 cups
Homemade Lavender Bath Salts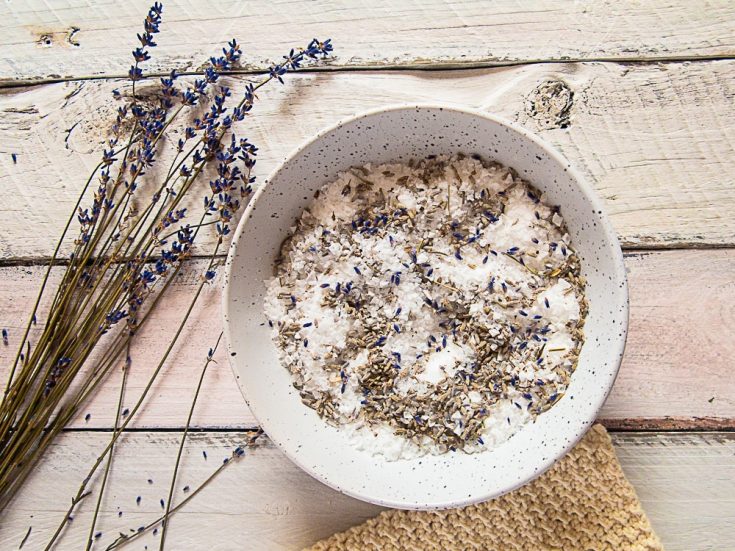 Save money and enjoy a luxurious bath with these homemade lavender bath salts. Great gift idea.
Materials
2 cups Epsom salts
1/2 cup sea salt
1/2 cup bicarbonate of soda
20 drops of lavender essential oil
2-3 Tbsp. dried lavender (optional)
Tools
Mixing bowl and spoon
Measuring cups
Jar with an air-tight lid
Funnel
Instructions
Mix all dry ingredients together in a bowl.
Add the lavender oil a few drops at a time, mixing thoroughly.
If using, mix through dried lavender.
Store in an air-tight jar or container
Notes
To use, add 1/4 cup – 1/2 a cup to your bath as you're running the warm water. Swirl to dissolve. Epsom salts can make the bath a little slippery, so take caution when getting in.
Add a label to your jar for a great gift idea.
Relaxing DIY Bath Salts Jar Label (For Giving as A Gift)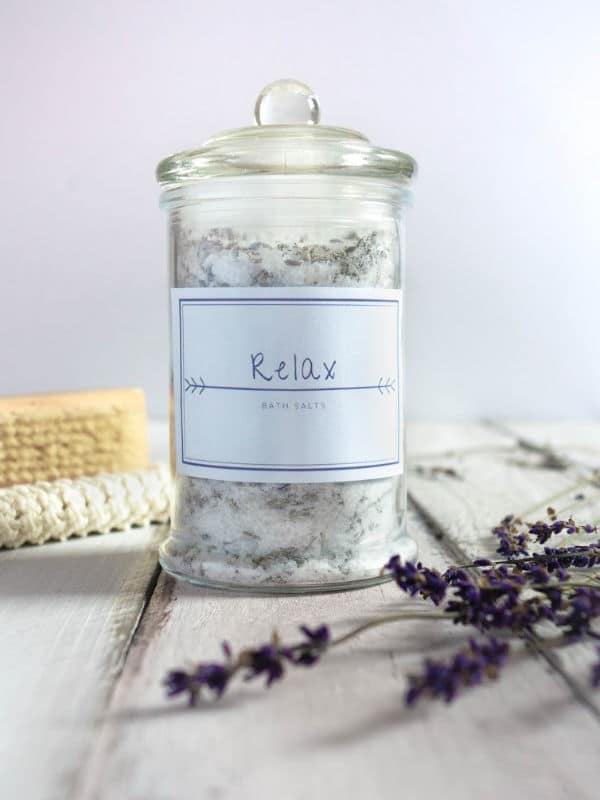 Bath salts make a lovely gift for someone who needs a bit of TLC.
To turn them into a gift, put them in a clean recycled jar (the Moccona coffee jar is nice) or an apothecary jar like the one above. You can purchase a fancy jar like the one pictured, or a French, swing-top jar for a couple of dollars from a discount store.
Then print out the labels, one for the front, and one for the back with the directions, and stick them to the jar.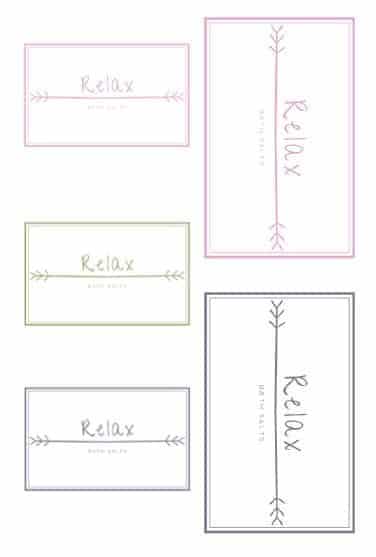 Download the labels for your DIY Bath Salts here:
Whether for yourself or for a gift, bath salts don't have to be purchased from a fancy shop or cost a fortune. They are easy to make (takes about 5 minutes) and enjoyable to use.