How to Make Your Own DIY Massage Oil For the Perfect Massage
This website may earn commissions from purchases made through links in this post.
Make your home massages memorable with a DIY massage oil with essential oils. Customise your oils for the right mood with these 10 essential oil blend ideas.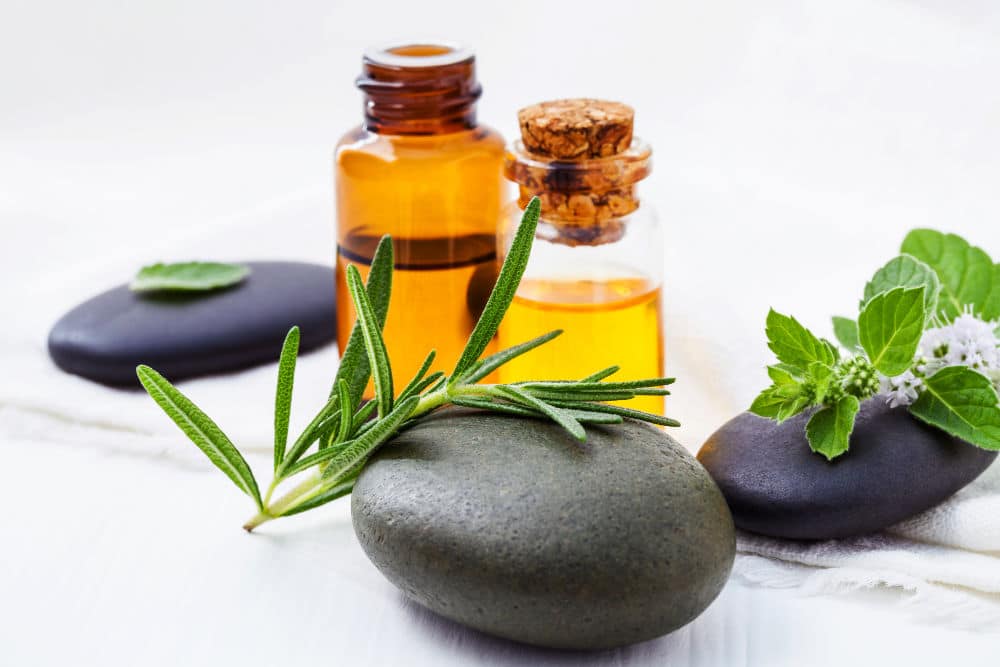 The healing touch of massage has been used for thousands of years to heal and soothe the body, mind and soul.
Some of the benefits of massage include relaxation, reduced muscle tension, improved circulation and lymphatic drainage, reduced stress anxiety and depression, increased mobility, improved skin tone and recovery of soft tissue injuries.
While there are many different massage techniques, there are two things common to most: a pair of sensitive (and willing) hands and massage oil.
Save money by using DIY massage oil. By making your own massage oil, you can create small, customised batches to suit your budget, skin and scent preference.
How to Make Your Own Massage Oil
To make your own massage oil you will need:
A carrier oil

Favourite Essential Oils (see blend ideas below)

A

bottle

to store your oil in
Check out the basic massage oil recipe and blend ideas at the bottom of the post for the full recipe, but before you do, here's some info on choosing the right carrier oils, essential oils and some important precautions to consider.
What is a Carrier Oil
A carrier oil is a vegetable oil that dilutes essential oils and distributes or 'carries' them on the skin.
In contrast, essential oils are distilled from leaves, flowers, roots and bark of plants. Because they are distilled, they are potent and if applied to the skin directly, they can cause irritation.
Best Carrier Oils for Massage
There are dozens of oils that can be used for massage. Sesame oil is popular in ayurvedic massage, for instance. If you have avocado or macadamia nut oil in the pantry, they can be great options.
Below is a list of the most popular carrier oils used by massage therapists as well as some of the more common oils that you probably already have in the pantry.
Carrier Oils Favoured by Massage Therapists
Sweet Almond – Sweet Almond Oil is slow absorbing which means it gives a long-lasting glide for massage. It also smells great, is moisturising for the skin and it's light so it won't leave you feeling greasy.
Jojoba – Jojoba Oil is a light oil that absorbs easily into the skin.
Massage Oils You Can Find in the Pantry
Olive Oil – This oil is great for people with dry or sensitive skin. It's also something most of have in the pantry making a great choice for an impromptu massage.
Coconut Oil – Coconut oil is very hydrating and nourishing for the skin. If it has gone solid, melt it by rubbing it between your hands or heating it gently in a bowl over hot water. You can also get fractionated coconut oil, which remains liquid, unlike regular coconut oil.
Grapeseed Oil – This neutral oil absorbs into the skin easily. You can buy it at the supermarket – cold-pressed is best.
Sunflower Oil – Sunflower oil is a mild oil that is readily found in the supermarket. Cold-pressed is best. This oil can go rancid quickly, so it's a good idea to buy it in small quantities and keep it in the fridge.
Essential Oil Dilution
For adults, the recommended dilution of essential oils to carrier oil is 2%. This equals 18 drops of essential oil per 30 ml (1 ounce or 6 tsp. ) of carrier oil.
You can check out this handy chart for dilution ratios and recommendations.
Essential Oil Precautions
You can do a massage without essential oils but essential oils make a massage more sensual (smell) and may have therapeutic properties as well.
Although essential oils are natural, you need to take precautions when using them.
Never ingest essential oils.

Essential oils should only be used diluted in a carrier oil.

Avoid using around the face, ears and genital area.

Patch test diluted essential oils first to test for allergic reaction. If skin irritation occurs, discontinue use and seek medical advice.

Phototoxic oils can cause the skin to burn or darken in the sun at a faster rate. Don't apply to the skin before sun exposure. These oils include a

ngelica root, bergamot, lemon, lime, ginger, mandarin, orange and grapefruit.

Avoid using essential oils on babies or young children.

Check contraindications of essential oils against any pre-existing conditions, medications you are taking or pregnancy and breastfeeding.
Where to Buy Pure Essential Oils in Australia
You can purchase essential oils from most good health food stores. Just make sure they are pure essential oils, not fragrance oils.
For online purchases, check out our website partner Eco Modern Essentials. They are an Australian business and because they are NOT a pyramid scheme like some essential oil brands, their prices tend to be lower than those essential oil companies. Their oils are ethically sourced and they are TGA compliant and Australian Certified Organic.
Some of the blend ideas below are inspired by the book 500 Formulas for Aromatherapy, which is a few decades old now (and that's how long I've been using it!) but still a great resource.
The blends below are at a 2% dilution, which is good for adults. (See this table for dilution tips).
10 Essential Oil blend Recipes for Massage
The best essential oil for massage depends on the result you're hoping to achieve.
Are you giving a relaxing massage? Are you trying to help someone sleep? Or maybe you're giving a romantic massage.
The massage oil recipes below combine essential oils that are just right for the result you're aiming for as well as smelling great combined.
Yield: 30 ml
DIY Massage Oil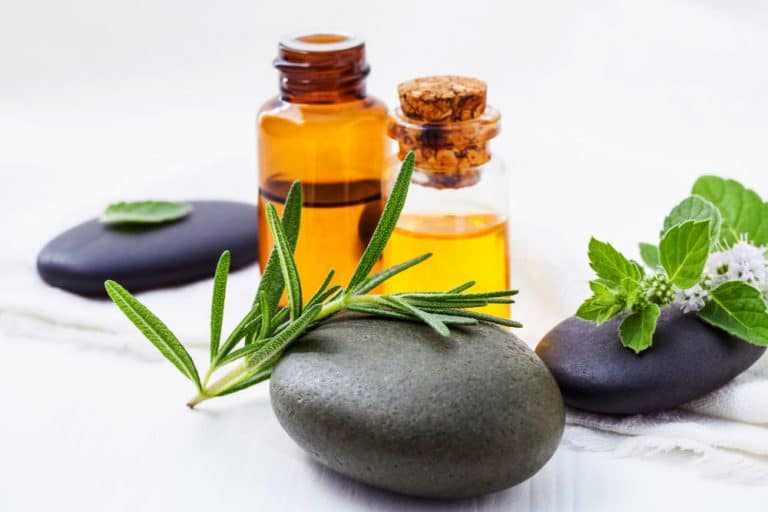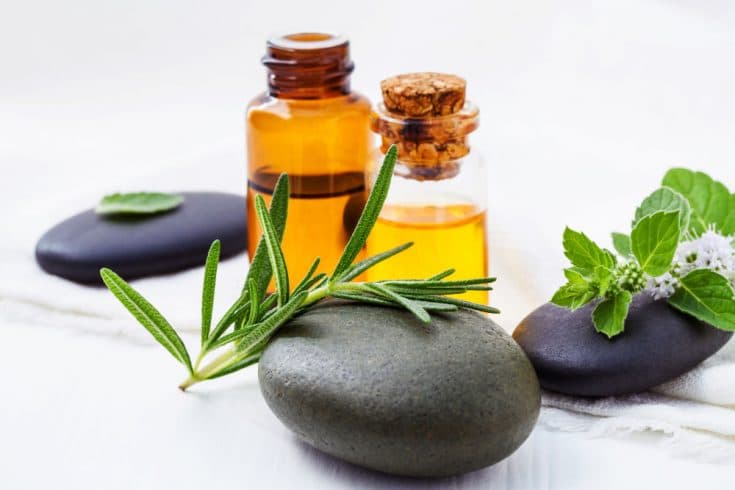 Make your own massage oils scented with your favourite essential oils for the perfect massage.
Materials
30 ml of carrier oil (see above)
18 drops of essentials oil(s) of choice (blend ideas below)
Instructions
Pour carrier oil into the bottle.
Add 18 drops of essential oils according to the recipe below.
Shake bottle to combine.
Notes
You may need to double or triple the recipe for a full body massage.
Recommended Products
Frugal and Thriving has partnered with Eco Modern Australia and may earn a commission for products purchased through this website.
Aches and Pains Blend
30 ml of carrier oil
6 drops rosemary oil
6 drops nutmeg oil
6 drops lavender oil
Calming Blend
30 ml of carrier oil
5 drops chamomile oil
5 drops bergamot oil
5 drops lavender oil
Fatigue Relief Blend
30 ml of carrier oil
7 drops peppermint oil
6 drops rosemary oil
5 drops grapefruit oil
Fatigue Relief Blend #2
I added this one because I love the smell of ginger and this would be a delicious blend.
30 ml of carrier oil
7 drops spearmint oil
6 drops pine oil
5 drops ginger oil
Alertness Blend
Massage this into your neck and shoulders for alertness when studying.
30 ml of carrier oil
7 drops ginger
6 drops grapefruit oil
4 drops juniper oil
Foot Massage Blend
Peppermint is a popular essential oil for tired feet because it relieves pain and fatigue and reduces inflammation. Tea tree oil has anti-fungal properties. You can also add 5 ml of this blend (including the carrier oil) to water for a foot bath.
30 ml of carrier oil
5 drops peppermint oil
4 drops lemon oil
4 drops tea tree oil
4 drops rosemary oil
Mood Uplifting Blend
30 ml of carrier oil
5 drops melissa/lemon balm oil
5 drops jasmine oil
5 drops lemon oil
Romance Blend
These three delicious smelling essential oils are known for their aphrodisiac properties, making them a great choice for a romantic massage.
30 ml of carrier oil
5 drops ylang ylang oil
5 drops sandalwood oil
5 drops jasmine oil
Don't want to blend your own? Try the romance or sensuality blends.
Sleep Blend
30 ml of carrier oil
5 drops Lavender oil
4 drops frankincense oil
4 drops ylang ylang oil
4 drops orange oil
Stress Reliever Blend
30 ml of carrier oil
5 drops bergamot oil
4 drops mandarin oil
4 drops lavender oil
4 drops lemongrass oil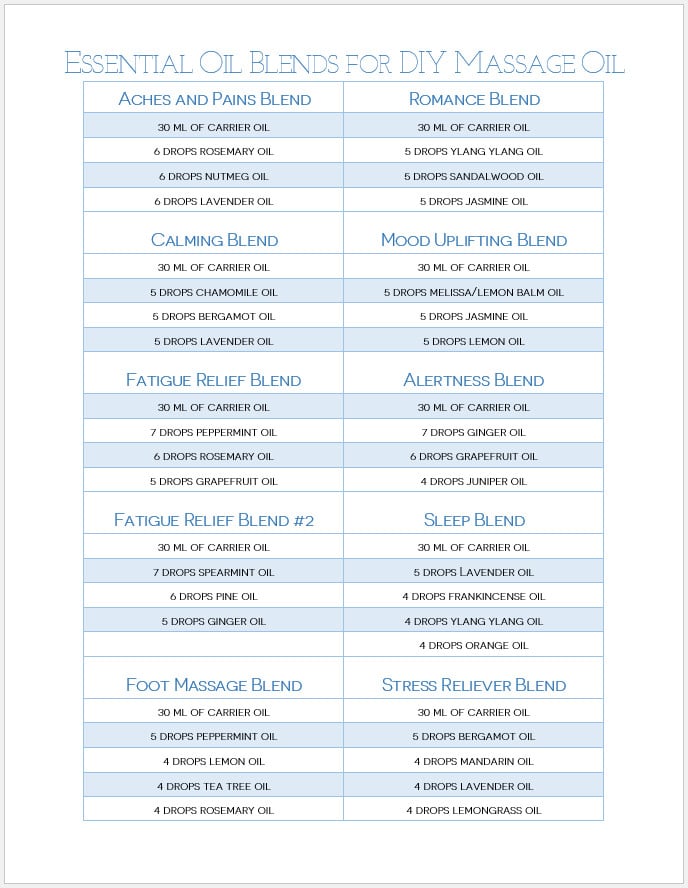 Make your own perfect DIY massage oils at home. These make a great gift, especially if you're also giving the massage!