Lavender Essential Oil has been used for centuries as a natural remedy and is a must-have for natural the home. Here are 20 uses for lavender oil.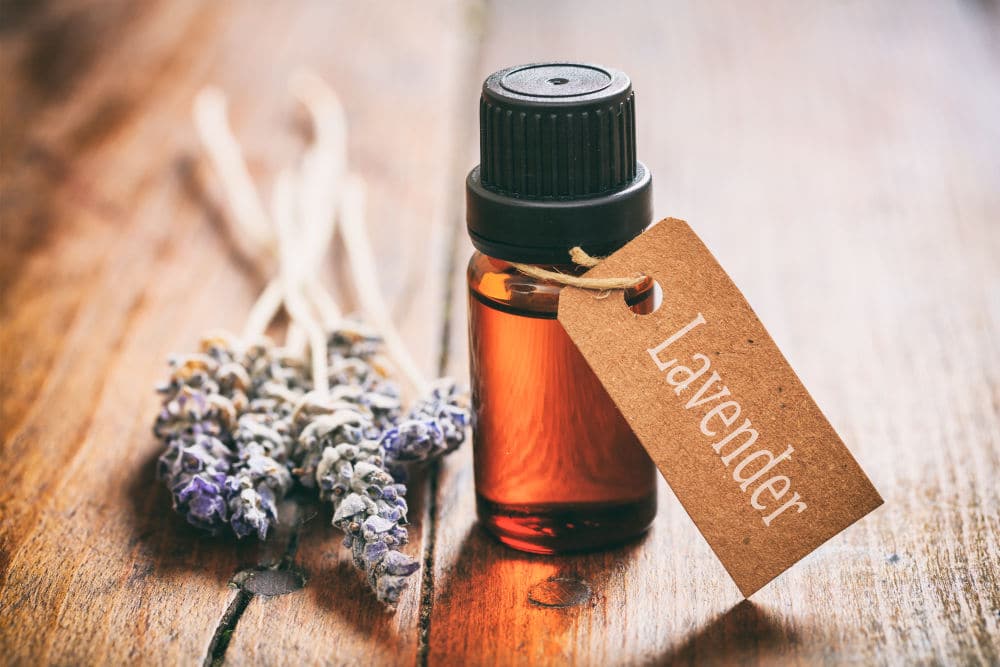 Essential oils are an important part of your natural cleaning and personal care kit.
Lavender is a particularly good oil to keep on hand (along with tea tree oil): it has many uses, it's inexpensive and readily available and it's one of the most studied essential oils.
Lavender, with its distinct purple flowers and smell, is native to southern Europe, the Mediterranean, northern and eastern Africa, southwest Asia and southeast India.
The name lavender comes from the Latin root lavare, "to wash" probably because it was used in baths to purify the body and spirit [source].
Lavender is commonly used as a dried herb or distilled into an essential oil.
The essential oil can be used in aromatherapy or topically.
Lavender oil has many benefits, apart from just smelling great. According to this CSIRO report, there is evidence that lavender oil is an effective anti-bacterial and anti-fungal agent, helps improve sleep, anxiety, and low mood and is effective for relaxation and pain relief.
Lavender Essential Oil Precautions
Lavender oil is generally considered safe, although there is some research to suggest it is toxic to human skin cells in vitro, so lavender oil is best avoided when pregnant. [source, source] It is not recommended to be used on babies or toddlers.
Lavender oil may cause skin irritation or an allergy reaction in some people. Repeated exposure can cause sensitivity to lavender oil. [source] While allergic reactions aren't common, it's always a good idea to do a skin patch test first to test for an allergic reaction.
Regular exposure to lavender oil may have an effect on hormones in young boys who have not reached puberty and cause irregular breast growth, so care should be taken with children. [source]
When using, don't inhale the actual oil or put any oil in your nostrils as this can lead to a form of pneumonia. Instead, inhale the scent via a diffuser, steam or after the oil is applied to a cloth etc.
Buying Lavender Oil
You can buy lavender oil cheaply in the supermarket or health food store. However, bear in mind that its efficacy is dependent on its quality and it does expire, so watch the expiry dates!
I currently buy essential oils from the Australian company Eco Modern Essentials. They sell a Lavender Oil sourced from France and Bulgaria or another sourced from Tasmania.
Uses in Personal Care
To use lavender oil, dilute lavender oil to 2.5% with a carrier oil (1 drop per 5mls of carrier oil). Jojoba is a popular carrier oil for skin application.
1. Calming
Lavender oil can reduce anxiety. Add 6-8 drops to a diffuser to benefit from its calming effects.
"Research has confirmed that lavender produces slight calming, soothing, and sedative effects when its scent is inhaled." [source]
2. Mood uplifting
Lavender oil can help reduce mild depression or low mood. Add 6-8 drops to a diffuser to improve mood. [source]
3. Relaxing
A great way de-stress after a long day is in a bath with Epsom salts and a few drops of lavender oil.
Alternatively, a nice massage – with a few drops of lavender oil diluted in a carrier oil – can be another great way to relax. If neither of those options is available, breathing in the oil via a diffuser can also be relaxing.
4. Insomnia
There is some evidence that smelling lavender scent can help you get a good night's sleep [source].
A few drops of lavender oil on your pillow or on a hankie under your pillow may help you get a good night's sleep.
5. Insect bites
The anti-inflammatory properties of lavender oil may help reduce the itch of insect bites [source].
Dab a little diluted oil (1 drop per 5ml of carrier oil) directly onto an insect bite for relief.
6. Bug repellent
Use diluted lavender oil (1 drop per 5 ml of carrier oil) to rub onto your skin to help keep bugs at bay.
7. Dry skin and skin conditions
There is some suggestion that lavender oil (properly diluted) may help with skin conditions like eczema (this case study, for example).
However, prolonged use may cause an adverse reaction, as found in this study, so care should be taken. More research in this area needs to be taken before any definite conclusions can be drawn.
8. Chapped lips
Lavender oil – diluted in a carrier oil or in a lip balm may help soothe chapped lips.
9. Minor burns and wounds
Lavender oil has been shown to promote wound healing (in rats) at a 1% dilution [source].
Dilute lavender oil in a carrier oil (1 drop per 10ml) an rub on wounds to help soothe minor wounds, cuts and burns after performing proper first-aid (ie. cold water on minor burns, cleaning minor wounds).
Always seek medical advice for serious wounds or if wounds become infected.
10. Menstrual cramps
Lavender oil may help reduce the severity of menstrual cramping. In this study, participants were asked to smell lavender scent in the first 3 days of menstruation. They reported reduced pain compared to the control group.
Another study suggests that massaging diluted lavender oil onto the abdomen reduces menstrual pain. The lavender oil group had better results than the plain oil massage group, suggesting that the lavender oil and not jus the massage helped.
So for menstrual pain, try massaging diluted lavender oil (1 drop per 5 ml of carrier oil) on your abdomen to help ease cramping.
11. Headaches
Inhaling lavender scent via a diffuser may help relieve headaches [source].
Alternatively, a drop of lavender oil diluted in a carrier oil and massaged into your temples, neck and shoulders may also help relieve headaches (and the massage helps too!)
12. Hayfever
Lavender oil can apparently reduce the symptoms of hayfever. This study suggests that inhaling lavender scent via a diffuser or steam could reduce allergic airway inflammation. This study has shown the effectiveness of sandalwood, frankincense and almond oil in reducing the symptoms of hayfever.
However, always seek the advice of a doctor and follow the doctor's instructions.
13. Skincare
Lavender essential oil is often used in natural skincare preparations due to its anti-inflammatory and antioxidant properties.
While it can be great for your skin, it's important to be aware that the quality of the oil can determine its effectiveness, as well as its age because oil oxidises with age [source].
14. Stimulate hair growth
Lavender oil has been shown to stimulate hair growth in mice, diluted to 3% and 5% [source].
In the study, the experimenters applied the diluted lavender oil onto shaved mice five days a week for four weeks with positive results.
Lavender Oil Uses in the Home
Enjoy the smell of lavender at home when you use it in the following ways:
15. Lavender Cleaner
Add lavender oil to your all-purpose cleaner for a deliciously calm smelling cleaner with anti-bacterial properties. Lavender was used in hospitals in WW1 because of its antibacterial properties [source].
"Lavender oil (primarily L. angustifolia) has been found to be active against many species of bacteria, including those resistant to antibiotics…These results support the anecdotal use of lavender oils as antibacterial agents and demonstrate that some oils which had previously not been investigated have good antibacterial activity."

[source]
16. Freshen laundry
Try using lavender oil in the final rinse to freshen laundry. You can do this by adding a few drops to some vinegar in the fabric softener compartment. The vinegar will help soften your wash and the lavender will give it a lovely smell.
17. Linen spray
Make your own linen spray to use as an ironing aid or to freshen up linen between washes.
18. Mothball alternative
Moths apparently don't like the smell of lavender.
Add lavender pouches to your clothes wardrobe and linen closet to keep moths away.
Or place a few drops of lavender oil on cotton balls and place them around your closet. Much better smelling than mothballs!
19. Air freshener
Make your own air freshener or loo spray using lavender oil for a calming scent.
Alternatively, simply burn lavender oil in a burner to freshen a room or add a few drops to an essential oil diffuser.
Give guests a positive welcome by wiping a few drops of lavender oil around the front door just before they arrive. Or better yet, plant a lavender bush beside the front door. Everyone will smell the delicious scent as they brush past it.
20. Insect repellent
Help keep bugs out of your home by using lavender oil in a diffuser or oil burner.
You can dab a drop of lavender oil on a light bulb before turning it on to diffuse the scent but this only works on the old-fashioned light bulbs.
Lavender oil is a great essential oil to have on hand. In the very least, the Epsom salt and lavender bath are a delicious way to relax after a long day. But there are many other ways you can make the most of this calming scent around the home.
You might also like:
Do you use lavender oil? What are your favourite ways to use lavender oil?