Cut Your Energy Bills With A DIY Home Energy Audit
This website may earn commissions from purchases made through links in this post.
A DIY home energy audit allows you to see your biggest energy drains empowering you to make bigger energy savings.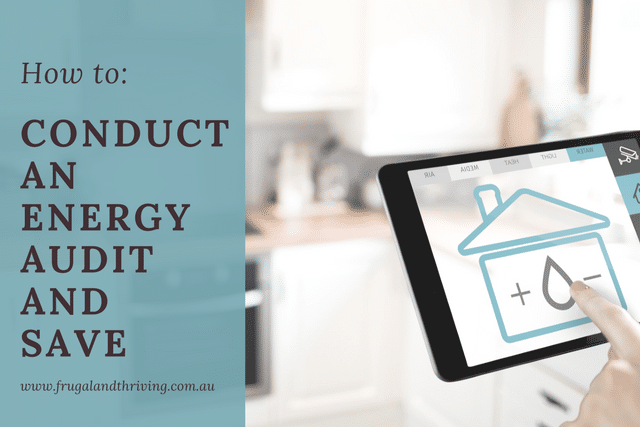 The cost of electricity just keeps goings skyward, and if the experts have it right, energy costs are going to continue their steady ascent.
So to keep on top of the rising prices, you're going to have to do more than changing the light bulbs.
To get the biggest savings, you have to look at your biggest areas of energy consumption and focus on reducing your big spenders (as well as switching light bulbs, of course).
What are your big spenders?
There are two ways to find out.
The first is to assume you're an average Australian energy consumer. The graph below shows how the average household consumes electricity. You can use this information to make changes to the main areas of energy consumption.
The second and more accurate way is to conduct a home energy audit to find out exactly how you use electricity.
That's what this article is about.
And then at the end, I'll cover in detail how to reduce energy in each of the key areas of energy consumption.
Are You an Average Australian Household When it Comes to Energy Costs?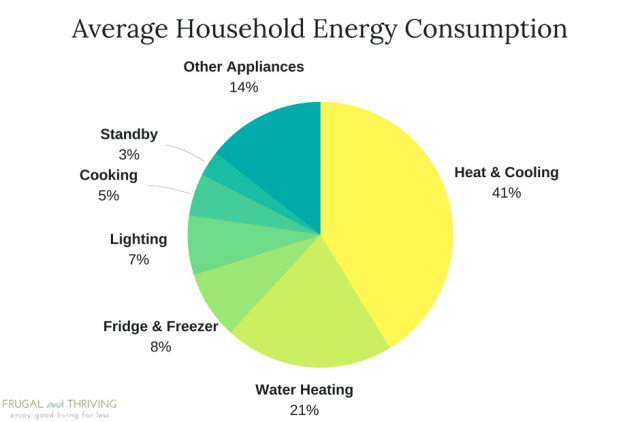 This graph represents the average Australian household energy use. Heating and cooling and water heating clearly make up the bulk of energy expenditure in the home.
You can see that the standard advice to switch off standby power or turn out the light isn't going to save you a whole heap of money.
So should you bother?
Yes!
Standby power or lights left on = electricity wasted. And wasted electricity is like throwing money in the bin.
And who wants to throw money away, right?
But if you want to make an impact on your electricity bill, you've really got to target those big fellas.
But…
What if Your Energy Usage Isn't 'Average'?
Maybe you don't heat your home, don't use air-con or have solar hot water or solar electricity. Or maybe your ultimate gaming machine is the most energy-consuming device in your home.
Or maybe you want to get an accurate personal account of how you use electricity so you can really make big savings.
This is where a home energy audit is essential.
A home energy audit will tell you exactly how you are consuming electricity and where you can make savings.
How to Conduct a DIY Home Energy Audit
Before you conduct a detailed energy audit, you can get an overview of your energy usage by checking your latest energy bill.
1. Check Your Energy Bill For Energy Usage
From your bill, you want to get an idea of how much energy your household uses per year, how your usage changes over the seasons and how you compare to the average Australian. Your bill will also show you how much you pay per kilowatt-hour, which can be useful when monitoring the energy usage of individual appliances, which we go through below.
Here's an example from the Origin bill. In the example, it shows you the average daily usage in kilowatt-hours for your household.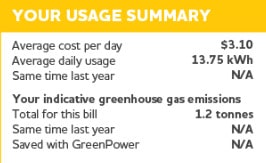 Next, find how much a kilowatt-hour costs you. This is highlighted in the screenshot below. It is a cent per kilowatt charge.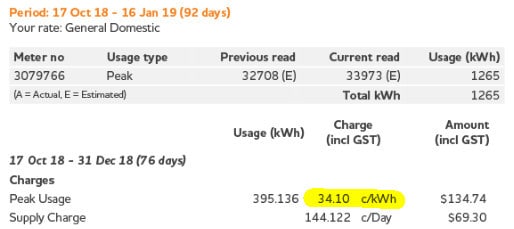 Finally, get an idea of where your energy usage is compared to previous months, how your usage differs depending on the season and how it compares to the average usage across Australia. Here's an example: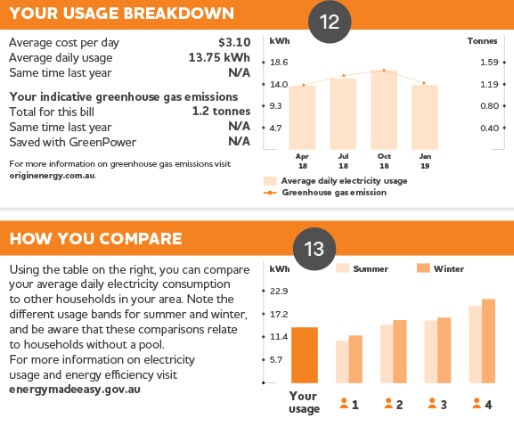 2. Do A Detailed Energy Audit with an Energy Monitor
The most detailed way to do an energy audit is by using an energy monitor. And it's quicker, easier and less expensive than you might think.
An energy monitor works by monitoring the energy use of a specific appliance (including electric heating and air-con) over a period of time. Just plug it into an appliance for 24 hours and record the reading.
An energy monitor is particularly useful for appliances that don't run at constant full power or that have a thermostat. You can also get a good idea of when you use appliances and for how long.
You can get an inexpensive energy-saving device from your local hardware. I grabbed a cheap one from Aldi! A basic monitor like this one will set you back around $20. If you're techy and want to monitor and control your energy using a smart monitor and app, you can get monitors like this one fairly cheaply.
Borrow a Free Monitor
If you live in South Australia or Tasmania, you can borrow the Home Energy Toolkit for free from your local council or library and this kit includes an energy monitor as well as useful checklists for making cost-saving changes. Some councils in other states also lend these toolkits; check with your library or council and if they don't have them, ask them to acquire a few to borrow.
How to Use an Energy Monitor to Save Electricity
To use a plug-in energy monitor, choose one device or appliance you want to monitor and plug it into the wall, then plug the appliance into the monitor.
Monitor the appliance for 24 hours to get an average kilowatt usage for an entire day.
For example, let's say you start with your fridge. Because the fridge is on a thermostat, its energy usage is variable. A monitor will show you the average energy usage over a 24 hour period.
Just say your fridge uses 1.4 kilowatts of energy per day. Compare that to your average daily energy usage as per your electricity bill. In the example above, the average daily usage was 13.75kWh. Divide the fridge (1.4kWh) by the daily average (13.75kWh) and then times by 100 to find out what percentage of your daily usage your fridge takes up.
(1.4kWh / 13.75kWh) x 100 = 10.18%
You can also work out from the monitoring and your bill how much each appliance costs you to run each day. In our example, the fridge costs 47.74 cents per day to run.
Do this for each appliance to get an overall picture of energy consumption for each appliance.
Then you can target the most energy-hungry appliances in order to maximise your energy savings.
The downside to a plug-in monitor is it only works on appliances that plug into a socket. So you can't track hot water usage or air-con. But, if your hot water heater is set to off-peak metering, you will be able to see how much energy it uses from your energy bill.
A Monitor-Free Alternative to Calculating Energy Usage
If you can't get your hands on an energy monitor, you can estimate an appliance's energy usage by doing the following: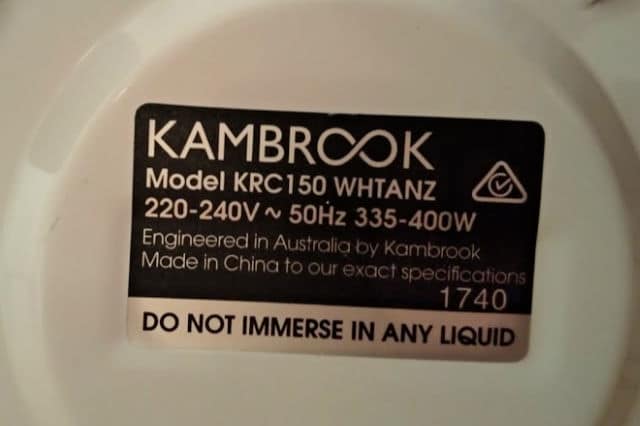 Look for the appliance's input power. This is either on a label stuck to the appliance or printed into the plastic and is usually given in watts. Some small appliances are labelled with the amps and volts instead. Multiply the amps by the volts to get the watts.
Divide the watts by 1,000 to give you the kilowatt amount.
Estimate the number of hours you use an appliance and multiply it by the input power in kilowatts. For example, if an appliance uses 400 watts that equals 0.4 kilowatts per hour. If you operate that appliance for three hours a day, then it would be consuming 1.2 kilowatts per day.
To calculate the cost, take the 1.2 kilowatts and multiply it by the cost per kilowatt-hour according to your last energy bill. In the example above, the cost is 34.10 cents. So the running cost would be 40.92 cents per day.
Record the energy you monitor for each appliance for a week and examine the results.
What appliances use the most energy?
Which appliances could you use less of to reduce energy?
Can you replace energy-hungry appliances with more energy-efficient ones?
What habits could you change to reduce energy usage without compromising the quality of life?
If you're geeky like me, make it a competition in your house to see how much you can reduce your energy consumption each week. Break out the spreadsheet and graph the results. Get the kids involved. Set a target to aim for.
The average Australian household uses around 20 kilowatts of energy per day.
If you check your next electricity bill, after you've taken steps to reduce your energy usage, you'll see how you compare to the average. Reducing your consumption will not only save you money, but it will also reduce greenhouse gas emissions, so it's a double win.
Free DIY Home Energy Audit Checklist to Download
Looking for ways to save energy around the home?
Use this handy home energy audit checklist to find specific ways in which you can save electricity. It includes energy saving ideas as well as an action plan for putting those ideas into action.
Get it by clicking the download button below.
Save Money on Every Area of Energy Consumption
Doing an audit is a good place to start when it comes to understanding your individual energy usage.
But saving energy requires changes of habits.
If you want hundreds of nitty-gritty ideas for saving money on every area of home energy usage, check out the series on saving energy in the home.
Each article in the series targets a specific area of energy usage so you can make real and specific changes to habits in order to save electricity and money.
JOIN THE NEWSLETTER