get what you need and more in the alternate economy
This website may earn commissions from purchases made through links in this post.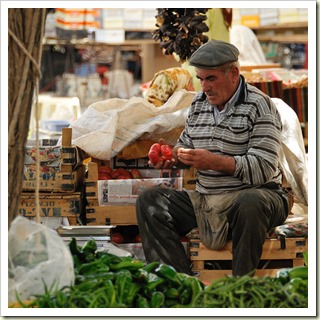 Despite popular opinion, frugality doesn't mean going without. It's about filling your needs and wants creatively.
Without spending a fortune.
While walking into your local big-box store is an easy way to shop, there is an alternate economy where you can buy better quality, sustainable goods and save money.
Is there any type of shopping better than feel-good bargain shopping?
I'm not anti-big business, but the alternate economy offers opportunities and flexibility that the standard economy can't.
Here are seven alternate markets that can help you meet your needs for less.
buy second-hand goods
You can buy just about anything that's non-perishable second-hand for the fraction of the cost of purchasing something new.
It takes a bit of work sourcing second-hand; it's not as easy as walking into a store and picking something off the rack. There's rarely a delivery option. But the savings make the extra work worth it.
I've written before about buying second-hand goods as well as how to sell your second-hand goods, both articles list places that you can buy (and sell) second-hand.
freecycle
Not everything second-hand can be bought.
Sometimes you can get it for free!
By joining your local Freecycle group or websites like Ziilch, you can pick up items for free (some people have even given away cars!) or give away your unwanted items.
barter
Bartering of course, is the age old form of trade. And it's alive and well in modern times.
Save money by trading goods or services. This works best with individuals or very small businesses.
Our local area has a Facebook barter page where people regularly swap services like childcare, photography, hairdressing, massage, beauty therapy, graphic design, cleaning, ironing, computer repairs, handyman services, landscaping as well as goods to name a few.
So check out Facebook to see if there's a barter group in your area (and if not, why not start one?)
buy direct from the producer
Skip the middleman and the supermarket and buy direct from the producer.
This might be at your local farmer's market or at the farm gate.
Buying direct from the producer means that you can save money, find out exactly what you're paying for, support local business and you may even have an input into what is produced in the future.
patronise nano businesses
There's a growing resurgence in very small business. People who specialise in just a few products or services and bring a level of expertise, care and personalisation that you can't get from big business.
Maybe it's a mum's home business. Or a garage start-up. Or a small cottage industry. They have few overheads, no staff and produce excellent quality products or services that don't either exist in the mainstream economy or are much more expensive.
You often have to search these businesses out. Or stumble upon them.
You might find them on Facebook, on the wider internet, at local markets or fairs, in local trade magazines or through friends.
But when you find them, you get something special, support your local economy and save money at the same time.
the unofficial market
In the unofficial market, trade is less deliberate (than say small business) and more opportunistic.
My friend's father keeps bees. I can get a kilo of delicious, local, raw honey through her for $5.
Maybe you have a friend who has chickens and you can get cheap (cheap) eggs that are truly free-range.
My father used to repair lawn mowers for friends for the cost of parts and maybe some beer.
In the unofficial market, it's not what you know but who you know. Networking matters.
There is a risk when trading in the unofficial market.
If you get a mate of your friend's cousin to plumb your toilet for a case of beer, you don't have any recourse if they don't do a proper job. Most people are honest, but keep this in mind when transacting in the unofficial market.
self-sufficiency
To a certain extent, you can choose opt out of the market and produce your own goods and services. Growing your own vegetables is a way of meeting your needs outside the economy. So is fishing.
Anything that you DIY also avoids commerce (the labour part) and can save you money. If you cut your own hair, give your spouse a massage, do your own facial, take your own photos, pave your own yard or plumb your own toilet you are opting out of the economy and relying on self-sufficiency.
Can you get everything you need in the alternate economy? Probably not. Nor am I against shopping at the Woolworths or the Amazons of the world.
But a balance between transacting in the standard economy, the alternate economy and doing things for yourself allows you to stretch your dollars and buy better for less.
JOIN THE NEWSLETTER