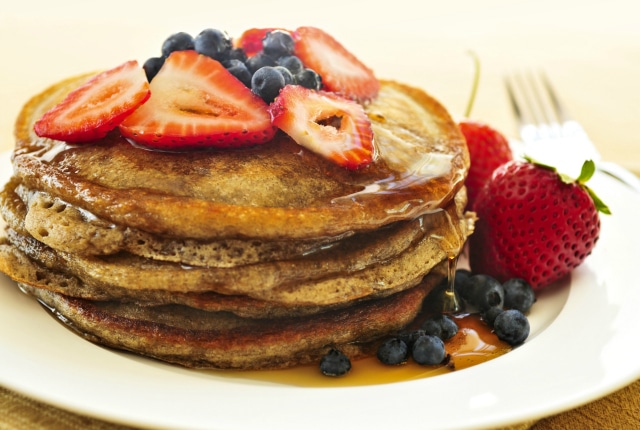 These healthy wholemeal pancakes are super cheap to make but a decadent and healthy way to start the weekend.
Top them with fresh seasonal fruit and a drizzle of local honey or maple syrup and maybe a sprinkling of slivered almonds and nobody would know this amazing breakfast is actually very frugal.
Don't want to be spending hours in the kitchen on Sunday morning?
I hear ya!
Make this batter the night before so it's quick and easy to fry up a stack of pancakes the next morning. The other benefit of making the batter up the night before is that the wholemeal flour gets to sit and 'soak', breaking down the phytonutrients in the grain, making the pancakes more digestible.
For a little extra fibre and healthiness, add a couple of tablespoons of freshly ground linseed (flaxseed). Linseeds are high in fibre and Omega 3 and putting them ground in the batter is a great way to 'hide' a little extra goodness.
The yoghurt in this recipe reacts with the baking powder to make the pancakes extra light and fluffy. If you use conventional baking powder or self-raising flour, add a little bicarb soda (about 1/4 teaspoon) to react with the yoghurt.
This recipe makes 6 pancakes (about plate size), but it is easily doubled or tripled.
Healthy Wholemeal Pancakes
Ingredients
1 1/2 cups of wholemeal flour (or flour of choice)
2 Tbsp. ground linseed / flaxseed (optional but it adds a bit of extra fibre and omega 3)
1 tsp. baking powder (not needed if you use self-raising flour)
1 Tbsp. plain yoghurt
1 tsp. vanilla
1 egg, beaten
enough milk to make a batter consistency (you can use a combo of milk and water for a cheaper version that's just as good
butter for frying
Method
Sift the flour(s) and baking powder into a bowl and add yoghurt, vanilla and egg.
Mix then add a little milk at a time until you have a thick batter consistency.
If you have time, let the batter rest. The batter will thicken on resting – if needed, thin it out a little with some extra milk or water. (Better yet, make it the night before for a relaxed Sunday breakfast).
Melt a little butter in a frypan over medium heat.
Pour a ladle full of batter into the pan and flip when the surface has bubbled. Cook until browned on both sides. The law of pancakes states that the first pancake never turns out as well as the following ones.
Wholemeal Pancake Topping Ideas
We use a combination of the following ideas. A favourite of ours is a tropical themed pancake: fresh pineapple, banana, passionfruit and shredded coconut with a little yoghurt and a drizzle of honey for sweetness.
Fresh fruit: Banana, strawberries, blueberries, peaches, pineapple (or your favourite mix of fresh fruit).
Tinned fruit or frozen berries.
A dollop of yoghurt. You could try our favourite – passionfruit yoghurt: Mix together Greek or plain yoghurt with some fresh passionfruit and a little honey to taste.
A sprinkling of slivered almonds or favourite nuts, linseeds, shredded coconut, sunflower seeds.
A drizzle of honey, golden syrup, pure maple syrup or homemade chocolate sauce for a particularly decadent breakfast.
Alternatively, you can put fruit in the batter. One of our favourites is apple pancakes, where we add chopped apple to the batter before cooking, but we also enjoy the classic blueberry pancakes when blueberries are in season and inexpensive.
The old favourite – lemon or orange juice and sugar.