Easy Ham and Cheese Croissants for that Special Breakfast
This website may earn commissions from purchases made through links in this post.
Ham and cheese croissants are quick and easy; great for a special breakfast or brunch. Prep ahead. Eat now or pack a picnic—no washing up.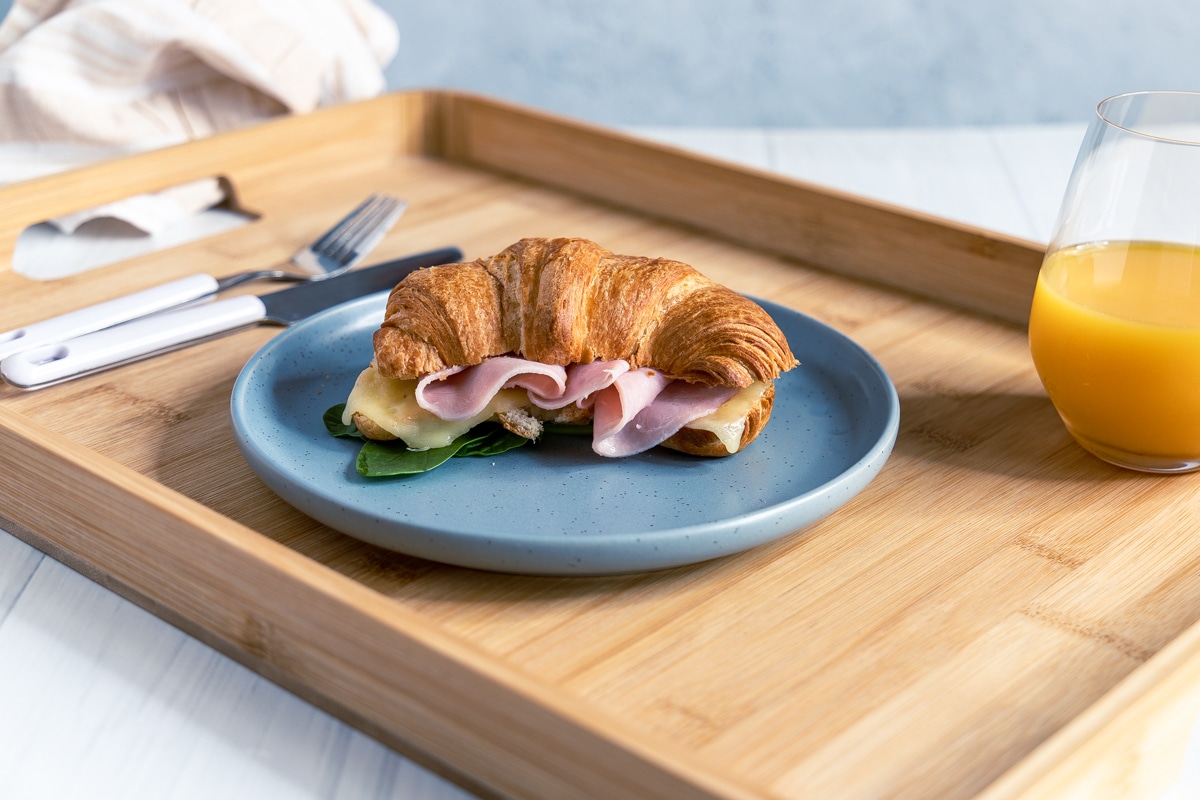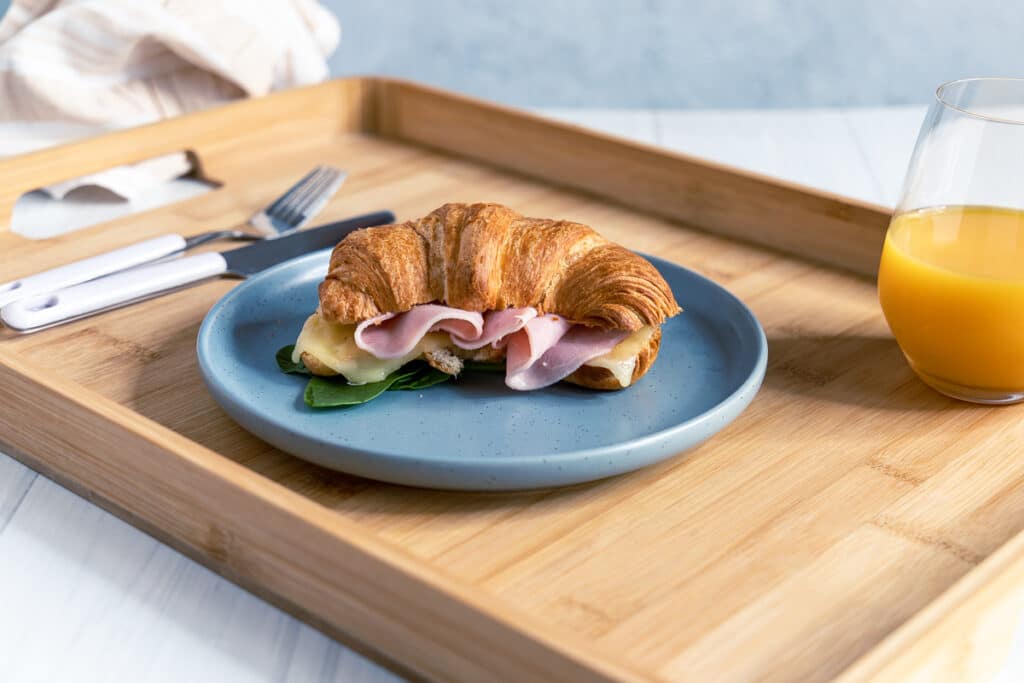 Ham and cheese croissants are our go-to 'special' breakfast. They are easy to make and relatively inexpensive for a treat.
They have become our Christmas morning tradition, eaten at the park or the beach. I can prep them the day before, slip them in the oven for a few minutes to cook, and then pack them in a lunchbox before heading out.
While calling this a recipe is a bit of stretch, after all, you're just bunging some cheese and ham on a store-bought croissant; it is a good breakfast to have on your radar when looking for an easy special treat.
Ingredients and Costs
The ingredients are all in the name: ham, cheese, croissant.
You can add other things to the basic recipe, which I'll cover below. But in the meantime, let's look at the costs.
I purchased all ingredients for this recipe from our local Woolies and Coles.
For this recipe, I used home-brand Swiss cheese slices. It would be cheaper to slice cheese from a block or use regular sliced cheese.
While we normally buy a big family pack of ham slices and freeze it in portions (much cheaper per kilo) for this exercise, I've gone with a small pack of ham, so there is less leftover.
These items are all cheaper at Aldi if you want to save even more.
All prices are in Australian dollars, updated August 2022.
| | No. of Serves | Total Cost | Cost Per Serve | Cost for 4 Serves |
| --- | --- | --- | --- | --- |
| Croissants | 3 | $2.50 | $0.83 | $3.33 |
| Cheese Slices | 10 | $4.60 | $0.46 | $1.84 |
| Ham | 4 | $2.00 | $0.50 | $2.00 |
| Total | | $9.19* | $1.79 | $7.17 |
*To feed a family of four, you would need to buy 2 packs of croissants, bringing the total cost up to $11.60.
Preparing Ahead and Cooking Tips
Ham and Cheese croissants can be prepared ahead of time and then heated up just before serving.
Cut the croissants in half, layer in the cheese and ham (you will need to tear or fold both to fit), put the top back on, and then store in an airtight container in the fridge for one or two days.
When you're ready to serve, place on an oven tray and cook for 5-10 minutes at 180°C until the cheese has melted slightly and the croissant is warm and flaky.
To reduce washing up, bake these in the oven on the foil trays they came on. The foil trays can then be recycled – just be sure to pick any food off them.
If you're cooking for one or two people and have an air fryer, use the air fryer to save money on electricity. The average oven uses about 2.1kW per hour (according to Canstar, although they can use less) and an air fryer, depending on the size, around 1.3kw – 1.7kw per hour. They also need less to no preheating time, further reducing electricity use.
If you don't mind the croissants turning out flat, a sandwich press is even quicker and cheaper (and you can enjoy these even if you don't have a full kitchen). While some sandwich makers use about 2kw per hour, you only have them on for 2-3 minutes, making them fast and economical.
To pack on a picnic, place them in a container and leave the lid off so they don't steam up and become soggy.
Variations
While the basic ham and cheese are timeless, you can spice it up by adding mustard, chutney, relish, mayo, aioli, spinach, rocket, lettuce, or fresh tomato.
Apart from the mustard, most of these ingredients are better off added after you've baked the croissant, so they stay fresh.
What to Do with Leftovers
You can use any leftover ham and cheese to make sandwiches, toasties, or melts.
Or chop them up, stir into combined whisked eggs and milk, and bake for a quick frittata Lorraine. Put a piece of store-bought shortcrust or puff pastry underneath, and you have quiche Lorraine.
Another alternative is to stir through cooked, hot pasta for a super simple cheesy ham pasta. Or you could finely chop the cheese and make these cheese and ham muffins.
Yield: 1 Serve
Ham and Cheese Croissant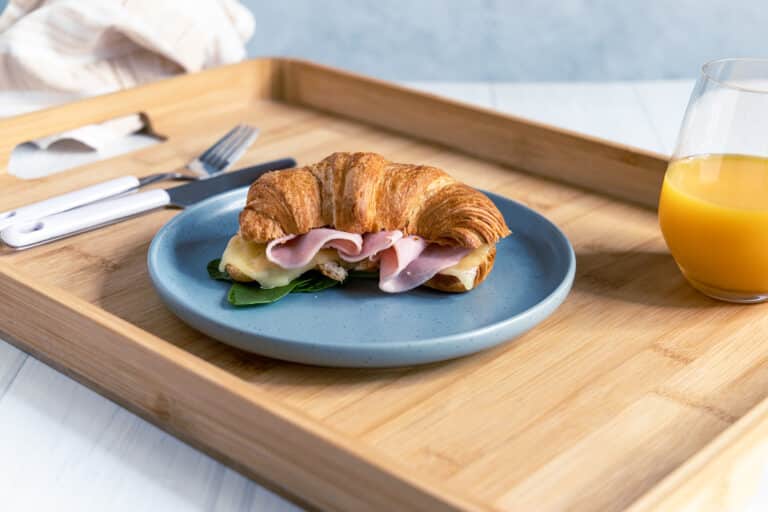 A super easy treat to put together for that special breakfast or brunch.
Ingredients
1 Croissant
1 slice Swiss cheese
2 slices ham
Instructions
Preheat oven to 180°C.
Cut the croissant in half horizontally.
Top the bottom half with cheese and ham. You will need to tear the cheese in half to layer it on the croissant. Fold or tear the ham to fit. For extra decadence, you can layer cheese, ham, and then more cheese, if you like. Put the top back on the croissant to make a sandwich.
Place croissants on a baking tray and cook for 5-10 minutes until cheese is melted slightly and the croissant is warmed through and flaky.
Notes
If you have an air fryer or toaster oven, it is quicker and cheaper (as far as electricity goes) to cook in one of these.
If you don't mind a flat croissant, you can also toast this in a sandwich press, which will be quicker and cheaper again.
Additions and variations include adding mustard, relish, or spinach.
Nutrition Information:
Yield:
1
Serving Size:
1
Amount Per Serving:
Calories:

570
Total Fat:

30g
Saturated Fat:

14g
Trans Fat:

0g
Unsaturated Fat:

11g
Cholesterol:

158mg
Sodium:

1689mg
Carbohydrates:

33g
Fiber:

2g
Sugar:

9g
Protein:

43g
Nutritional information is calculated automatically using the Nutritionix database. Nutrition information can vary for a recipe based on factors such as precision of measurements, brands, ingredient freshness, serving size or the source of nutrition data. We strive to keep the information as accurate as possible but make no warranties regarding its accuracy. We encourage readers to make their own calculations based on the actual ingredients used in your recipe, using your preferred nutrition calculator.