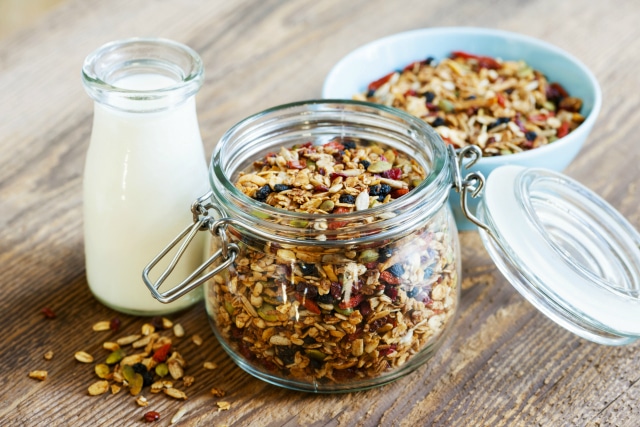 Make a big batch of this on a Sunday night for an easy and healthy breakfast all week.
Admittedly, this may end up a bit more expensive than some muesli on the supermarket shelf depending on what ingredients you like to add, but you control the ingredients and their quality and you can make it to exactly suit your own tastes.
Most muesli in the shops includes sugar and hydrogenated vegetable oil (trans fats!). A homemade version is much healthier. Many recipes include butter or oil in the muesli, but I don't find this necessary.
Using a combination of whole grains, nuts and seeds ensures that you are getting a complete protein from your breakfast cereal, giving you energy for longer. This is a basic recipe – add and adjust as you like.
Toasted Muesli
Ingredients
500g rolled oats
1 cup rye flakes
1 cup of unsalted sunflower seeds
1 cup slivered almonds
enough honey to coat (approx 1/2 cup)
1 cup chopped dried fruit
Method
Preheat oven to 170C (325F)
Combine grains, seeds and nuts and drizzle with enough honey to lightly coat evenly.
Spread mixture evenly over a baking tray and bake for about 20 minutes or until lightly brown, stirring every five minutes or so and being careful not to burn the mixture.
Allow to cool and stir in dried fruit. Store in an airtight container at room temperature for up to 1 month.
You can use whatever ingredients that you like in this recipe, try substituting for different types of grains, nuts, fruit and seeds. Add shredded coconut, but be careful it doesn't burn when cooking.
I like to add linseeds and puffed millet after the cereal has cooked. Dates, figs and pecan nuts make a nice combination.
Serve with milk or try a dollop of yoghurt and some fresh fruit.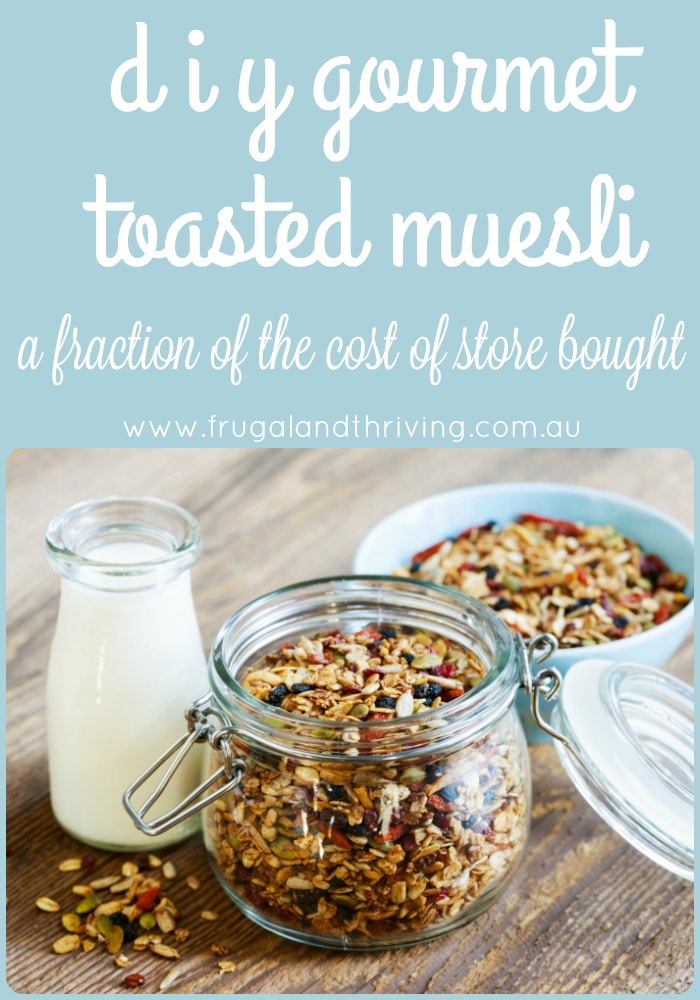 Melissa Goodwin is a writer and the creator of Frugal and Thriving who has a passion for living frugally and encouraging people to thrive on any budget. The blog is nine years old and is almost like her eldest baby. Prior to being a blogger and mum (but not a mummy blogger), she worked as an accountant doing other people's budgets, books and tax.