Natural Homemade Face Masks for Beautiful Skin on a Budget
This website may earn commissions from purchases made through links in this post.
While there are a lot of lovely natural products out there on the market, if the budget is tight you can get amazing results with natural homemade face masks made from ingredients straight from your kitchen.
We all deserve a little pampering every now and then, but professional facials and store-bought treatments can be costly and include all sorts of ingredients that we're better off not putting on our skin.
When I lived in college – many, many years ago now – I had a friend from Bangladesh who had the most beautiful, flawless skin I've ever seen. She religiously applied natural concoctions to her skin ever week – concoctions that she whipped up in the little kitchenette from ingredients like yoghurt and ground coffee and coconut oil. These recipes were passed down from grandmother to mother to daughter.
Years later and I wish I'd paid more attention to what my friend put in her homemade face masks. I would love to have amazing skin like hers. It goes to show you don't need expensive lotions to have great skin!
Here are a few ideas for quick and easy masks that can be made out of everyday ingredients in the kitchen for an inexpensive facial pick-me-up.
Natural Homemade Face Mask Recipes
There are a wide range of natural foods that are both good to eat and good for your skin. Mix and match your own combos or try one of the recipes below. Wash off in warm water…or lick off, because these are going to be good!
Citrus Honey Face Mask
Good for: oily skin
Citrus juice, especially lemon, tones the skin. it's an astringent and antiseptic. This citrus mask will give dull skin a healthy glow. Honey has natural anti-bacterial properties. Lemon can make your skin sensitive to the sun, so this is a good night-time mask.
Mix equal parts freshly squeezed citrus juice and honey.
Smooth over face and leave on for 15 minutes.
Wash off with warm water.
Nourishing Skin Mask with Banana and Avocado
Good for: dry skin
Both bananas and avocado have moisturising properties and leave your skin feeling soft and delicious.
Mash half a banana with half an avocado.
Spread over face and leave on for 15 minutes.
Wash off with warm water.
Soothing Oatmeal Mask
Good for: all skin types
Oatmeal helps soothe skin and close pores. Yoghurt has natural enzymes that are great for the skin.
Mix together 1/3 cup of oatmeal with 2 tablespoons of yoghurt 1 tsp honey and a little hot water or olive oil to make a paste.
Spread over skin and leave for 15 minutes.
Wash off with warm water.
Pore Tightening Face Mask
Good for: normal and oily skin
Egg whites help tighten pores. The lemon and honey will help lighten and soothe skin.
Beat 1 egg yolk with 2 tsp of lemon juice and 1 tsp of honey until thick.
Spread over face and leave for 15 minutes or until dry.
Rinse off with cool water.
Other ingredients that make great face masks
Strawberries, apples and cucumber soften skin and reduce oiliness.
Kiwi and pawpaw are packed with good skin enzymes that help exfoliate the skin, leaving it looking fresher.
Egg yolks are nourishing – good for dry skin.
Egg whites tighten skin.
Milk and yogurt are full of natural enzymes that are great for the skin.
Honey is full of goodness to nourish skin. It is also healing.
Mash some strawberries and apply directly to the skin for a toning mask.
Turmeric, cinnamon, ground coffee and cocoa are full of antioxidants that are great for the skin.
For dry skin mix together 2 egg yolks, 2 tbsp glycerine (buy it at the chemist or health food store) and 1 tbsp of cream. Leave on for 10 minutes and rinse off with lukewarm water.
Mix together mashed cucumber, yogurt and oatmeal for a refreshing mask.
Try yogurt and honey, yogurt and lemon, yogurt and turmeric, yogurt and egg white.
Mix together some banana yogurt and honey. Leave on for 10 minutes and rinse. Eat the rest while you're waiting.
For a facial scrub, try plain sugar or add sugar to one of the masks. For a gentler option use oatmeal instead. Avoid scrubs if you have acne.
Try witch hazel (found at the chemist) as an alcohol-free toner.
Try pure aloe vera juice to sooth skin.
For the eyes, the old cucumber slices work wonders or keep your used tea bags for a refreshing eye pad. Try camomile tea bags for the eyes.
Creating a Home Spa Experience
Set aside some 'me time' regularly. Take the phone off the hook, inform the family, lock the bathroom door, get dad to take the kids to the park. You deserve some pampering time – you can't look after everything else if you're feeling frazzled.
Create a personal oasis. Light some candles, burn some oils, add some music.
Grab everything that you need beforehand. Bowls, oils, masks, towels, bath pillows, robe, headband.
Wash your face as usual
Place some hot water in a bowl, add a couple of drops of your favourite pure essential oil and placing a towel over your head, enjoy the steam for up to 15 minutes.
Apply your favourite mask and relax. Time to relax in the bath, meditate, read a book, write in your journal or listen to your favourite music. Drink your favourite cup and forget about everything else for a little while.
Rinse off your mask and finish off with some cold water or non-alcoholic toner. Apply moisturiser.
Consider giving yourself a nice relaxing massage. Grab some olive oil from the kitchen and spend a few moments unwinding those tight spots. I tested a few face massage videos on YouTube (oh, the hardship of research) and found this one to be the most relaxing. 
For more tips on naturally beautiful skin on a budget check out these articles: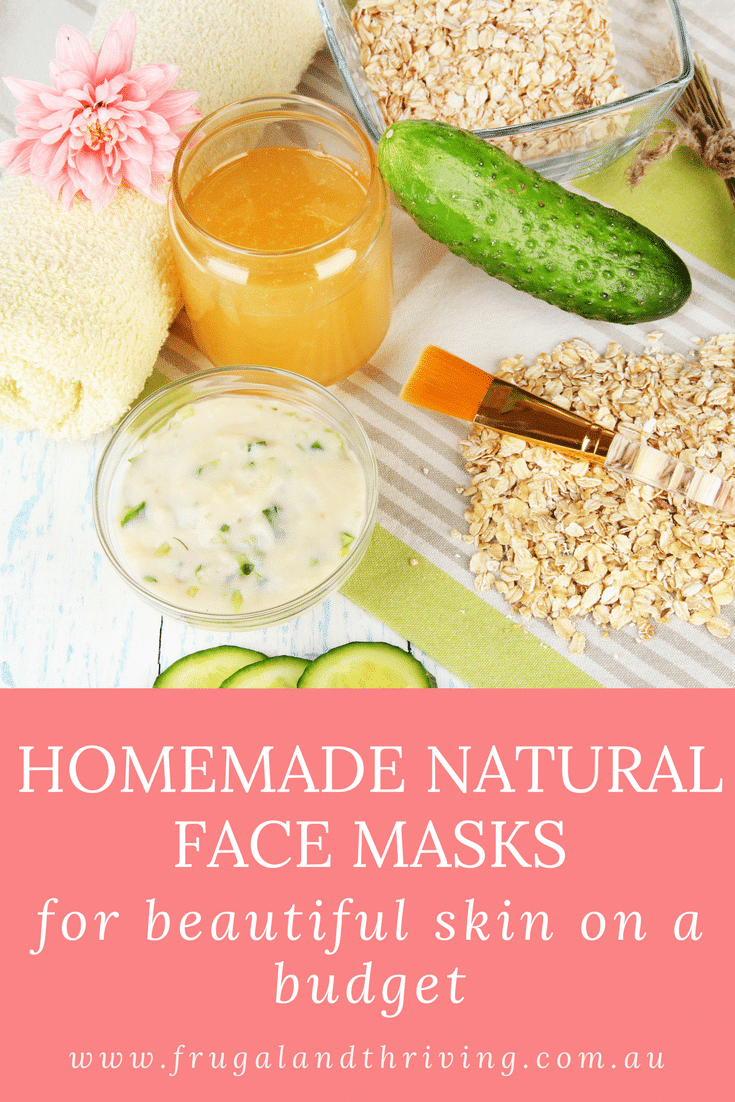 JOIN THE NEWSLETTER