Keep your freezer stocked with this practically free vegetable stock made from veggie scraps and you've got the base of hundreds of meals. No more stock powder cubes!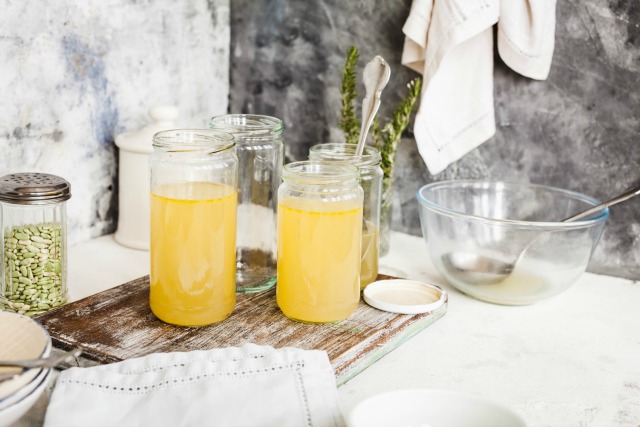 Stock forms the basis of many healthy, inexpensive meals like soups, stews, casserole, risotto, sauces – just to name a few.
Making your own will not only save you money, but it will be healthier, taste a million times better than stock cubes and your homemade stock will have less salt and no additives.
A tetra pack of 'real' stock costs around $4 for 1 litre.
You can make three times as much for (practically) free.
The trick is to keep and use your leftover vegetable scraps. Skins and off-cuts and limp vegetables that you might otherwise have thrown in the bin.
Making stock is really easy. It takes time, but you just put it on the heat and leave it. I use a slow cooker and cook it overnight. Just set and forget and then wake up to the beautiful smell of your own stock.
While the ingredients are free, you have to pay for the electricity to make your own stock. Our slow cooker costs about 4 cents an hour to run, so overnight, I spend about 52 cents to make this stock (find how to calculate your appliance running costs here).
How to make your own Vegetable Stock
Scrap stock starts long before the actual cooking begins. It starts with the collecting of scraps.
Collecting Vegetable Scraps for Your Stock
Keep a bag or container in the freezer for keeping your scraps in. Then…
When you prepare meals, wash your vegetables and save the peelings and the scraps. Put them in your freezer bag and keep it in the freezer so your scraps don't go mouldy.
Include scraps such as:
onion skins and ends
carrot peelings and ends
zucchini ends
mushroom stalks
parsley stems
the green part of the leek (washed)
garlic skins
celery tops
Limit things like broccoli stems and cabbage as these can give the stock a strong flavour. I sometimes throw these in anyway, because I don't mind the flavour. Brown onion skins and red capsicum will give the stock a dark colour.
Vegetables that don't go well in stock are starchy vegetables like potato, so it's best to keep spud peelings out of your scrap bag.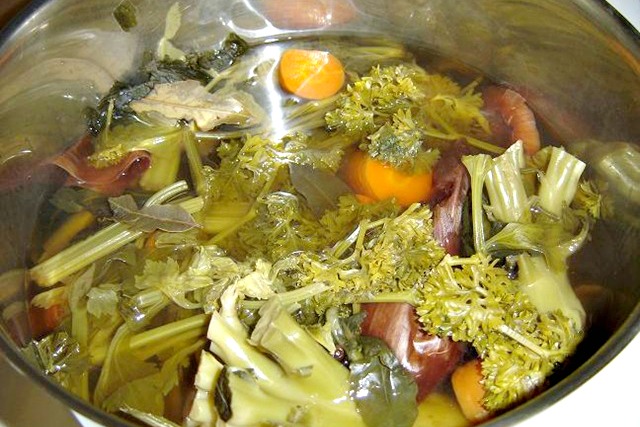 Cooking Vegetable Stock
When you have a full bag, throw the vegetable scraps in a pot or slow cooker. Top it up with 3 or 4 litres of water.
If you like the taste, add a few peppercorns and a bay leaf or two. If you're short on onion, carrot or parsleys scraps, throw a bit extra in the pot.
Bring to the boil and simmer for a few hours.
Or…
Turn the slow cooker on low and cook for eight hours or overnight.
After your stock has simmered and developed it's wonderful flavour, the next steps are:
strain the vegetables using a fine sieve
divide your stock into convenient portion sizes that suit you (I usually freeze 500ml lots); and
freeze for later
You can freeze the stock in plastic zip-lock bags, containers or glass jars as pictured. If you do use glass jars, just be sure to leave plenty of head-room in the jar for the liquid to expand as it freezes. Otherwise, your jars will smash in the freezer!
Now you have an almost free base for soups, casseroles, sauces, stews, risotto, or whatever you use stock for.
Looking for more stock recipes? Check out these related articles: