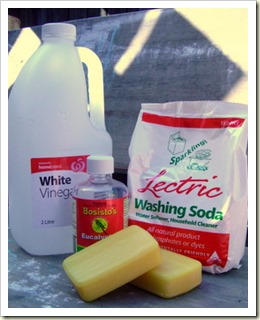 Normally I make washing powder, but as I've had a lot of questions about the homemade laundry liquid, I decided to whip up a batch, with a few tweaks to the original recipe – developments gleaned from making my own laundry detergent for over four years now.
As far as making laundry powder is concerned, I've gotten quite lazy. I tend to grate the soap directly into the washing machine before each load, sprinkle in an approximation of washing soda, add some vinegar to the fabric softener compartment (and Eucalyptus as well if I'm washing towels or nappies) and away I go.
My general rule of thumb is 2 parts grated soap to 1 part washing soda. In other words, double the amount of soap to washing soda. If I'm organised and I grate 1 cup of soap, then I add 1/2 cup of washing soda.
I don't use borax. Our laundry is sufficiently clean without it, so I figure why over complicate things and add the extra expense? Not to mention that the environmental 'friendliness' of borax is questionable.
So when I whipped up a batch of laundry liquid, I wasn't going to rush out to get borax. Unlike the original laundry liquid recipe, this is a borax-free version.
I've been using this updated laundry liquid now for three weeks and I find it works just the same as the powder and the original liquid recipe. In other words, it works fine for me.
I have to warn you though, I use the word 'liquid' with some licence – it would be more accurate to describe this as laundry gel, which is quite normal and ok.
Leave a little head room in the bottle you store your liquid in so that you can give it a shake before pouring it into the washing machine.
You can add fragrance – it doesn't really affect the performance of the wash, but if you use pure essential oils then you get the aromatherapy benefit during washing. Eucalyptus, Tea Tree oil or similar have anti-bacterial properties.
1/4 cup – 1/2 cup full is sufficient for a wash, but use more or less depending on the size of the load and how dirty it is.
Ingredients
2 cup of grated soap or soap flakes (approx. 1/2 – 1 bar depending on the size of the soap you use)
1 cup of washing soda
1 1/2 litres of water
extra water to make up 10 litres
pure essential oils for fragrance (optional)
In a large saucepan, stir the soap, washing soda and water over medium heat until the soap has dissolved.
Pour the mixture into a large bucket and add 8 litres of cold water, stirring.
Let sit to cool. At this point, if you would like to add fragrance, add in some pure essential oils and stir well (or add after decanting into a bottle and shake well).
Using a funnel, pour liquid into empty bottles – I use empty vinegar bottles. Label the bottles well.
Shake before use.
Do you make your own laundry detergent? Liquid or powder? How do you make it?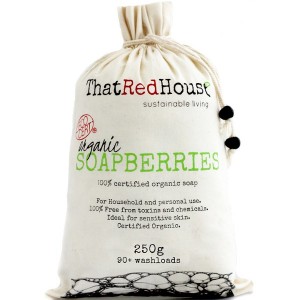 A natural, frugal alternative to making your own washing powder is to use soap nuts (also known as soap berries). Soap nuts are natural, greywater and septic safe, fully compostable and hypoallergenic. You can get soap nuts here.