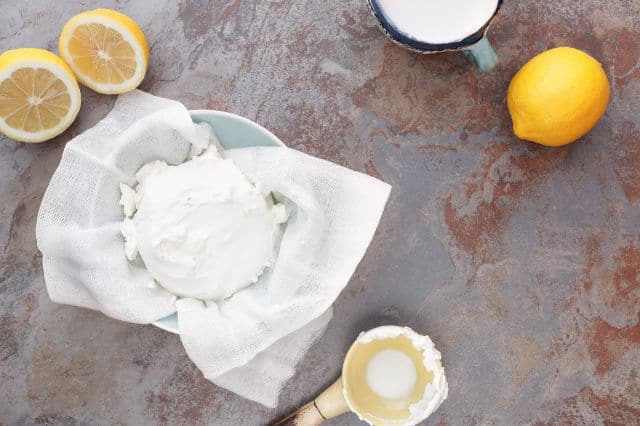 Mascarpone is one of those luxury ingredients that cost an arm and a leg to buy but…it super cheap and easy to make at home.
To compare: a tub of supermarket mascarpone is $23 per kilo. Making your own with fresh cream comes in at around $7.90 a kilo, a big saving.
The recipe below yields about 400g of mascarpone cheese.
Homemade Mascarpone Cheese
Ingredients
3 cups of pouring cream
1 Tbsp white vinegar or lemon juice
Method
Heat cream over medium heat in a saucepan until it reaches 85°C (a candy thermometer is useful here). Make sure you stir regularly to ensure the cream doesn't scold on the bottom. Many recipes suggest heating the cream in a double boiler over boiling water, but I found the cream would not reach the desired temperature (even after constant heating for 20 minutes) so ended up transferring the cream to a saucepan over direct heat and this worked fine.
Once the cream reaches 85°C, add the vinegar and continue stirring until it is thick enough to coat the back of the spoon (a couple of minutes). Remove from heat and let sit to cool. The cream won't visibly curdle like it would if you were making ricotta, for example, although you may see some whey. It looks more like custard.
Line a sieve with a double layer of cheesecloth or muslin or a new, clean chux and place over a bowl. Pour the cream into the sieve and sit in the fridge over night (I placed a saucer over the top to cover, but don't squeeze or press down on the cream). What you will have in the morning is a thick, creamy mascarpone – thick like cream cheese, but with a creamy rather than tangy taste. Yum!
If you're wondering how to use mascarpone, it is traditionally used in tiramisu, but is nice served with fruit (fresh, poached or char-grilled), tossed through pasta (instead of ricotta, say), spread on toasted fruit bread, or can be used in pretty much anything that asks for cream – mascarpone gives the dish a decadent touch.
Melissa Goodwin is a writer and the creator of Frugal and Thriving who has a passion for living frugally and encouraging people to thrive on any budget. The blog is nine years old and is almost like her eldest baby. Prior to being a blogger and mum (but not a mummy blogger), she worked as an accountant doing other people's budgets, books and tax.