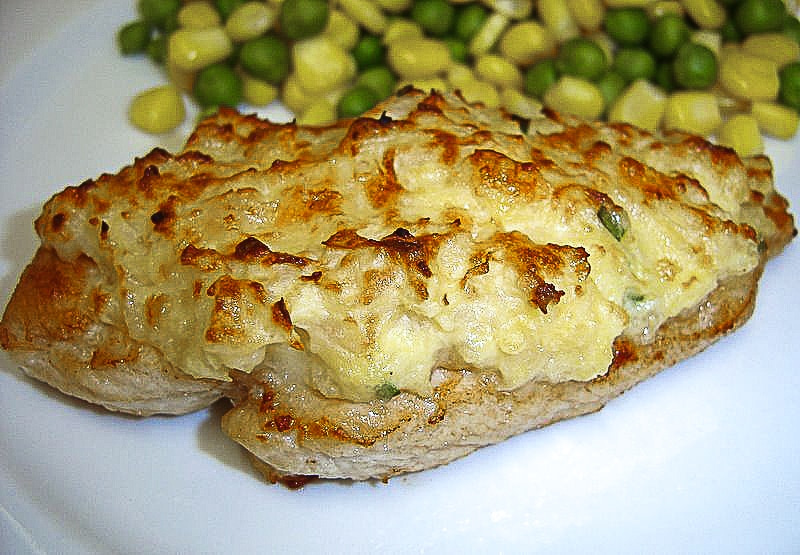 This is a basic grilled or fried chicken breast with a little difference – topped with cheesy potato rather than having the spuds served on the side.
This dish is nice with a salad, but I have a pregnancy aversion to salad at the moment, so vegetables it was. The bonus of using vegetables is that you can add them to any leftover potato mixture for bubble and squeak the next day (just fry the mixture in a little butter like fritters).
That is exactly what we did for breakfast. The little fella insists on being involved in all cooking (who am I to argue with that! Hopefully, the interest in cooking doesn't wear off!). When I explained I was cooking bubble and squeak he nodded solemnly and said 'noisy breakfast'. However, there was total silence as it was eaten. Serves 4
Cheesy Potato Topped Chicken breast
Ingredients
2 chicken breasts
4 medium potatoes, peeled
1/4 – 1/2 medium onion, grated or finely chopped
1/2 cup of tasty cheese, grated
1 egg
2 Tbsp fresh chives snipped
Method
Boil whole potatoes until almost tender (a reader the other week suggested steaming spuds instead to ensure they don't get overcooked. Great tip!) Cool and grate. I left the skin on when boiling and most of it stayed on the grater when I grated the spuds. If you overcook the potato (um, like I did) it's more like mashed potato than grated, but that's just as good!
Meanwhile, halve the chicken breasts horizontally so that you have two fillets or schnitzels. Lightly hammer or roll to flatten.
Combine potato, onion, cheese, egg and chives.
Fry chicken in a little oil until brown on both sides and cooked through or grill under the griller/broiler until cooked. Place on a tray and top with the potato mixture.
Grill under a medium hot grill until potato mixture is browned and cooked through (about 5 – 10 minutes).