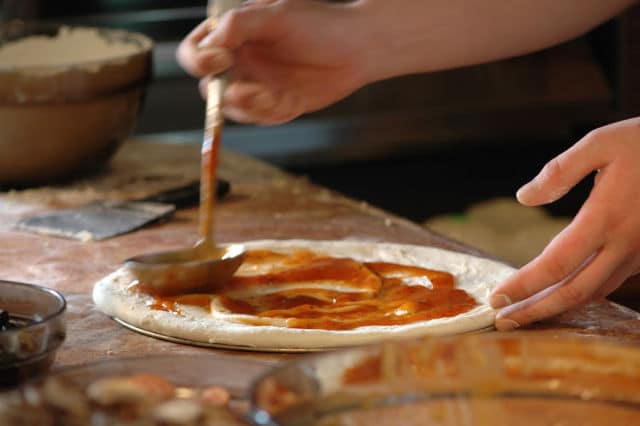 There are hundreds of recipes for pizza sauce, below is the one that I use. You can add onion, use oregano instead of basil, add chilli… however you like your pizza sauce.
The cheapest store bought pizza sauce that I could find was $1.15 for 140g which spreads one, maybe two pizzas.
I usually la Gina tinned tomatoes because I think they are better than the home brand, and they cost $1.09 on special. So making your own will give you around 5 times more pizza sauce for the same cost.
Ingredients
olive oil
2 cloves of garlic, sliced
a small handful of fresh basil leaves, chopped or 1/2 tsp of dried basil
1 440g tin of chopped tomatoes
salt and pepper to taste
a pinch of sugar
1 tbsp of tomato paste
Method
In a saucepan, fry the garlic for a few seconds, until it gets a bit of colour.
Add all of the other ingredients and bring to the boil.
Let it simmer for 5 minutes to reduce.
Strain the sauce, pressing it through a sieve discarding the basil and garlic, or just blitz it with a stick blender, reducing the waste.
I blend the sauce, rather than strain it. This makes a decent amount of sauce, I usually freeze it in batches to use later.
It covers 6 pizzas made on Lebanese style bread. Freeze the bread for an easy pizza base – it defrosts in about 10 minutes.
You can double or triple the recipe and freeze.
We never used to make homemade pizza because I thought it was a lot of fuss and mess, but with the base and the sauce in the freezer already made, pizza can be on the table in less than 30 minutes for less than $4.00 for two pizzas.
A pizza tray can really make a difference when making pizza, we have an inexpensive round tray with holes in it that crisps the bottom up nicely.
Melissa Goodwin is a writer and the creator of Frugal and Thriving who has a passion for living frugally and encouraging people to thrive on any budget. The blog is nine years old and is almost like her eldest baby. Prior to being a blogger and mum (but not a mummy blogger), she worked as an accountant doing other people's budgets, books and tax.