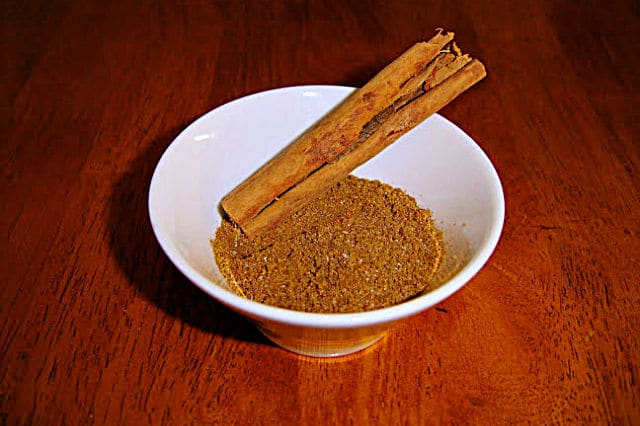 I know it's probably easier to go out and buy a packet of Moroccan spice mix. But that would have meant going out. Instead, I had all the ingredients to make my own in the pantry.
And there are a few ingredients.
As I often say, the beauty of making your own food from scratch is that you can adjust it to suit your own tastes. I used less cayenne pepper, for instance, and omitted the chilli powder that some recipes included because the little fella eats the same food we do and I think chilli might be pushing it a little at his age.
I used this spice in a Moroccan inspired pilaf that I will share next week, but I've included other ideas for using the spice below.
Making your own spice mix and presenting it nicely would also make a great gift for an aspiring cook.
This recipe was adapted from this one found at epicurious.com.
Ingredients
1 tsp cumin
1 tsp ground ginger
1/2 tsp salt
3/4 tsp pepper
1/2 tsp cinnamon
1/2 tsp coriander
1/2 tsp cayenne pepper
1/2 tsp allspice
1/2 tsp paprika
1/2 tsp turmeric
1/4 tsp cardamom
1/4 tsp ground cloves
Method
Mix together (I put everything in a jar and shake well) and store in an airtight jar or container.
Using Moroccan spice mix
Use as a spice rub on meat
Toss potatoes in spice mix and a little olive oil before baking (or any other roast vegetable like pumpkin or carrot or zucchini or a mixture)
Use to flavour Moroccan inspired stews, casseroles or tangine
Sprinkle over grilled meat or grilled or steamed vegetables as a seasoning
Sprinkle over scrambled eggs for eggs with a difference
Add to pumpkin or sweet potato soup
Use to flavour plain cous cous
Do you use spice mixes? What are your favourite ways of using a spice mix?
Melissa Goodwin is a writer and the creator of Frugal and Thriving who has a passion for living frugally and encouraging people to thrive on any budget. The blog is nine years old and is almost like her eldest baby. Prior to being a blogger and mum (but not a mummy blogger), she worked as an accountant doing other people's budgets, books and tax.